"I work as a specialized assassin, in an outfit called the Loopers. When my organization from the future wants someone to die, they zap them back to me and I eliminate the target from the future. The only rule is: never let your target escape... even if your target is you."

In 2072, when the mob wants to get rid of someone, the target is sent 30 years into the past, where a hired gun awaits. Someone like Joe, who one day learns the mob wants to 'close the loop' by transporting back Joe's future self.
Joseph Gordon-Levitt
: Joe
Bruce Willis
: Old Joe
Wind the clock back to 2005 where we had Rian Johnson's
Brick
being released and new comer Joseph Gordon-Levitt giving an amazing performance in a complex puzzler within a mystery detective piece.
Thus comes Rian's latest work
Looper
: A sci-fi dystopian time travel piece set in the near future and beyond.
From just having seen it while being equally excited by the prospect, the film and experience, certainly lived up to expectations and beyond.
Looper
is among the best films of 2012 and a science fiction marvel with a fascinating twist and examination of time travel.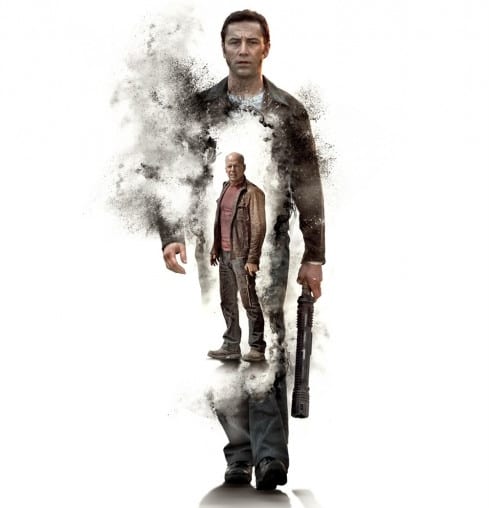 Looper
tells the story of Joe (Joseph Gordon-Levitt), a hit-man working for a professional crime syndicate whose primary function is assassinating targets sent from the future. After being confronted with his future self (Bruce Willis) and failing to kill him and close the loop, Young Joe is forced to track down Old Joe and finish the job before being tracked down himself by the nefarious mob led by Abe (Jeff Daniels).
The story however, as expected, results in being far more complicated and certainly not straight forward in the slightest.
Director Rian Johnson doesn't hesitate when it comes to keeping revelations secret from the audience until the plot develops and the film progresses. This helps build momentum and tension causing the characters and story to be fleshed out to the right degree.
Looper
is action packed, thrilling, dark and thought provoking. An element of chase in the style of
Logan's Run
mixed with the time travel science fiction in the vein of
12 Monkeys
;.
Many of the segments and processes put forth, although disturbingly graphic and violently explosive, are curiously unique, bringing light upon morality, greed, duties, and coming to a conclusion with regards to our past or with knowledge concerning our future.
Closing the loop by eliminating your future version, telekinesis, dystopia poverty with extreme divides between rich and poor, one way time travel, a film noir narration with serious undertones and unwavering meaning, executing bloody revenge in a semi-futuristic world, and the unforgiving, darkly serious tone of mistakes and redemption play out amusingly and unexpectedly.
Looper
isn't continuous action sequences and that is the biggest asset, reserving moments to create complex characters and time travel plot mechanisms.
In other words: It takes the time necessary painting a picture regarding the storytelling.
Looper
has entertainment value, fascinating characters, ideas, concepts and powerful intent laced with intensity.
Overall, the film and story presents us with a deeper aspect: Choice. How purpose can be blinded by material gain and time can be taken for granted? Do we sell our souls for vast wealth even if it means we will only live for another 30 years? Then what happens if we find love in that time? This changes the whole picture as the protaganist must fight for this love aspect.
What are the limits or boundaries when it comes to what we would do for this?
Looper
on another level shows our actions and choices have consequences and repercussions. In the present these future possibilities and that hindsight remains enigmatically unseen by ourselves because we can't see who or what will enter our lives to change our stance or view. Our perspective and persona is constantly learning and changing over time. Many years from now, and
Looper
is a reminder of this:
Will you still be the same person?
Let time change you in a way that benefits your way of life where existing isn't just a case of material gain. A life with higher significance. A higher purpose is acquired in time.
Looper
teaches us the importance of purpose and change. That our greatest enemy can sometimes come from within and to conclude this struggle is a matter of acceptance and balance.
"This is my life now, you've had yours already."
10/10