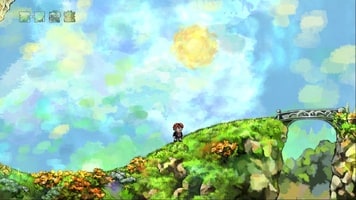 I'm stunned. How can a game, in this age of multi-million dollar development budget, photo-realistic 3D graphics, motion-sensing world, how can a 2D platformer with simple 'arrows keys and spacebar' controls, developed by one guy, how can it leave such massive ripples in the gaming industry? One word:
Innovation
.
At first, it may appear like a been-there-done-that game where the character jumps on enemies heads to kill them, and tries to save a princess in the process --- until you start to play it. I challenge any gamer out there to try out the
DEMO
of this title to see what all the fuss is about. Its all about the gameplay. Well, that isn't entirely true -- the stunning oil-painting visuals that seem to be alive in the background, and the enchanting soundtrack are two more huge bonuses. But primarily, it's the gameplay.
How do you get a key out of a deep pit? Simple. Fall in, grab it, and rewind time. How do you open two doors with one key? Simple. Open door #1, rewind time, then open door #2. But that's just the tip of the massive iceberg. Some items are affected by time travel, others aren't. And later on, on some levels, you can make the character unaffected by time travel as well. And some levels are freeze-frame, where each step you take moves time forward or backwards for enemeis. Other levels have a shadow of last action you made, and all these elements need to be used to their best ability so you can solve puzzles and ironically collect puzzle pieces (which themselves become part of getting more puzzles solved -- you put together a particular jigsaw puzzle, only to reveal a platform which you then use to jump onto to reach the final puzzle piece).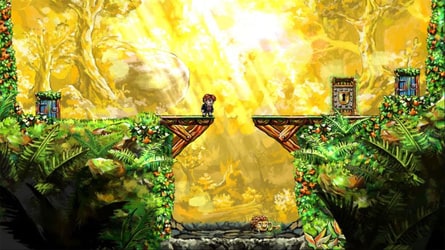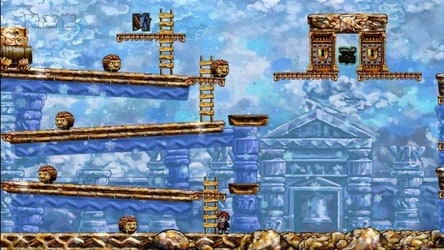 It's the perfect recipe for a game. Beautiful graphics, nostalgic elements of past platformer games (like Donkey Kong and Mario Bros), great music, time manipulation puzzles, easy to play and hard to master.
The only reason I dock it 1 point from a perfect 10 out of 10 is lack of story and lack of tips. There is a lame 'save the princess' plot to follow, which I guess was put in to give the game an extra mario bros flashback, and many times I found myself referring to Google and Youtube videos to figure out how certain gameplay elements work, since there is no help within the game on how to use your new-found powers. I'm also perplexed why the game starts at World 2, then 3 and 4, with no sign of any World 1. But these points are minor. If you're a gamer, you need to try out this game. It's truly revolutionary and unique, which puts it ahead of 99% of releases from 2009.
PC Trailer:
9/10