( If you are wondering what happen to The Last Story review. I'm in the typing progress of it and it will be posted soon.)
I can be a curious type of person. I love to dive into different games series to get myself part into their worlds and seeing the good and bad parts of it learning more about the gaming world. One day, I wondered to myself, "What happened to the Wii?". From what I know, sales went down after the first years went by and one reason is due to some of the games that disinterest people that lead them into other consoles. Weeks ago while surfing on Amazon, I encounter a game called Ninja Breadman and I remember hearing how bad it is. Curious to find out how it will go since I don't go into hating games. I decide to order a copy for $4 dollars and here's my thoughts.
Usually I talk about the plot first but there isn't a story to this beside some on the back that apparently monsters has taken over the land and a breadman that is a ninja has to stop them. Even in the game didn't mention any story at all but here's my take on it. One day in the world of sweets, an army called the Data Designing Hacks invaded the land. The king of the land and the head of the army made an agreement so they won't do anything to the land to harm it's citizens. The catch was that the Data Designing Hacks wanted to make a video game out of this world. Little did they know that the army has a certain dark reason for making a video game. So in less than a few weeks, they got the ideas down and started programmed it. After it was made, it was released in their land and the army lefted the land. When people played it, they were disgusted on what they saw for a numbers of reason and it disgraced their land forever. Why they are disgusted on it you might ask? Well you just have to find out later in this review.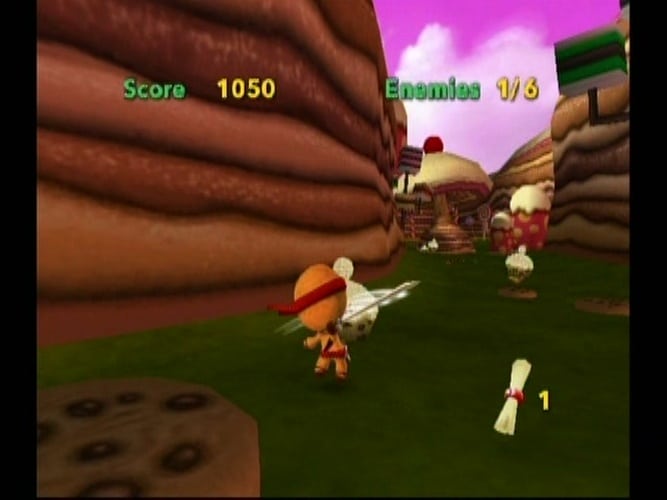 In the gameplay, the objective is to collect 8 power rods for the teleporter to work and go to the next "level". To get each one, you need to jump platform to platform or solve a puzzle. To jump you need to shake the nunchuk or press Z. For attacks, you have the sword which you swing the Wii remote. Another attack called ninja stars is a long ranged attack that gets powerful the more times you use it. You aim at the screen and press the B button to use them. There are 4 modes in this game. First one is pretty much the normal game mode. Second mode is Score Pickups where you need to collect a certain number of items. Third mode is time attack which is self explanatory. Lastly you have the Hidden Pickups where you collect sweets for the teleporter to work.
Now let's get to the juicy part, the good and the bad and before I start. You( the reader) have the option to listen to this piece of music while reading the section that starts with this * because the music and I have one thing in common and that is you to figure out at the end.
The good which you could say is bad is that this is very short about 30-45 minutes to complete. People like longer gameplay but in my opinion, thank god it is short for very good reason. Also the title like that gets some reactions that are amusing when I tell them about this game. *Now in the bad (sigh), the level design is bland. It doesn't have any excitement and doesn't really interest you and it doesn't help that the music is equally bland as well that repeats all the time. However these are the least of it's problems compared to the controls. Imagined one day you find this candy in the store. You buy and eat it when you came home but however after eating it. You feel very sick that you don't have the energy to do things. Even opening the door becomes tedious and hard because you can't move your arm on the most part and your movements became awkward as well. That's the controls in the game. This is the worst controls I ever seen in a Wii game. The motion controls barely works only 50/50. Everything becomes tedious because of the controls. It doesn't help that when you are trying to use your sword to work. The enemy will just move to just murder and you are doing nothing trying to defend yourself. The jumping is worst due to the fact that you need to jump alot in the game and you really have to make it w/o falling and even pressing the Z button feels awkward. It also doesn't help at all that they lied to us about the Z button. In the manual and in the game, they never mention it's use at out. If you are making a game and you forgot in the game to mention one part of the controls, it makes you look like a jerk. I don't know if this happen to anyone but even the camera has it's weird moments. In the tutorial when I was throwing stars at targets. The camera zoomed right to the back of my face while showing that the map thing was there. Another time in stage 2 when I was going up a hill, it did the same thing and it was even worst. You need to see what is up next and the camera is just fighting with you. I didn't do anything besides just moving my character and that happen.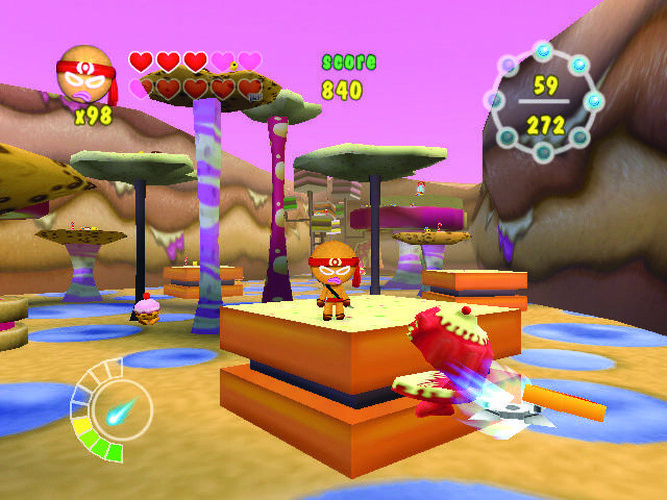 Back to my question, I think I can understand. Games like these that show no respect to gamers is the reason that people were disinterested with the Wii and it lose sales due to the fact that people have to deal with these "games" in the market. Do you know what is the worst effect is. There are certain titles from Japan/Europe that has so much potential that shows the Wii could be even more. You have games like Fatal Frame 4 and the remake on 2, Night of the Sacrifice, Earth Seeker, Disaster: Day of Crisis, Zangeki No Reginleiv, and Pandora's Tower that will never see the light of day because of disinterest, games like Ninja Breadman in the market, and loss of sales that Nintendo doesn't give a fucking shit about the Wii even when there a noticeable amount of people that are BEGGING them to release. Just, sigh.
I just going to stop here. If you want to play a bad game, this is one to check out but for anything else. I don't recommend this game at all. Also you know what else is going on. there is going to be a sequel for this and they are asking people for suggestions to be use. You want some suggestions? I give you some suggestions. How about making the controls good, make the game fun to play, and don't lie to your consumers you sadistic jerk!
1/10