Christopher Nolan does the impossible. When no one thought it would ever be possible to create a superhero film that's better than
The Dark Knight
, Nolan dishes up
The Dark Knight Rises
. Which is actually better, and therefore the best film in what's definitively the greatest trilogy in the history of cinema. It's a more than worthy conclusion to Nolan's Batman films and it is exactly the conclusion that we dared to hope for. I pity the fool who attempt to reboot or continue these films. Because there is hardly anything that can compare to what Nolan managed to do over these three films. After Joel Schumacher's terrible films, Nolan did indeed resurrect this hero and have now raised the bar for superhero films.
The Avengers
tried to set a new standard earlier this year. In my opinion, it didn't come anywhere close, but if it did, then surely
The Dark Knight Rises
have exploded those again. This is the ultimate superhero film.
Nolan is easily one of the most ambitious filmmakers living today and
The Dark Knight Rises
might just be his most ambitious film so far, at least it is the largest. While being larger doesn't necessarily always mean it's better, that's easily the case here. It's slightly better than
The Dark Knight
because it is much larger. The spectacle in
The Dark Knight Rises
is tremendous, gorgeously filmed with amazing special effects (and not overusing CGI). Nolan shows us yet again a very different, but exciting way of showing action. The way he edits the convoluted story by showing different action in different scenes at the same time, and how he still manages to keep the action and suspense trough the entire running time is spectacular.
The Dark Knight Rises
doesn't just work as a brilliant comic book film, or as an excellent way to conclude a trilogy, it's a brilliant action film as well. I've seen several people complaining that Nolan doesn't manage to direct action very well, but I do think that's just ridiculous. Surely, he doesn't exactly produce the most glorified action sequences, but that's simply because he doesn't need that in his films. He directs action and fight scenes that feels and looks real. There is a fight scene in this film between Batman and Bane.
Where Bane breaks Batman's back. It's just wonderful...
This is a scene that is almost just simple boxing, but still it is easily one of the greatest fight scenes in cinema. Just because it feels real. It feels like they are actually beating each other!
"I won't bury you. I buried enough members of the Wayne family."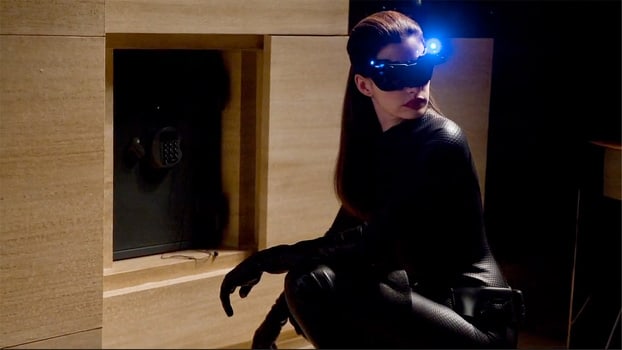 Even greater than the amazingly action and effects is the story. It's a complex and convoluted story that requires one's full attention. While
The Dark Knight
referenced the paranoia after 9/11,
The Dark Knight Rises
put's in some clever references to the stock market's and elitists fall with some clear parallels too the French revolution. The story is a result of a man with very high ambitions and we are therefore rewarded with the best comic book film ever likely to come out, and one of the greatest action crime-flicks ever. While the story can be easily summarized into few word, that doesn't really justify the complexity of the story. It's more to it than meets the eyes. While Nolan has been criticized for making films that makes dumb people feel smart, I hardly believe that they would be able to notice a lot of things that actually happens in Nolan's films. After all, dumb people only care about the action. Just because an intelligent person could figure out the plot and all of the references and parallels, it doesn't necessarily mean a dumb person could do it. Nolan is making films for everyone. The action is there, and it is a much smarter action film for those who require some brain fodder as well. Just because one is able to understand it, it doesn't necessarily mean it is stupid.
There is also the way that Nolan concludes his trilogy that makes
The Dark Knight Rises
shine as much as it does.
By killing Batman (and possibly Bruce Wayne (a theory I have that Alfred is only imagining seeing Bruce and Selena Kyle at the end. Yes, it's a bit far-fetched, but I like it. It's like the Inception ending in a Batman-film. ))
, Nolan dares to go where no other superhero directors have gone. He explodes the boundaries of superhero films, and ends his trilogy in an emotional and effective way. Rarely have I been so emotionally caught up in a story before. The only thing I believe that can compare to it is the last Harry Potter-film, and I grew up with that wizard! That people criticize Nolan's films for being cold is insane! Nolan manages to get me to care for nearly every character, which is an incredible feat seeing as this film is crowded with characters. He does even manage to get me to sympathize with Bane for a second, despite him being a hardcore villain! (I'll get back to that later.) The core to Nolan's emotional aspect of
The Dark Knight Rises
lies in the relationship between Bruce and Alfred. One of the few redeeming features in Schumacher's Batman-films was the relationship between these two people. In
Batman & Robin
it was Bruce that tried to save Alfred from cancer, this time it is Alfred that gives his best shot in saving Bruce's life. It's the core in an emotional roller coaster that's completely devastating.
"When Gotham is ashes, you have my permission to die."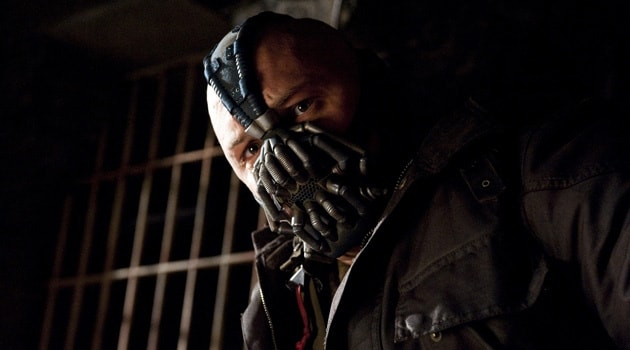 While Tom Hardy's Bane certainly ain't as unpredictable and insanely humorous as Heath Ledger's Joker, there is no denying that Bane is still a very worthy villain and Hardy's portrayal of him is brilliant. Bane is a totally different villain than The Joker. While The Joker was just pure chaos and anarchy, without any particular reasons (which was very effective, but it wouldn't work twice!), Bane is a much more fleshed out character. He has an agenda and a history. Which, despite what Nolan did on The Joker, also makes Bane just as terrifying as The Joker. Bane's high self esteem and self confidence, as well as his pure brutality, menacing voice and intelligence makes him the definitive Batman villain. There is also a certain thing that makes Bane so much more.
Which is that he does actually have a soft side! He cries! It is stated that he is clearly in love with Talia al Ghul and his relationship with her, and Bane's background is enough to make me sympathize with him. Enough to make me nearly cry. It's a relationship that is beautifully brought on screen.
Into the mix Nolan also throws Anne Hathaway as Selina Kyle aka Catwoman (even though she is never referred to by that name). She is wonderfully portrayed and brings in some very appreciated sexiness and humor to the film. Her playfulness and side-switching is very much appreciated in a film this dark. Joseph Gordon-Levitt is brilliant and
that he is actually Robin, and the way he is introduced is nothing but the touch of a genius. Nolan clearly stated that he wouldn't include Robin in his films, but this is a masterful salute to the comics.
Michael Caine is heartbreaking in his role, Gary Oldman is amazing, Marion Cotillard is great,
while the twist on her actually being Talia al Ghul was guessed before the film came out, it is still done with great skill. Her relationship with Bane is excellent.
And Morgan Freeman is as great as always. Christian Bale does deliver his best performance in the role of Bruce Wayne/Batman in this film.
"You're not Batman any more."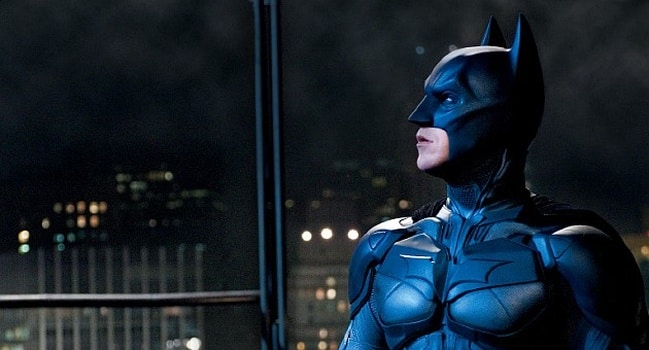 Nolan ends his trilogy in a masterful way. People can go on talking about
The Lord of the Rings
,
Toy Story
or the original
Star Wars
trilogy being the greatest trilogies, but I will be sure to bring up Nolan's three films about the Caped Crusader.
The Dark Knight Rises
is the craftsmanship of a master. Nolan's brilliant direction and his eye for details combined with Wally Pfister's beautiful photography and Hans Zimmer's thundering score as well as the brilliant script and acting is enough to make this the ultimate conclusion. A masterful conclusion.
10/10