Arriving twenty years after the infamously terrible The Room, 2023's Big Shark is Tommy Wiseau's second feature film as writer, director and lead actor, and it's clear that he learned absolutely nothing about the art of filmmaking in the interim. Overwhelmingly incompetent and thoroughly nonsensical, Big Shark can only be viewed as an unintentional comedy since it's impossible to take any scenes or moments seriously. Indeed, just like The Room, Big Shark is the type of bad movie that cannot be deliberately manufactured - it must happen organically, masterminded by a filmmaker who genuinely believes in their vision. The flick ostensibly takes place in some alternate universe populated by aliens who have taken alien form and are trying to mimic human behaviour. For those in the right mindset, Big Shark is absolutely hilarious and is best experienced in a crowded theatre with others who respond to this brand of cinematic diarrhea.


Patrick (Wiseau), Tim (Isaiah LaBorde) and Georgie (Mark Valeriano) live together in New Orleans and work as firefighters. Soon after being hailed as heroes for saving two children from a house fire, a 35-foot shark begins a rampage, roaming the streets through flood waters to eat everybody in sight. The city's only hope is Patrick, Tim and Georgie, who are determined to kill the gigantic shark. They also acquire a treasure map from a mysterious old bar patron that shows where the shark sleeps and might be able to help them in their mission.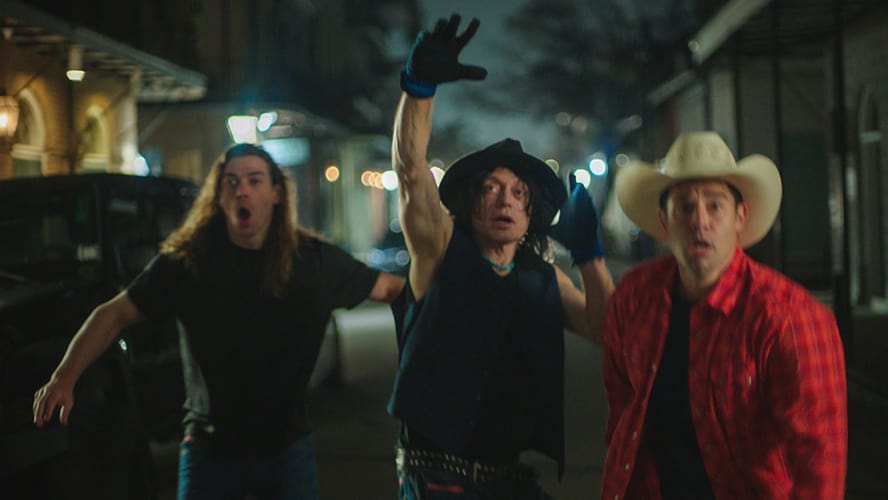 Despite Wiseau receiving a writing credit, the existence of an actual screenplay for Big Shark is highly debatable because there is no coherence to the story, and there is scarcely any cause and effect. Hell, in one instance, two versions of the exact same scene (with similar dialogue and the same characters) occur within 10 minutes of each other. Events happen that are not acknowledged, and the movie often cuts away in the middle of certain scenes to something completely different. For example, the central trio arrive to fight a fire at one stage, but an awkward cut gives way to another scene with the men now at home bickering over hot water usage. What happened to the fire? No idea. Additionally, vehicles change between cuts, which is especially noticeable since the film is full of driving scenes. Even in the midst of the Big Shark's rampage, characters still visit bars to drink beer and play pool, and nobody seems too fazed by the ever-increasing body count.
The pacing is all over the place, momentum is wholly absent, and the narrative lacks a cohesive rhythm, not to mention that there's no semblance of a three-act structure in place here due to the film's disjointed nature. Although the picture does drag a lot, it's at least livened by side-splitting scenes like the characters running around trying to catch squealing pigs or having a game of beer pong in slow motion. Other moments, such as a random basketball game, have no logical place in the story and are haphazardly thrown in. Although the military is apparently on the way to take control of the situation and fight the shark, they are never seen, and their absence is not explained. Hell, everybody seems to forget the military is on the way, as everybody quickly forgets this subplot. Given that the first teaser trailer for
Big Shark
landed in 2019 and there is scarcely any concrete production information, it's clear that pieces of the movie were filmed over several years whenever Wiseau had the financing to shoot something.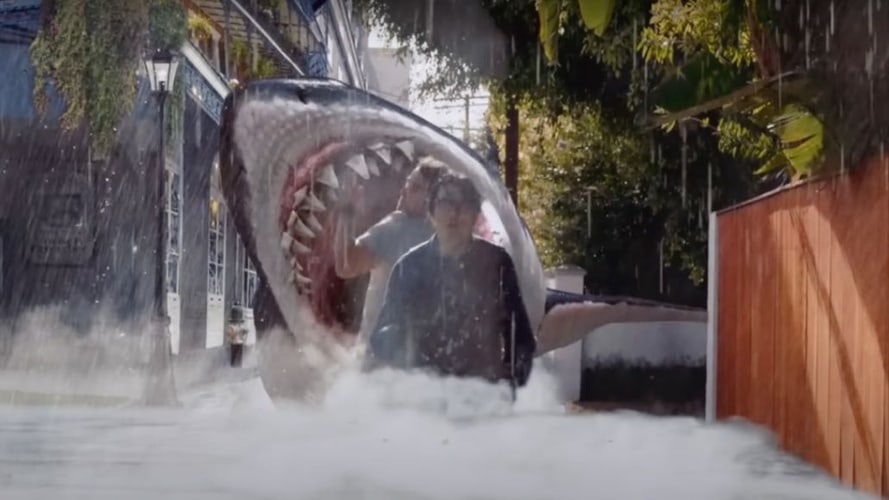 The cinematography is mostly acceptable, and things are in focus, at least, but whatever money was available for the cameras and lenses did not extend to the rest of the production. The sound mixing is particularly awful - some lines of dialogue are piercingly loud, while other lines are barely audible or are muffled by things like characters hugging. There is no consistency to background noises, either; an early scene in an auditorium is a mess, with the sounds of applause and cheering abruptly changing from shot to shot. Furthermore, it should almost go without saying, but the digital effects are awful, and Wiseau clearly has no clue how to stage CGI-heavy sequences effectively. In one scene, Wiseau uses the same shot twice, and this shot features different VFX assets in each iteration with no explanation for this discrepancy. The shark animation is reused often, especially when it rampages through the streets to eat people, and the shark seems to flee from its prey whenever it has an opportunity to eat any of the leads. There is no consistency to the shark's behaviour, either, which saps the movie of tension. In other scenes, the streets fill with water, but the water promptly disappears in the next shot. Indeed, even though New Orleans floods whenever the shark goes on a rampage, the water recedes within the space of a cut with no explanation for what the fuck is happening. Big Shark clearly did not receive any quality control before sneaking into cinemas.
The dialogue is clearly improvisation, as the actors frequently appear unsure of what to say, and conversations lack direction. Like
The Room
, the characters say bizarre non-sequiturs and random things. There is no convincing acting anywhere within the production, as the performers look and sound thoroughly unenthusiastic. Wiseau, of course, is the only enthusiastic one in the ensemble, and he fully commits to the material. Anybody familiar with Wiseau's acting approach, as depicted in 2017's
The Disaster Artist
, will better understand the sheer craziness on display throughout
Big Shark
. Unfortunately, even though Wiseau's
The Room
co-star Greg Sestero starred in the teaser trailer, he is not in the finished movie.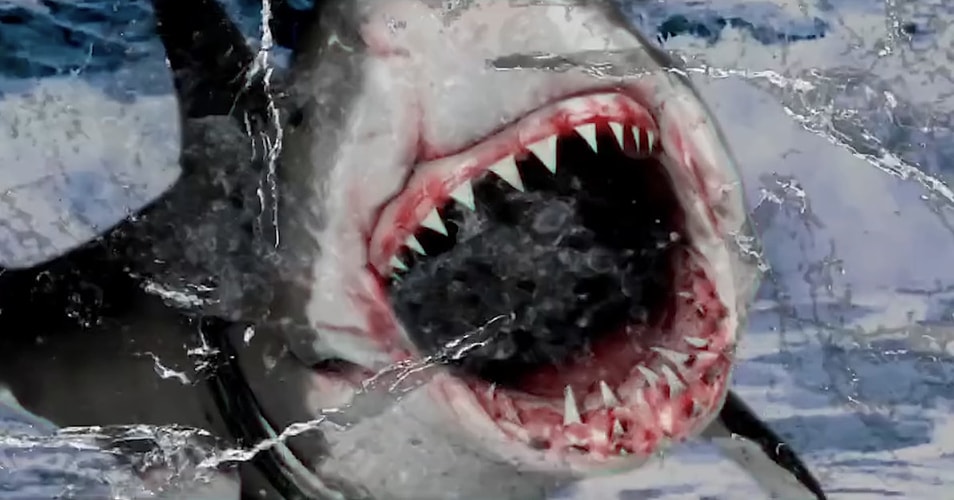 By Wiseau's own admission, many of Big Shark's odd creative decisions are direct responses to criticisms directed at The Room. For example, The Room was filmed on obvious sets and against green screen, so Big Shark was shot on location in New Orleans. In addition, The Room features atrocious ADR, so Big Shark only uses production recordings, with minimal (if any) foley and dialogue of wildly varying volume. The Room is full of horrendous dialogue, so Big Shark's dialogue was largely improvised. The Room is directionless and lacks plot, so Big Shark has more stakes and is about firefighters battling a shark. The resulting experience is undeniably unique. For better or for worse, you will never see another movie quite like this.
The editing mistakes throughout
Big Shark
are too omnipresent and noticeable to be accidental, but one supposes that Wiseau can rationalise each error with some peculiar logic. Your enjoyment of
Big Shark
relies entirely on your tolerance for bad movies. If you found no enjoyment in
The Room
, it's best you stay far away from
Big Shark
. But if Wiseau's brand of hilariously terrible filmmaking tickles your funny bone,
Big Shark
is an essential watch, particularly with an audience of like-minded people. I can say with absolute confidence that I have never laughed as frequently or as hard in a cinema before
Big Shark
, which left me rolling on the floor in fits of laughter with tears streaming down my face. I have no defence for the film's enormous errors and shortcomings, but it did make me laugh harder than any comedy.
4.5/10