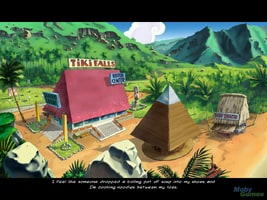 To all the older gaming crowd amongst us, mention Adventure games, and you will get great flashbacks to the classic early 90s Sierra and LucasArts titles such as
Space Quest series
,
Quest for Glory
,
Monkey Island
,
Sam & Max
, and
Day of the Tentacle
. But we all are fully aware that this genre has pretty much died these days. Certain titles do break thru into the mainstream (
Longest Journey
,
Dreamfall
,
Broken Sword series
) but for the most part, adventure games are released to the same small group of die-hard fans.
But a few years back in 2003, there appeared a runaway hit, in the for of
Runaway: A Road Adventure
. Blending great humor, slick cartoon-like graphics, a great story and nice puzzles, it sold well and gathered nice reviews from most sites. So it was with high expectations that I was looking forward to its sequel,
Runaway 2: The Dream of the Turtle
. And what a huge letdown it is.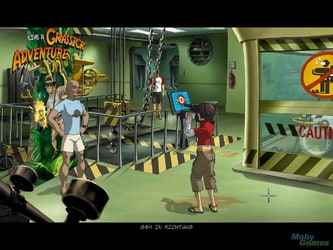 I had great hopes for it at the start, because the intro is very up-beat, with a great song, and truly almost feels like the start of a major motion picture, and not a video game. But after the plane crashes, and you're thrown into the classic adventure game formula or pointing & clicking on items and trying to figure out what to do next to proceed to the next scene, I quickly realized how weak this title is. For starters, even though its the same character as the original, it feels like a completely different (and worse) individual. You are now a surfer dude, arrogant, sexist, and even though you are on vacation in Hawaii with Gina, you seem more concerned with flirting with the local bar girl rather than trying to find out where Gina's parachute landed during the plane crash. And the puzzles and inventory items you need to piece together to achieve goals are downright insulting to anyone with half a brain. And even one particular scene early on, when I thought right from the start the best thing to do would be do put booze into the robotic dog (if you play it, you'll know what I mean), the game simply refuses to allow you do that, until you first try it with water, then it fails, then it allows you to use the booze instead. And many other parts along the way are this insulting, resulting in going back and forth to same locations until the story finally 'allows' you to use the item you had all along.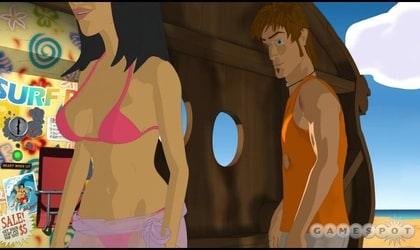 Next up, the story. I got part way into chapter 3, so I dont really know the full story, but from the parts that I did discover, I'm actually quite bored and dont really care to find out what happens next. Ok, so there is a shady colonel doing something secret in Hawaii, and he probably knows what happened to Gina. Great. What exactly it has anything to do with flirting with a bikini girl at the beach, I haven't got the faintest, and I really dont care. And all the text dialog all point to same conclusion, so I found myself just clicking thru it fast and not even reading along, also in part because of the next negative point: the humour. As in, there is none. But its worse than that. They are clearing TRYING to be funny, but its such lame jokes that it just bores me and insults me. Oh, the monkey is drunk. haha... because I gave it some booze! and now it wants MORE booze! oh, that is comedy gold! (apply sarcasm)
I really wanted to love this game; I love adventure games, I loved the original Runaway, and the production value is very high (graphically, voice acting, music - all reasons why I gave this game a generous 5 out of 10). But if the gameplay is so broken that its frustrating and insulting to try to figure out the puzzles, the story is dull, and the dialogue feels like its written by some high school kids, I gave up and uninstalled the game maybe about 1/10th of the way into it.
The worst part is that this game had such a potential to be a smash hit that re-awakens the Adventure genre, but since the core gameplay was completely ignored, I cannot recommend this to anyone. Its probably only good in the form of a movie-like walk-thru, using a guide you find on the net for this game's stupid puzzles.
High-definition trailer:
5/10