"It's hard to explain, because it's not just a dream. It's a feeling."
Take Shelter
is further proof that independent motion pictures are one of the most reliable sources of excellence in today's unstable cinematic climate. Rather than an in-your-face thriller reliant on big special effects,
Take Shelter
is a quietly involving, harrowing drama with a lot on its mind. The movie meditates on the nature of dreams and faith, explores the way that fear, anger and paranoia can effect one's mental health, magnificently captures today's shaky economic conditions, and even has a few things to say about climate change. Added to this, writer-director Jeff Nichols is a superlative storyteller, and the film spotlights an exceptional leading performance courtesy of Michael Shannon.

Set in the Midwest, construction worker Curtis (Shannon) is largely living the American dream - he has a steady job, and he's fathering a daughter (Stewart) with his beautiful, loving wife Samantha (Chastain). However, Curtis begins enduring apocalyptic dreams of storms, tornadoes and faceless strangers trying to abduct his daughter. As these dreams/visions start seeping into his daytime activities, Curtis grows unsure as to whether he's slowly going mad or having genuine premonitions. While secretly seeking medical help, Curtis also becomes obsessed with the storm shelter in his backyard, spending thousands of dollars the family doesn't even have to expand and improve it. With Curtis' actions growing more erratic, he starts to alienate his family and friends. Nevertheless, Curtis is determined to work to prevent the catastrophic doomsday scenarios brewing inside of his mind.

At face value, Take Shelter seems like a psychological thriller with disaster film overtones, yet the movie is far more substantive and thoughtful - it's predominantly a portrait of developing madness which contains a few terrifying disaster theatrics to assist this agenda. In a sense, Nichols' movie has a certain M. Night Shyamalan quality to it, as it possesses the same cadence and spirit of something like 2002's Signs. Not to mention, Nichols' storytelling relies on mounting intensity and the unpredictability of coming events. Perhaps what's most interesting about Take Shelter is that it's not exactly about whether or not Curtis is mad, but rather about how Curtis must come to terms with what's happening to him.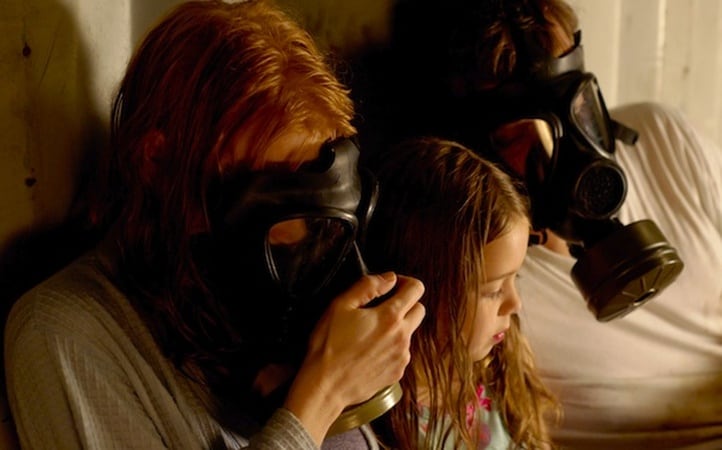 From minute one, Nichols places us into the head of Curtis, allowing us to experience his chilling visions alongside the confused protagonist. We can understand the anxiety that Curtis endures as he receives scorn and scowling from the community while working to do what he believes is right, no matter the cost (financial or otherwise). Also commendable is the script's treatment of Curtis - he's not just a crazy person but a genuinely scared and confused family man. Thus, he tries to hide his problems from his wife and secretively seeks help (he even visits his mother who was diagnosed with schizophrenia at his age, and borrows a book about mental illness from the library) as he works on the tornado shelter to address every possible meaning behind his harrowing dreams. Take Shelter is, indeed, a terrific demonstration of a character-driven narrative.

It may be a low-budget indie, but Take Shelter possesses utterly gorgeous visuals. Adam Stone's cinematography skilfully captures the beautiful natural landscapes and the dream sequences are magnificently atmospheric, with seamless digital effects resulting in a number of surreal, scary images that'll remain embedded in your mind for days. Also effective is David Wingo's low-key score; it's well-judged and effective, and it perfectly matches the happenings on-screen. However, while Nichols' direction for the most part makes for compelling viewing, the movie at times feels overdrawn. For instance, an extended scene of Samantha pleading with Curtis in the tornado shelter is prolonged to melodramatic proportions, and will probably leave you confused rather than intrigued about what will happen next.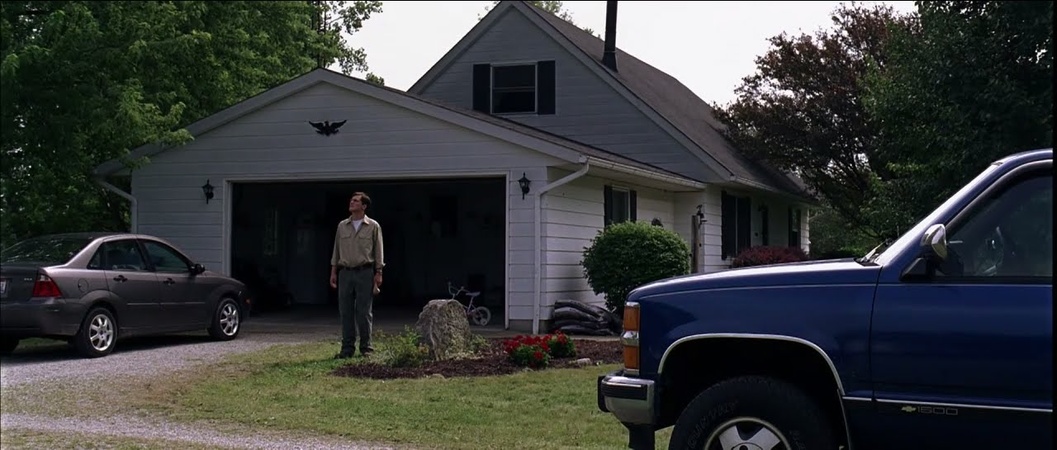 Michael Shannon received an Oscar nomination for his performance in Revolutionary Road, and is highly regarded for his work on Boardwalk Empire. Believe it: Shannon deserves to be a leading man, as his performance here is remarkable from top to bottom. He's the kind of actor able to express pages of dialogue with merely a look, and convey subtle changes in mood and awareness in a way that veteran actors can only dream of. Best of all, Shannon gives Curtis genuine three-dimensionality. There's never a moment in the film in which Shannon feels false or unbelievable, and the fact that he didn't earn an Oscar nomination is one of the worst oversights in recent memory. Likewise, Jessica Chastain (who received an Oscar nomination for The Help) is fantastic as Samantha. Not just a one-note harpy constantly yelling at her husband, Chastain plays the role as someone who loves Curtis and is willing to adapt to the worst of conditions. The steadiness she emanates serves to make Curtis look all the more erratic.

Take Shelter would've achieved dizzying heights of excellence if it were a tad tauter, but it's hard to hold too much against this remarkable film. It's full of striking imagery, and the stunning visuals are mixed with provocative themes. As the icing on top, it winds down with an ambiguous ending that defies expectation and is destined to keep movie-goers talking for a long time to come. Let the interpretations and film scholar essay writing commence...

8.5/10