''I'm not frightened. I'm not frightened of anything. The more I suffer, the more I love. Danger will only increase my love. It will sharpen it, forgive its vice. I will be the only angel you need. You will leave life even more beautiful than you ended it. Heaven will take you back and look at you and say: Only one thing can make a soul complete and that thing is love.''

Post-WWII Germany: Nearly a decade after his affair with an older woman came to a mysterious end, law student Michael Berg re-encounters his former lover as she defends herself in a war-crime trial.
Ralph Fiennes
: Michael Berg
The Reader
is one of those diverse films and stories that has the eccentric audacity to be both moving, emotional, historical yet also focusing on aspects such as relationships, justice and forms of
love
.
Based upon the electrically charged book by Bernhard Schlink and combined with the deliciously crafted screenplay from David Hare and then Director Stephen Daldry combines all the perfect material to give us a wonderful, tragic glimpse of a complex story of love.
With an astounding cast of formidable weight, a script that echoes measures and doses of genius, and locations fitting of a Post-War Germany,
The Reader
succeeds in being a successful insight into a faceted range of characters. Especially the main two, Hannah Schmitz and Michael Berg, both with completely different personas and a bonding unseen by many, but coming across as rare and tranquil. We have the unlikely bond that presents itself between them in an unusual series of events which brings the pair together, we have the age gap the two have arise, and a love sparked about by a chance encounter. From here
The Reader
begins in giving us an unusual romance yet proceeds in giving us a story which is in fact deeper and tragic all at the same time.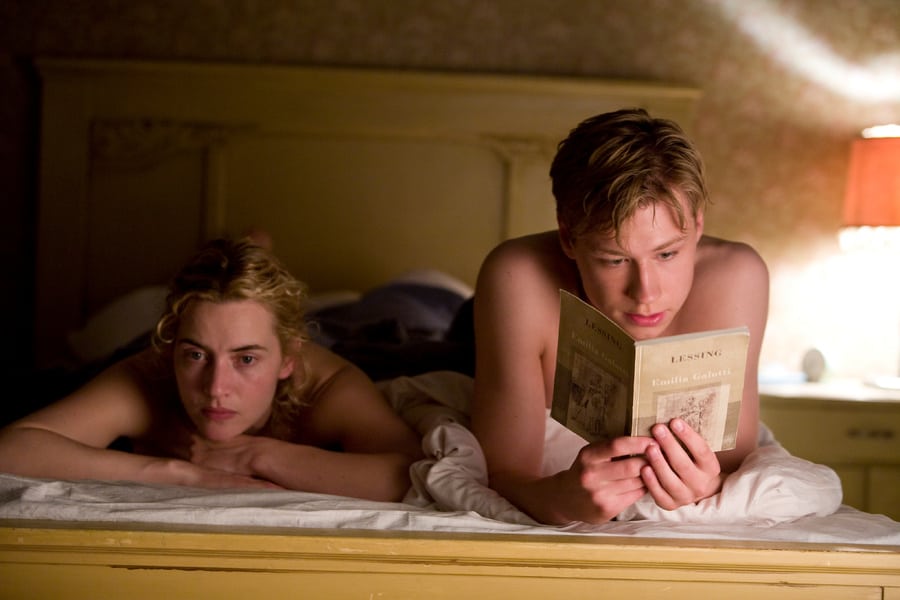 The story cleverly switches between past and present, in carefully stitched sequences which ultimately tell the tale of the two characters. Hannah is the lonely woman who takes into her affection and confidence the innocent and clever Michael, yet shows a hidden past and secrets which are present, the more you scratch past the surface.
We have an evolution of a relationship, and
The Reader
contains a series of sexual scenes and naked displays. In spite of any prudish audiences whom may have the pleasure of viewing this, the scenes are modest, beautiful and soaked with the joys of blossoming love.
Kate Winslet as Hannah, gives us an Oscar worthy performance, which now it becomes clear why such a versatile Actress is beginning to get recognition for her abilities. In
The Reader
Kate not only gives a perfectly delivered accent and speaks with energetic strides of submerging talent, it's her acting with her eyes, her motions and her flawless expressions of awe inspiring deliverance which comes off effortlessly. I still need to see the totally different
Revolutionary Road
, but
The Reader
has assured me Winslet is finally going to maintain some of the recognition she deserves.
Her chemistry with David Kross playing the Young Michael Berg, is successfully believable. David Kross appears in his best role and film yet, giving us a Law Student with emotional strains of empathy yet effortlessly telepathically even, manages to make us feel like he feels, he manages to capture the anguish present in the character of Michael. As he begins to read to Hannah stories of intrigue and imagination, we find this relationship isn't just restricted to mindless sex but a deeper constrained bond of love and companionship. This is all heavenly and bold, but obviously we also begin to realise good things don't usually last. as the film progresses loss and tragedy present and rear their heads.
Ralph Fiennes as Michael Berg, shows my favourite Actor in action, and he doesn't disappoint. Ralph excels and soars with the portrayal of a grown up Micheal, whom we also see a performance that exceeds mere words, and emotional expressions which impact the hurt and journey of one man's burden and struggle with his souls secrets and unresolved meanderings. When Ralph begins to become teary eyed we are too, because we've felt the journey with him, we've been every step of the way with this deep individual, we've seen the loss and love he's been endowed with.
Other appearances I feel obligated to mention would be the exceptional Bruno Ganz as a lecturer and an upcoming new actress Karoline Herfurth whom I've seen before in a smaller role of
Perfume
.
The Reader
is one of those films which has the unfortunate premise of being underrated and undervalued by many viewers, due to the fact it's not necessarily mainstream fodder. I'd highly recommend this film,
The Reader
is a vision of the past and yet a timeless account of a relationship, a bond, and a tragic trial of a woman whom made up for her mistakes. When we find she was previously a Nazi, an SS member, it's not the plain truth being found out, it's the reasons and redeeming qualities that make up for her misdeeds in the past. Ultimately what happens is tragic, it is a cruelly life portrayed, yet it's suffering and
beauty
echoes far into boundless leaps of eternities embrace.
Michael recording tapes and reading for her, while she is in prison seems to give her a glimmer of hope and something to live for.
The Reader
should definitely be watched by everyone who appreciates a powerful albeit saddening story of two soul-mates. The fact is
The Reader
has it's moments of humour and happiness, and like life it's the journey and experience which indeed counts.
10/10