''I listen to my heart.''

An east European girl goes to America with her young son, expecting it to be like a Hollywood film.
Björk
: Selma Jezkova
I don't even know where to start or where to begin with
Dancer in the Dark
. If movies, stories or songs are meant to depict the struggle and coldness of life, yet provide a backbone and glimmer of love, hope and sacrifice, then
Dancer in the Dark
succeeds. This is one of the hardest films to watch and one of the most soul shredding realistic experiences of hopelessness and of pain.
This really isn't something to watch alone or if you're in the wrong mind set, this is powerful material of inconsequential proportions. Cleverly,
Dancer in the Dark
combines hopeful musical segments with the cold, harsh
reality
of its real dramatic happenings and scenes of regret and remorse.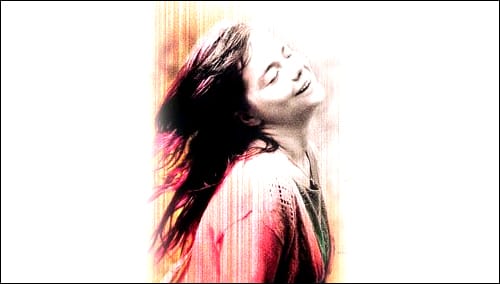 Björk as Selma Jezkova, gives the performance of her life, in one of the most heartbreakingly unfair parts of selfless endearment, to ever be committed to celluloid. A mother whom loves her son, to the point she will do anything for him, and won't let anyone come between what little hope she has for them. Her singing segments really show off her vibrancy and energy, and as a counter part to her musical enactments we have her acting, which is unrivaled. Playing a blind mother isn't an easy feat, and no one to my knowledge has succeeded as well as Björk has in this
Dancer in the Dark
.
Catherine Deneuve as Kathy her friend also proves charismatic and friendly with her good friend. She has an edge of seriousness, combined with helpful and willing intentions for her companion.
David Morse as Bill Houston, proves he can be a villain once again. But in my eyes I find him not so much an evil man, but a desperate one. A selfish man, using a scapegoat as a lowly alternative to finding money to pay of debts.
Peter Stormare as Jeff,once again also proves his affection for these diverse roles he chooses. Providing a love interest for the heroine of extraordinary heights. A moving encounter sees them, showing a love for each other that will always be. A sadness, revolves around proceedings when this love strain is cruelly taken away.
''In a musical, nothing dreadful ever happens.''

Musically this film is an artful diversion and combination of real-time and surreal dream sequence singing. The way
Dancer in the Dark
is filmed is done in a series of gritty, home camera styled shots which convey an awesome sense of realism and cold reality.
Some parts were a little shakey for my liking, and some close ups didn't help me focus on the whole picture properly but other than these technicalities I find myself mesmerized by the sheer power of realistically portrayed characters and sets us the audience are bombarded with.
Dancer in the Dark
will change your perception of life and conveys a heart crushingly real uncompromising journey of a woman's struggle against outside forces of unfairness and unjust happenings.
Overall,
Dancer in the Dark
is a movie which is about miraculous performances, especially in Björk's case, and I find myself wondering why she didn't garner an Oscar for this powerful display of raw kinetic, selfless power she generates in her magnificence. Not only does she act, she performs, sings and dances, thus giving a performance in body not just in words and emotion. We really believe her unrelenting struggle to save her son, we believe her dramatic,sad situation of her eye sight failing and we believe her selfish way is divine, not just human. In giving her story, a story like this into a film like this, we take the road with her in a sense, we see what others in the film don't see and the wondrous pain she has to face as a consequence of her actions.
The clever thing about
Dancer in the Dark
is that it makes us want to attempt to help her but we are restricted to merely watching in vain, we want something to intervene, we want to step in, we want a Saviour, and that's the grueling task we are faced with, like Selma Jezkova, we are powerless to do anything, when all these awful things transpire.
Dancer in the Dark
is an evolution of
tragedy
, one of selfless hope and a mothers love for her child above all else. My heart still aches from the journey and story, and I guarantee yours will too.
''They say it's the last song. They don't know us, you see. It's only the last song if we let it be.''
10/10