Australian involvement in the Vietnam War is seldom covered in film and television, outside of the little-known 1979 film
The Odd Angry Shot
and the obscure 1987 miniseries
Vietnam
. Enter 2019's
Danger Close: The Battle of Long Tan
, a contemporary Australian production about the oft-studied titular battle from 1966. Under the careful directorial eye of Kriv Stenders (
Red Dog
,
Australia Day
),
Danger Close
is a top-notch war film which is both intense and riveting, and it deserves to be viewed on the largest possible screen. Commendably, this is not a bargain-basement production that feels cheap or nasty; rather, it's a slick and proficiently produced feature which never appears budgetarily constrained. Although not able to reach the upper echelon of war movies,
Danger Close
presents an accurate, satisfying, and above all moving recreation of the historical battle.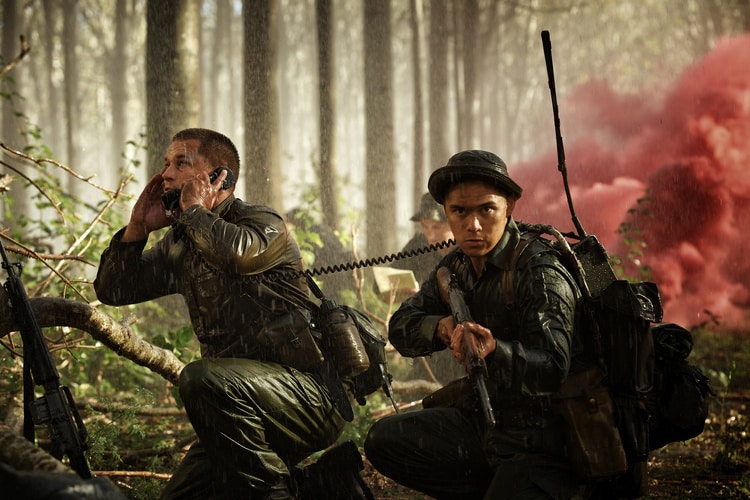 In August of 1966, three Australian Army Delta Company platoons led by 
Major Harry Smith (Travis Fimmel)
 are dispatched to investigate a rubber tree plantation at Long Tan following a mortar attack on the 1st Australian Task Force base in South Vietnam. Commanded by Second Lieutenant Gordon Sharp (Mojean Aria), with support from Sergeant Bob Buick (Luke Bracey), 11 Platoon comes under heavy fire from an entire battalion of Viet Cong and North Vietnamese soldiers, and struggle to hold the line with dwindling resources until reinforcements arrive. 12 Platoon, under the command of Second Lieutenant David Sabben (Sam Parsonson), as well as 10 Platoon, scramble to help their fellow soldiers. As the inexperienced Australian men engage in the fight of their lives, the skittish officers back at the base are wary of the risk of sending more reinforcements into Long Tan. 
Controversies surround the Vietnam War as well as Australia's involvement, but
Danger Close
wisely eschews exploring the turbulent political situation; instead, the film simply concentrates on the Australian soldiers who faced impossible odds on the battlefield. This results in a refreshingly apolitical, boots-on-the-ground war picture devoid of narrative flab and sensationalism. Among the most commendable aspects of
Danger Close
is its accessibility, as even viewers unfamiliar with military operations and jargon will still be able to follow and become invested in the proceedings. Additionally, the movie provides sufficient context and build-up before the titular battle commences, establishing the characters (without relying on stereotypical flashbacks or hoary stories about wives/girlfriends back home) and even revealing that a concert was occurring on the afternoon of the battle. Admittedly, though, the screenplay does take dramatic liberties, some of which are detrimental. For instance, the portrayal of Second Lieutenant Sharp is unnecessarily antagonistic and ignorant, and an early heated exchange between Major Smith and Private Paul Large (Daniel Webber) seems gratuitous and overblown. There are a few too many dramatic scenes of soldiers defiantly standing up to their superiors, as well. However, these are minor shortcomings.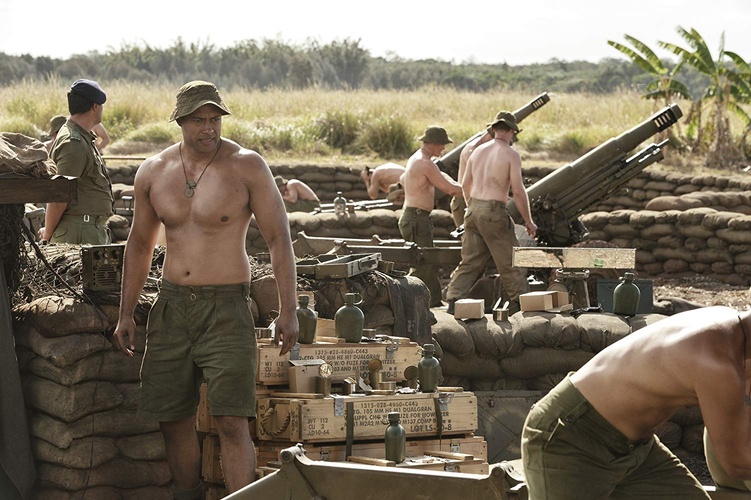 The production benefits from comprehensive research and an exhaustive attention to detail, which is reflected in the screenplay (credited to five writers, including Stuart Beattie) as well as the production values. Produced on a robust $24 million AUD budget, the illusion throughout Danger Close is compelling and convincing, from the era-specific period recreation to the spot-on costumes and firearms, in addition to the intense battle sequences beset with explosions and bullets zooming through the air. Stenders acquits himself admirably with the material, staging the shootouts with visual finesse and superlative intensity, aided by superb editing and slick cinematography, as well as exceptional sound design which puts you in the thick of the action alongside the Australian and New Zealand soldiers. (The sound design won an AACTA award.) The fighting throughout Danger Close is visceral and violent, and Stenders never shies away from showing bullet impacts or wounded soldiers. The use of practical effects and authentic jungle locations (with Queensland, Australia standing in for Vietnam) gives the production a gritty, realistic edge, while sparing use of subtle digital effects further augment the illusion. The CGI is occasionally obvious, especially when artillery is deployed (plus, the slow-motion POV shots following artillery shells through the air are a bit gratuitous), but it's not a deal-breaker. Danger Close also benefits from the score by Australian composer Caitlin Yeo (who specialises in documentaries and TV shows); the music is flavoursome and intense, and is never too intrusive. Even though there is a lot of fighting throughout Danger Close's two-hour runtime, it does not feel repetitive or boring.
In the de facto lead role of Major Smith, it is interesting to see Travis Fimmel (
The Beast
,
Vikings
) espouse his native Australian accent, and the resultant performance is unfailingly engaging. Fimmel is arguably the most high-profile actor in the cast (except maybe Richard Roxburgh or Luke Bracey), as the ensemble otherwise comprises of lesser-known Aussie talent. The lack of forced international star power is laudable, and the performers effectively hit their marks throughout. The movie also contains a welcome, larrikin sense of humour which makes the soldiers feel more real; one character even retorts "
We're not here to fuck spiders!
" in one scene. Furthermore, Australian Army advisors were present during every stage of the production; therefore, the battlefield tactics and firing positions ring true in every frame, giving the movie a stronger sense of authenticity.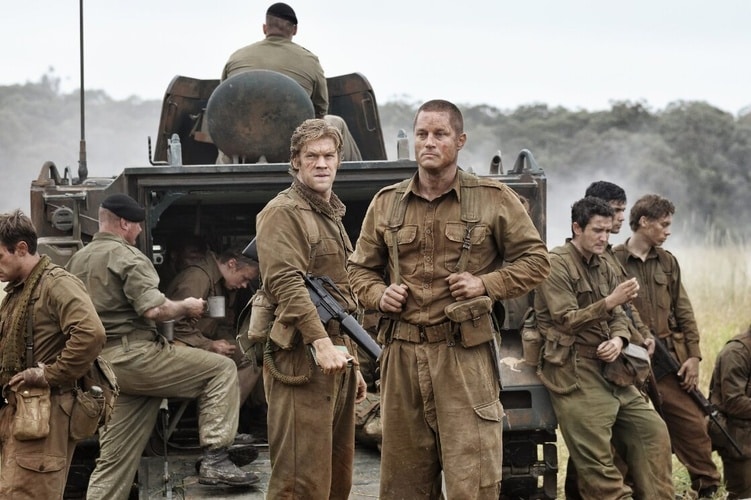 As is almost customary for this type of true-life war picture, Danger Close: The Battle of Long Tan closes with a montage of images of the real men involved in the battle, paying poignant tribute to the soldiers and their sacrifices. Plus, it's all set to the (somewhat predictable) tune of "I Was Only 19" by Redgum. It is a wonder why it took so long for the Battle of Long Tan to receive the big-screen treatment since the skirmish is frequently covered in classrooms across Australia, but it's encouraging to report that this movie has finally happened and that it's actually worthwhile. Danger Close is worth your time and attention, and it will stand the test of time.

8.0/10