1983's
Uncommon Valor
is a real meat and potatoes action movie ingrained with macho themes of brotherhood, honour and heroism, plus a considerable side order of testosterone. Directed by Ted Kotcheff (
Wake in Fright
) and produced by the inimitable John Milius, this is a satisfying manly movie in every sense of the word; a live-action iteration of "Soldiers of Fortune" magazine, packed with guns, explosions, helicopters and plenty of attitude.
A decade after the United States pulled out of the Vietnam War, some 2500 American soldiers are still listed as "missing in action," and might still be imprisoned in Vietnam. Retired Marine Colonel Jason Rhodes (Gene Hackman) firmly believes that his son, Frank (Todd Allen), is still alive and being held at a POW camp in Laos after being listed as MIA. After years of searching and gathering information, Rhodes discovers a promising lead but receives no assistance from the U.S. government. Determined to bring Frank home safely, Rhodes secures financial backing from a wealthy oil businessman (Robert Stack) and assembles a team of Vietnam veterans who were a part of Frank's platoon. Joining the group is former Recon Marine Kevin Scott (Patrick Swayze), whose father is also MIA in Vietnam. Under Rhodes' leadership, the team begins extensive training for the dangerous operation before flying into Southeast Asia hoping to bring home their missing countrymen.
The notion of American prisoners of war still being held in Vietnam became a full-blown action subgenre in the 1980s, leading to the likes of
Missing in Action
,
Rambo: First Blood Part II
, and other minor action titles. Perhaps unsurprisingly, since this is an action movie first and foremost, the intricate political situation surrounding the Vietnam War POW/MIA issue is only briefly touched upon, and is not explored with any depth or significance. Furthermore, the Rhodes family angle is undercooked and cut down to the bare essentials. Hell, Rhodes' wife (Gail Strickland) only receives about a minute of screen-time in total. Indeed, the screenplay (credited to Joe Gayton, from a story by actor Wings Hauser) is more focused on the mission at hand, tracking Rhodes as he determinedly assembles his squad and begins training before they travel to Laos. It's pretty formulaic, but that's par for the course - and even though some clichés are apparent, the movie manages to circumvent other obvious genre tropes.
Uncommon Valor
delivers what matters the most in this genre: it's brisk and no-nonsense, without any distracting pretensions or subplots to weigh down the narrative.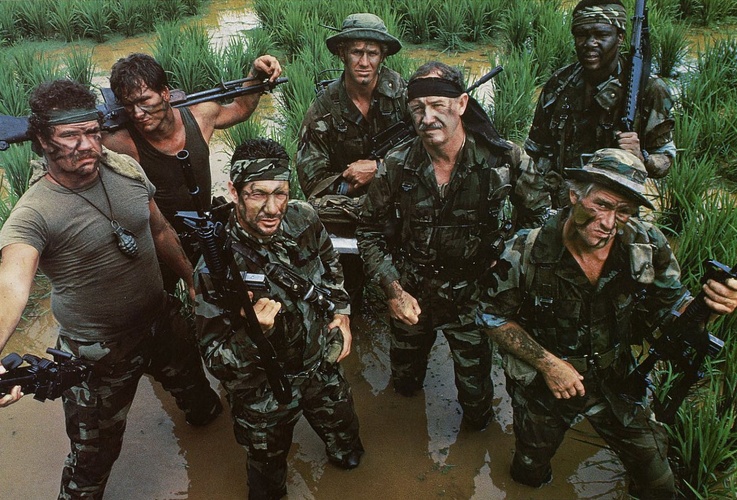 Kotcheff, who was fresh off directing 1982's First Blood, shows a firm command of the movie, making the most of the generous (for the era) $11 million budget. Aside from the opening scene depicting a battle in Vietnam, the action is reserved for the third act when the squad heads into hostile territory, and it is worth the wait - the finale at the POW camp is genuinely exciting and well-crafted, with competent production values to boot. The set-pieces are captured with sturdy cinematography by Stephen H. Burum, who often collaborated with Francis Ford Coppola (he even shot Apocalypse Now) and became Brian De Palma's go-to director of photography. Uncommon Valor was produced before the digital filmmaking revolution; therefore, it's a showcase for practical effects, with several helicopters even featuring in the climax. There's a certain grit and charm to '80s action movies with real pyrotechnics, location shooting and sets, which makes this a hugely entertaining watch in the 21st Century. Plus, although the action sequences still exhibit '80s filmmaking sensibilities, the shootouts are more believable than a more standard-order goofy action film, and are not outright ridiculous. Uncommon Valor also features one of James Horner's earlier film scores, and it's characteristically rousing work by the late composer. There's genuine majesty to the music, ably driving the film and amplifying the sense of excitement during the action scenes. The film even closes with a cheesy but effective Ray Kennedy song called "Brothers in the Night," which is note-perfect for the end credits.
A men-on-a-mission movie of this ilk heavily relies on a memorable ensemble cast, and
Uncommon Valor
delivers in this respect. Veteran actor (and former real-life Marine) Hackman is great in anything, and he's a superb leader as Colonel Rhodes, bringing reliable gravitas to the role despite the movie's B-grade origins. The colourful ensemble also incorporates a demolitions expert (Reb Brown), a traumatised soldier who prefers stealth kills (Fred Ward), an ace pilot (Tim Thomerson), a token African-American soldier (Harold Sylvester), and a crazy but loyal machine gunner (Randall "Tex" Cobb). Cobb is a scene-stealer as the unhinged Sailor, and he's lovable in his craziness. Meanwhile, Swayze is surprisingly terrific as the by-the-book Marine Corporal, even though this was only his third feature-film appearance (this was a year before
Red Dawn
). The actors all hit their marks confidently, ensuring that we have a firm grasp of the characters before they carry out the dangerous mission in Laos.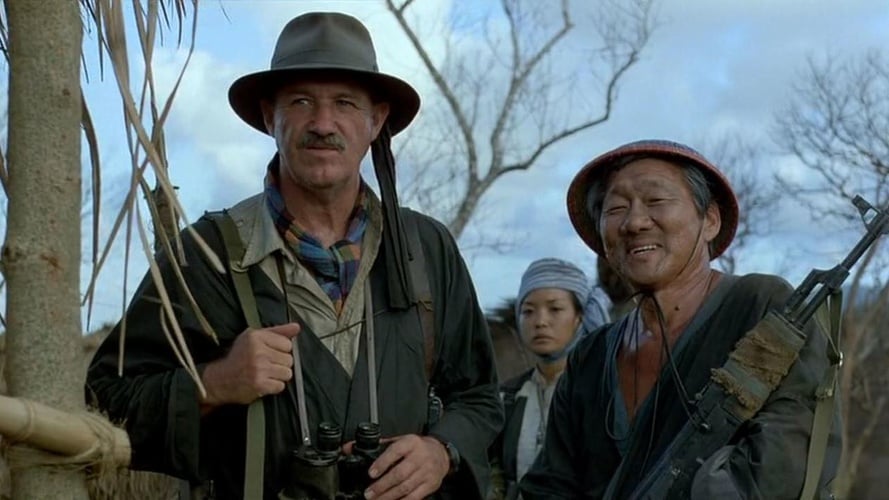 There's more heart and emotion to Uncommon Valor than expected, and these qualities anchor the narrative - it's the most believable Vietnam POW/MIA movie from the 1980s. Aside from Rhodes being haunted by the absence of his son, it's also effective to see how the men are impacted by returning to military life after a decade of living as a civilian. A minor box office success in 1983, Uncommon Valor rapidly faded into obscurity, and is only remembered by avid genre fans. Those who enjoy this brand of macho '80s action film will get the most out of Uncommon Valor, as it's supremely entertaining, but everybody else need not apply.

7.2/10