In 1996, Konami decided to release an RPG on the Playstation game console in North America. This RPG wasn't visually stunning, it wasn't 3D, and it just looked like a run-of-the-mill role playing experience...But remember back to when you were in grade school and your teacher told you not to judge a book by its cover? When you play Suikoden, you'll be reminded of it within the first few hours of gameplay.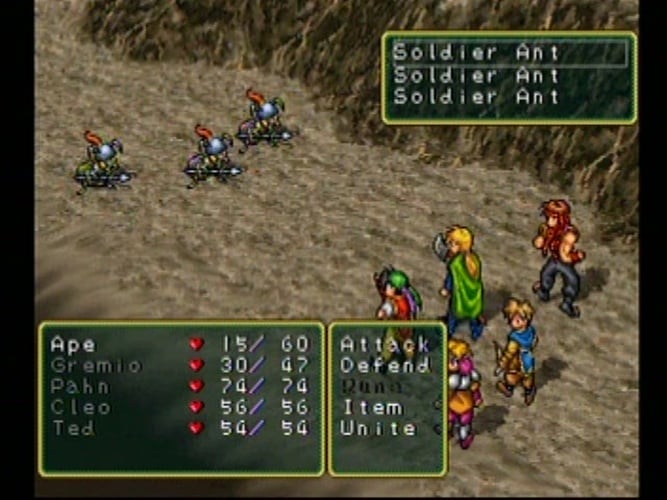 The story is pretty simple, but original. You take the role as the son of one of the generals in an empire's army. When your pop goes away on business, you find out that your best friend is a 300-year old teenager and that the castle's sorceress wants the magic rune thing embedded in his hand. This leads to that, that leads to this, and suddenly you've got the rune on your hand and the sorceress with an attitude as bad as her hairstyle is hunting you down...Which motivates you to build up a rebel faction to take down the empire. See? Basic stuff there.
As far as battles go, there are three types of battles. The first is the most common one, and that's your usual turn-based combat. What makes Suikoden's turn-based combat so different from most RPG's, though, is that you're controlling six characters on the screen at a time AND by mixing and matching characters in your party, you'll find 'Unite' attacks, which allow several characters to attack at once to deal mucho damage to your enemies. Trying to mix and match party members to gain an advantage in a boss fight you're having trouble in, can be a key to success.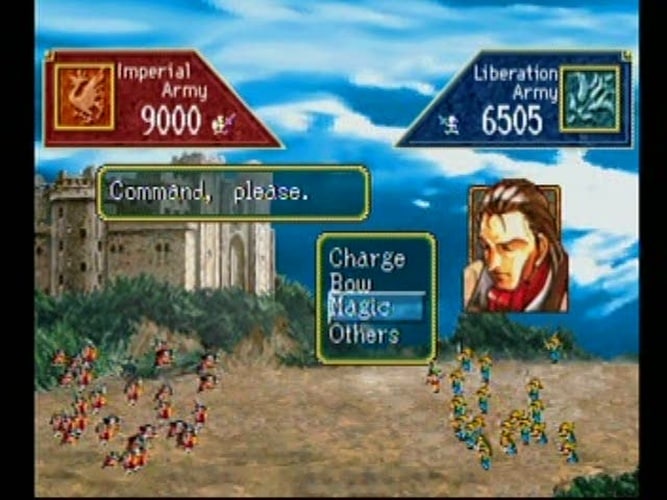 The other two battles types aren't used nearly enough. The first is used, if I remember correctly, three times at the most through the entire game. It's called the Duel and is a one-on-one fight. The Duel is a pretty easy battle type as all you have to do is read what your opponent says before an attack to determine whether you should attack, defend, or go for an all-out attack. If you're careless in the Duels, though, it is very easy to see that Game Over screen. The other battle type is used more often, but it would have been neat to see it more. This battle type is basically a war. A couple thousand of members of your army versus a couple thousand of the enemy's army in a deadly game of paper, rock, scissors...Which is essentially what they are. You have to choose between charging the enemy, shooting arrows, attacking with magic, or trying to pull a trick out of your sleeve like sending someone over to recruit the enemy or learn what their next move it. Then try to attack the enemy with whatever weakness the attack you think they'll be using will have. These wars can be risky, however, because if you make a wrong move, you may end up killing a party member...And if that happens, they're gone for good.
Another major factor in the gameplay is collecting characters. You're building a rebel army so you need all the help you can get. In Suikoden, there are 108 characters to find and recruit for the army...including yourself. Some will join automatically while others need specific tasks done, while others are just simply hiding and need to be found, and others still will join if you just show mercy and refuse to kill them. If you can make it to the end of the game, after having recruited all 108 characters, you'll receive a much better ending and gain a nice little surprise before the final battle.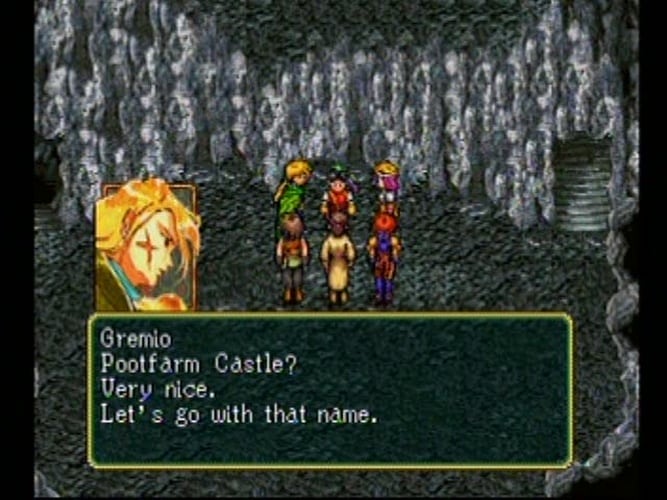 The only real downside to this game, unfortunately, is the graphics. While several folks who adore 2D sprites, like myself, may embrace the graphics...We're the minority. A lot of folks will shun it because it doesn't look like the 3D Playstation Final Fantasy games do. It looks like it could've been a late SNES game...And while the timeframes of late-SNES and early-Playstation are pretty much the same, there will still be that graphical expectation due to the difference in hardware. Another slight downside is the length of the game itself. Some RPG fans want a nice-long game...And while you'll get a nice game with Suikoden, you won't get a particularly long one. I managed to beat the game and obtain all 108 Stars of Destiny in just over twenty hours.
Overall, Suikoden is a very good game. What it lacks in graphical power and length, it makes up for with fun gameplay with an emphasis in exploration and experimentation. Throw in a decent little story and sprinkle in a few different battle types and you've got an RPG that looks like a plain, generic piece of poo but plays like a masterpiece.
9/10