Fire Pro Wrestling is known amongst wrestling fanatic gamers as a great simulation of the sport of professional wrestling. Fire Pro Gaiden: Blazing Tornado was a unique game in the Fire Pro series as it added an arcade-style of gameplay to the fantastic Fire Pro formula. Does this arcade-ish take on the Fire Pro series live up to the reputation of the regular games in the franchise? Well, read on and find out.
As I stated earlier, Fire Pro Gaiden: Blazing Tornado is an arcade-inspired Fire Pro Wrestling game. The way I kind of describe this game to folks is that Saturday Night Slammasters was mostly arcadey, Street Fighter-ish gameplay with some wrestling tossed in. Fire Pro Gaiden is the opposite; it's mostly wrestling, but it's got enough arcade elements tossed in to make it different from the rest of the series. How so you ask? Well the modes alone are enough for most folks to see the arcade-style influence – Circuit mode (which is the 'arcade mode' in most fighting games), Elimination mode (two teams of four wrestlers battle it out in one-on-one matches), and Power Battle mode (basically Elimination mode, except you're a team of one wrestler and you're battling the entire roster of the game).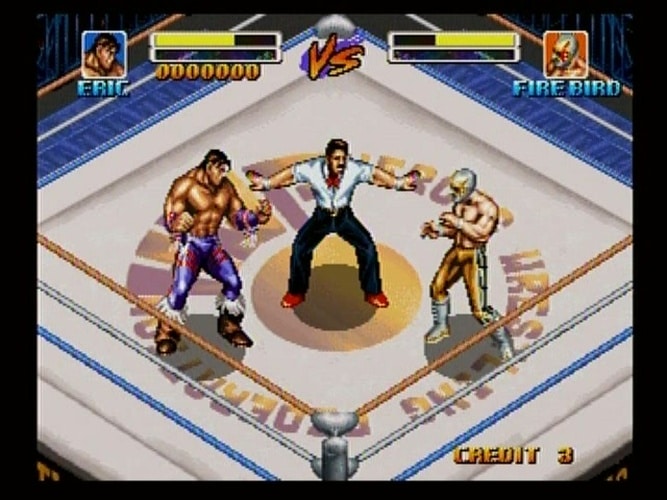 Further showing arcade influence is the gameplay itself. The gameplay in Fire Pro Gaiden is simplified a little from your average Fire Pro Wrestling game and some of the moves are exaggerated a tad, which further gives you an arcade feel. Also, weapons can be involved in any and all matches; there are no disqualifications in Blazing Tornado. Once outside, all you have to do is go up the the guardrail, press a button, and you've armed yourself with a glass bottle, a chair, or a folded-up table. However, despite the small arcade touches to the actual gameplay, this is still very much a wrestling game rather than a fighting game. There may be no disqualifications, but you can still win or lose via pinfall, submission, or count-out...And depending on the difficulty that you're competing on, the matches can easily come down to whoever lands the next big move getting the victory.
With how competitive the computer is, it really helps add to the replay value of the game...Because, quite frankly, there aren't many modes to master and to top that off, there are only eight characters (nine if you've got a cheat code) to compete as...Which isn't terrible, but Fire Pro Wrestling is known for having an incredible volume of wrestlers in its games. To counter this, the wrestlers in Fire Pro Gaiden are larger and more detailed than in other games in the Fire Pro universe. Despite the more detailed competitors, I can't help but feel that the roster could have and should have had at least sixteen characters...Though, in honesty, the characters that are included in the game each have different styles. They also all have different personalities, which again, give it a little bit of an arcade feel...or a WWE feel, whatever you prefer to describe it as. It should also be noted that unlike other Fire Pro games, the members of the Blazing Tornado roster are completely original characters, not generic copies of real wrestlers to avoid copyrights.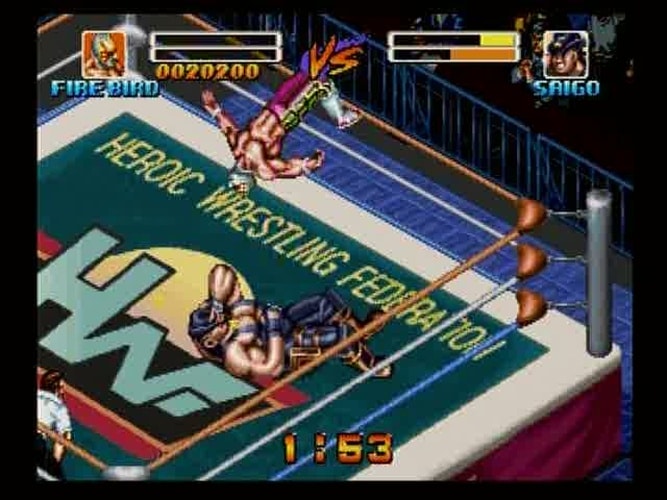 The controls to the game will be very familiar to Fire Pro veterans. Newcomers may have some difficulties getting used to the isometric point-of-view and how that effects the accuracy of punches and attacks. But, overall, I actually feel that this game controls better than just about every game in the regular Fire Pro series. However, that also may be because the emphasis here is the gameplay, whereas in many Fire Pro Wrestling games, especially the later ones, the emphasis of the game seems to lean towards watching the computer duke it out while you book dream matches that you wish to see. Perhaps that's another reason that I feel as if this is an arcade version of Fire Pro...Well, that and it was actually in Japanese arcades.
Graphically, I'd say that this is probably the best in the series. With the smaller roster, the characters on-screen are now larger and more detailed and so is everything else, from the crowd to the ring. That said, it all looks alright until the camera zooms-in on the action during a big move and the on-screen characters become incredibly pixelated. I kind of looked at it like an artistic style and wasn't bothered by it. However, folks who place high value of a game based on the graphics may be pretty underwhelmed here. The audio found here is alright. There's really nothing outstanding to mention, but likewise there's also nothing to complain about. The audio works with the game, just don't expect the soundtrack or anything to leave you in awe.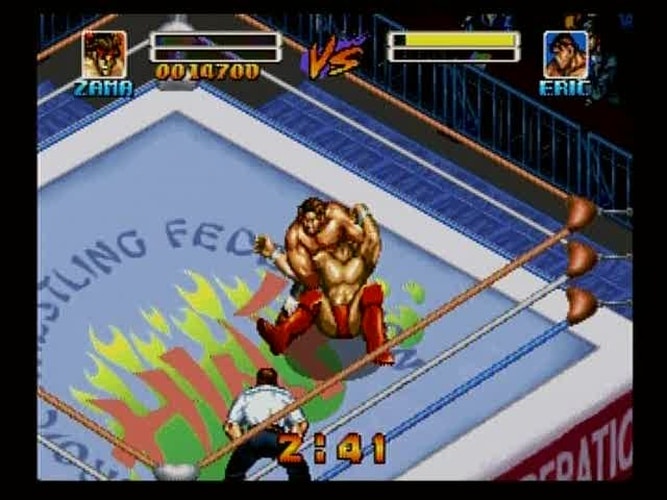 All in all, Fire Pro Gaiden: Blazing Tornado is a pretty good wrestling title. It may not have the depth of your usual Fire Pro title, but what it lacks in match types, roster size, etc. it more than makes up for in the actual gameplay, which is a little easier to pick-up-and-play in comparison to other games in the Fire Pro series. If you love wrestling games, you'll likely love Blazing Tornado. And if you're intimidated by the fact that this is a Japanese import, don't be. Most of the game is actually in English, including the ring introductions, which makes this a great import for wrestling fans that aren't fluent in Japanese. Despite some flaws, like a lack of gameplay options and match types, and a somewhat low replay value, Fire Pro Gaiden: Blazing Tornado is a great addition to the Saturn library of any pro wrestling fan.
7/10