The Dreamcast was host to a lot of fighting games and one of the early favorites was Marvel vs. Capcom, where players battled in teams of two. With the success of that game, it seemed only natural for Capcom to release a sequel...And it improved on the original in about every way imaginable. From the HUGE selection of playable characters, which is 56 for those wondering, to stepping up the gameplay itself and making it teams of three rather than two, Marvel vs. Capcom 2 isn't just a great sequel, it's one of the better and most sought-after games in the Dreamcast library.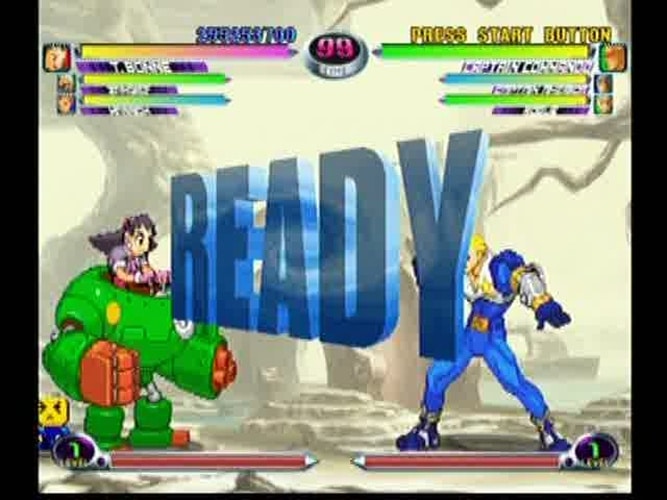 The gameplay is fairly simple...Teams of three battle each other in tag-team style gameplay, where button mashing will give you pretty much the same amount of success as precise button commands, and the characters are so unevenly-matched that it almost seems like a disorganized mess. Sound fun? Well, it is. Playing Marvel vs. Capcom 2 is a chaotic experience, but most likely a chaotic experience that most gamers will love.
The major problem (according to some) with the gameplay is how unbalanced the fighting is. If someone who has never played a fighting game chooses someone like Cable, with powerful, long range attacks, and they fight against someone who took the time to master someone like the Hulk or Zangief and all of their attacks, there's a very good chance that the button-mashing newbie that has never played a fighting game in their life will hold their own by mashing buttons against their fighting game master opponent. In fact, there's a chance that they won't just hold their own, but beat the veteran fighting gamer. That's both in part to the unbalanced characters and also to the fighting system itself, which unlike most fighting games, almost seems to reward players for being button mashers rather than learning the precise button commands, like I had mentioned earlier. Personally, I'm not completely against either aspect of the fighting. The button mashing makes it easy to pick up and play for newcomers, which is nice. And the unbalanced characters are acceptable in my book, if only for the fact that you're choosing a team of three fighters that you can tag in and out at any time...If one of your fighters is weak against one of your opponents, then that's your cue to tag out. To me, that's not a problem like a lot of people say, that's a neat aspect to the fighting engine that adds strategy. If this was one-on-one fighting, then I'd feel differently, but it's not.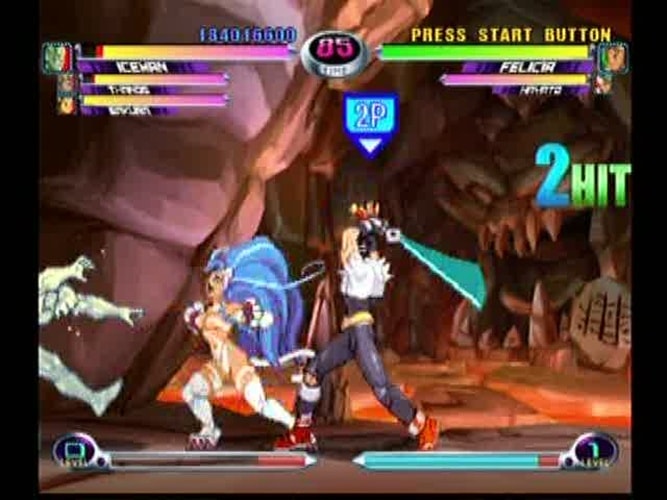 Anyway, I stated earlier that there are 56 playable characters in Marvel vs. Capcom 2, and there are, however, when you first begin there are only 24 to choose from. The remaining 32 are unlocked by playing the game, earning points, and going to the 'store' in-game to purchase the remaining characters. Some people may not like this, but I'm not one of them. I really, really enjoy this feature as it added tremendous amounts of replay value to the game for me. I spent hours upon hours playing this game simply because each time I unlocked a new character, I wanted to play the game as them and learn and see all of their special moves. Some folks may not like this and think that it's a bad thing that everyone isn't unlocked right off the bat, but personally, I love it.
As far as the cosmetics go, Marvel vs. Capcom 2 is decent. As I've stated in my reviews for the ports of this game before, the audio is annoying jazz. It's not so annoying because it's bad (which it is), but it's annoying because it's bad AND somewhat catchy. You'll hear trumpets from the intro movie for days after you play....or a woman singing that she's 'gonna take you for a ride' from the character selection screen. Some may enjoy these tunes, but from what I've seen, most folks aren't fans. The graphics are done fairly well. The levels are beautifully made and the sprite-filled characters look quite nice. So, as far as cosmetics go, you've got some good and some bad....But nothing so major that'll prevent you from enjoying your time playing this game.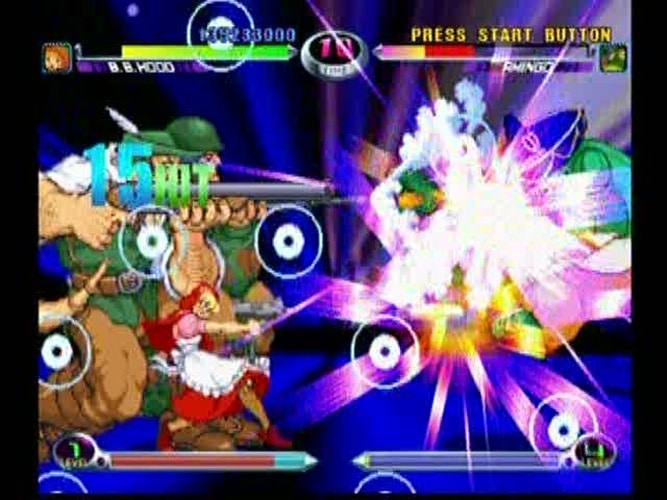 So, in the end, what we've got here is a very good game put out by Capcom. If you walk into it expecting a strategic fighting experience, you'll probably be disappointed and may be better off getting a copy of Street Fighter III: Third Strike instead. However, if you're open-minded to the button-mashing bliss that Marvel vs. Capcom 2 provides, you'll likely grow to understand why it's one of the most beloved games on the Dreamcast. On top of the fun fighting engine, the game is loaded with characters and levels to unlock that can provide hours upon hours of replayability. Fighting game purists may prefer more 'sophisticated' fighting games that involve more timing and strategy than the button-mashing mayhem found here. But to many, including this reviewer, this game is one of the best to be published on Sega's final console.
9/10