When it came to scrolling shooters, 1942 was always a game that I looked back fondly on. When I was a kid, I absolutely loved it. Then again, when I was a child, I could only survive for a few levels before it was game over. Now, after playing 1942 for this li'l review, I've got to say, what seems like a solid shooter slowly transforms into sleep-inducing boredom. I still like the game for something to play for a quick five minutes...But beyond that, 1942 overstays its welcome.
In 1942, you control a plane through 32 levels and try to shoot down other planes while avoiding their fire. Along the way, you can collect power-ups that increase your fire power or even send ally planes your way for even more fire power. Unfortunately, that's pretty much it. There aren't many different kinds of enemy planes for you to shoot down and once you play the game for a while, it's not very difficult to avoid them...Which makes it fairly easy to max-out your plane's fire power, which in turn, makes it even easier to avoid being shot down yourself. So, this makes the game get very repetitive very quickly.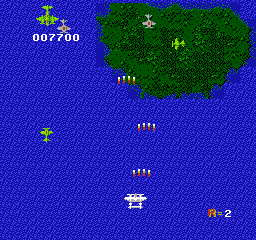 Also repetitive are the levels. There are 32 levels in all, and the game counts them down as you play. The level designs are VERY boring, which doesn't help the repetitive gameplay. The first several levels are nothing but water beneath you...Then gradually, you'll see forested areas, desert areas, and at the very end of the game, some cities. However, even when these other areas pop up, you're still seeing mostly water. The areas besides water are also annoying due to the color scheme. The enemies and their bullets often blend into the backgrounds when you're not flying above the sea. If you focus mostly on enemy fire rather than where you're aiming, you won't have too much of an issue, but if you're going for as much enemy destruction as possible, it can become a bit annoying. It's also worth mentioning that while there are technically four boss fights, there is no final boss fight on the last level, but there is a normal boss fight on the second to last level...Which I find kind of puzzling.
Each level takes roughly two minutes to beat, which means you should expect to put at least an hour into the game if you're planning on beating it...Add more time for restarting levels after dying and the like. This would be fine if the game stayed fun from beginning to end, but as I mentioned earlier, the levels get repetitive quickly. When I finished playing, I really felt like 32 levels was WAY too many. I think eight levels, and maybe a few difficulty options to add replay value, would have made this game seem much better. As it is, I nearly fell asleep at one point while trying to play through, which ended my game, making me start all the way from level one. Needless to say, I was not happy.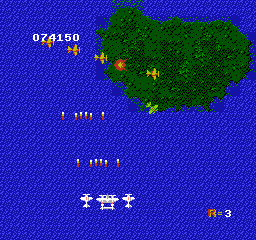 But with all the negatives I'm tossing out, there are some positives. 1942 is fun when you first begin. The controls are smooth and react perfectly to what you want to do. There is also a neat option to do barrel rolls if you feel as if the enemy is overwhelming you with too many bullets or kamikaze planes to dodge normally. The barrel roll will let you avoid most enemies in sticky situations, which can come in handy. Unfortunately, the problem with 1942, as I mentioned earlier, is that while it's fun, it's just too much of the same if you're planning on playing all the way through...So the bad outweighs the good.
Graphically, 1942 is pretty basic, but not terrible. Like I mentioned earlier, I wish they did a better job with the color schemes of some of the backgrounds and/or enemy planes to prevent the blending-in effect that can sometimes lead to cheap deaths...But when it comes to the sprites themselves, for its time, it's got average graphics. Nothing spectacular, but they're not poor, either. The audio is terrible. It's one track that loops during each level...And it's basically the 8-bit equivalent of nails on a chalkboard. It's not so bad at first, but again, the repetition hurts the game...After 32 levels of hearing the background music, you'll feel like jamming a pair of scissors in your ears.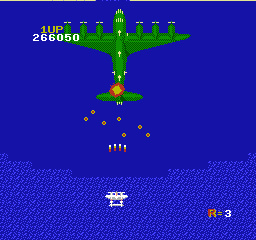 All in all, 1942 would have been a good game if the developers had heard of the phrase, "Less is more." A few levels would have made this a very fun game...But 32 levels of essentially the exact same thing is just too much. This game feels like being stuck in a room and being told that your only entertainment is to press a button, which creates a fart noise. Yeah, it'll be amusing at first...But after ten minutes, the joke grows old and you're ready for something else. In 1942, 'something else' never comes.
4/10