Have you ever played Twisted Metal or Vigilante 8? While playing them, have you ever thought that it'd be great if the game was dumbed down and contained WWE wrestlers? Me neither. But, someone at THQ did apparently as they released this bargain bin game that features WWE wrestlers facing each other in vehicular combat...And while this sounds like it would be absolute trash, especially since it came out at $20, it's surprisingly not that bad.
In Crush Hour, you can choose from over thirty WWE wrestlers as they maim each other via motor vehicles rather than their fists. The game has exhibition mode, which is basically you just picking what you want to do and then playing. There's also a season mode, which basically has you entering arenas (complete with entrance music) and taking on a select number of opponents with various goals for you to accomplish to win. In season mode, you can also unlock a lot of goodies like new drivers and arenas to demolish each other in.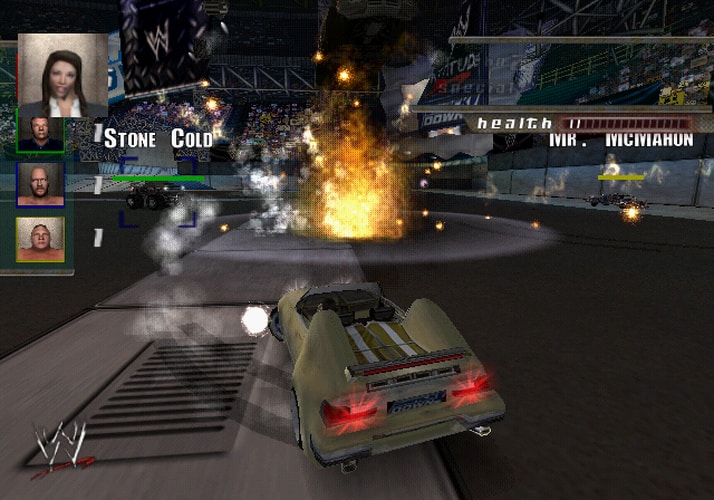 In terms of gameplay, Crush Hour plays like a very dull and boring version of Twisted Metal. The weapons are pretty basic, however, each wrestler has a bar up top like in THQ's Smackdown games of the time did. After inflicting a certain amount of damage, that bar will fill up and you can use your 'finisher' on the other cars. If this was all that Crush Hour had to offer, it'd be very disappointing. But, Crush Hour adds to the gameplay by creating modes based off of the Royal Rumble and the old 24/7 rule the now defunct Hardcore championship used to have, where you try to keep the belt until the time runs out. These unique ideas help hide some of Crush Hour's simplicity issues and make it somewhat fun to play, and will likely keep you playing this game much, much longer than you would have had these modes (which are unique to car combat games) not been included.
Graphically, Crush Hour is what one would expect from a budget title...Nothing really great here, but not incredibly awful, either. Most of the graphics are pretty bland, but not overly so. Also, the Titantron videos for each wrestler are a nice little touch for the entrances, too. As far as audio goes, it's pretty rough. The entrance themes are of decent quality, but not so much for everything else. The sound effects are dull. Jim Ross also announces as the action takes place...And it serves as a good laugh in the beginning, but when you hear the same phrase for the hundredth time, you'll be reaching for the mute button.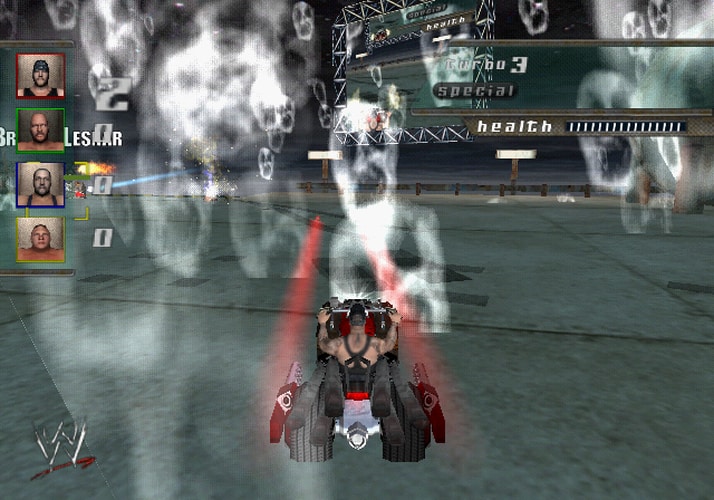 Overall, WWE Crush Hour is a surprisingly good bargain bin game. It's not the best car combat game out there, but it has enough innovative bits and pieces to make it worth playing if you're a fan of the genre or just a fan of the WWE product in general. The Twisted Metal games will provide you with more overall fun, but for a cheap, unique alternative, you can't really go wrong with WWE Crush Hour.
7/10