During its heyday, if there was such a thing, the Sega CD had titles of various quality...But, there was one type of title that hadn't been released yet...A type of title that has been released on nearly every gaming system – a WWF wrestling title. That's where WWF Rage in the Cage fits in. Take the engine of WWF Royal Rumble for Sega Genesis, remove a few modes, add in a steel cage match, and you've got WWF Rage in the Cage; a title that should've been much more than what it was.
Like I stated above, Rage in the Cage is essentially just the Genesis version Royal Rumble as far as gameplay goes. Everyone has the exact same moves, aside from finishing holds. Lock-ups are nothing but button mash-fests to simply execute a move. Finishing holds are done by hitting the 'Z' button at the time and area designated to each particular wrestler. While this type of gameplay is alright for some mindless fun, it grows old quick. Having the only different move between wrestlers be their finishing moves, while the rest of their arsenal is exactly the same as everyone else, is just plain lame.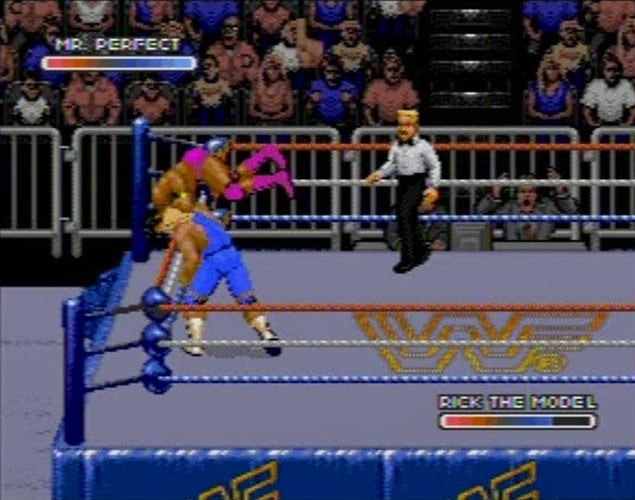 Also lame is the lack of match types. What happened to them? You can't even have the basic tag team match...Which is ridiculous since they actually included two tag teams (the Headshrinkers and the Nasty Boys) in the game. I mean Money Inc. is in the game as well, but both IRS and Ted DiBiase were successful singles competitors, too. Nobody at the time could really see Samu, Fatu, Knobbs, or Sags as singles folks...So why not give them the opportunity to shine in tag action? Also missing is the Royal Rumble match, which was fun in the Genesis and Super NES Royal Rumble games even with the repetitive move sets. Replacing these match types is the Steel Cage match, which can be decent fun...But not fun enough to sacrifice the other match types for it.
Graphically, the game really doesn't look much different than the Genesis or Super NES versions of WWF Royal Rumble. It's basically the same sprites, just a larger selection of wrestlers, so a little more variety in what you see during matches. The little bit of video footage in the game is very grainy and you get the impression that they shoved it in there because they could rather than because they actually had a use for it. Audio-wise, the game is pretty nice. It features full-length ring introductions from Howard Finkel as well as a little promo from each wrestler prior to each bout. Also, when you stop on a specific wrestler, a CD quality version of their entrance theme plays. So, all in all, the audio is pretty good.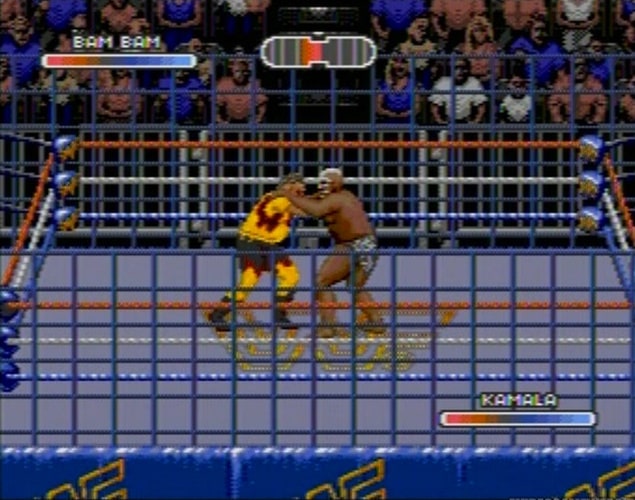 WWF Rage in the Cage had potential to be so much better than it was. If they hadn't knocked out all of the match types found in previous WWF titles, there'd be a bit more replay value here...But when all you can really do is a singles match or a cage match, there's not really any reason to continue playing the game at all unless you're an absolute die-hard wrestling fanatic...And even then, it's only a matter of time before boredom pins you down for the three count.
4/10