2018's Tomb Raider represents the second attempt to adapt the long-running video game series of the same name into a big-screen blockbuster franchise, fifteen years after the first cinematic incarnation (starring Angelina Jolie) petered out after a mere two instalments. This reboot takes its cues primarily from the 2013 video game reboot, merging the game's broad plot strokes and reimagined Lara Croft with Batman Begins-style gritty realism, and it's an origin story to boot. Despite refined visuals and an intriguing change of direction, this new Tomb Raider only works in fits and starts, marred by uneven pacing and an overcomplicated story. A movie this technically proficient and expensive has no business being so lacklustre and cold to the touch.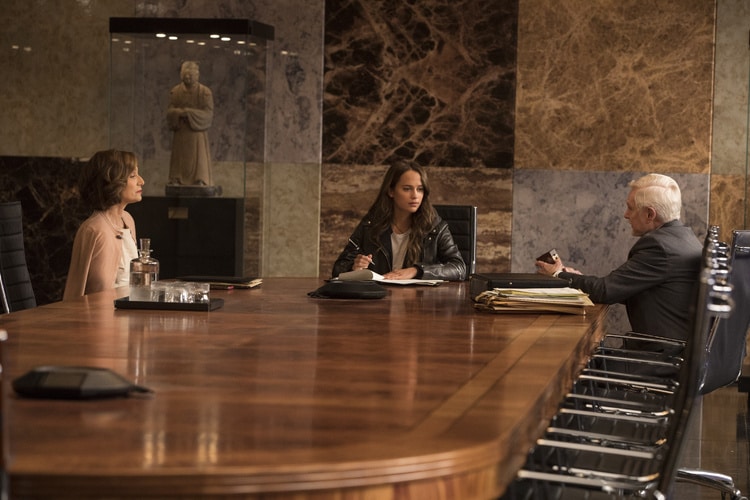 Seven years ago, Lord Richard Croft (Dominic West) mysteriously vanished on a business trip, and his daughter Lara (Alicia Vikander) still clings to the possibility that he is alive. Struggling to make a living as a bicycle courier in London, Lara stands to inherit her father's vast fortune, but refuses to sign the paperwork to declare him legally deceased. However, Richard's business partner Ana (Kristin Scott Thomas) warns Lara that Richard's estate will be sold off if she does not accept the inheritance. Discovering a clue left in her father's will, Lara is led to his private office, learning of Richard's secret life as an adventurer and finding his research about Japanese witch Himiko. Although Richard's pre-recorded message instructs Lara to destroy his work, she seeks to use it to find him, travelling to Hong Kong where she teams with boat captain Lu Ren (Daniel Wu) to locate the remote island of Yamatai off the coast of Japan. Shipwrecked after navigating violent waters, Lara discovers that Yamatai is under the control of mercenaries led by Vogel (Walter Goggins) who seek to weaponise Himiko's power on behalf of the shadowy organisation Trinity.
Narratively, this Tomb Raider boils down to a less thematically-resonant riff on the aforementioned 2013 video game. Most of the appeal of the original games is stripped away in favour of the "origin story" format, refusing to cut loose as the film builds towards the Lara Croft we know, down to a mid-credits scene in which she obtains her coveted dual pistols. Couple this with a painfully generic story set-up, and this reviewer was left wanting to watch a sequel instead. In addition, whereas Lara is the prominent focus of the video games, facing physical challenges and solving puzzles, 2018's Tomb Raider is inexplicably a group effort. With Lara not yet a confident woman of action, Lu Ren is allotted a bizarrely large role in the proceedings, presumably because generic would-be blockbusters such as this now heavily rely on China to make money. Furthermore, the script by Geneva Robertson-Dworet and Alastair Siddons is tonally inconsistent; over-the-top set-pieces are the order of the day, yet there is also a grim scene observing Lara who's traumatised in the immediate aftermath of her first kill.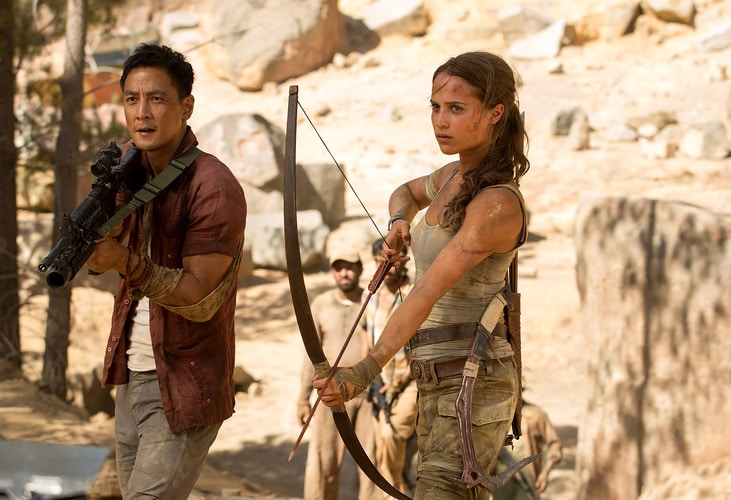 Determined to distinguish this Tomb Raider from the cartoonish Jolie-starring pictures, director Roar Uthaug (2015's The Wave) and cinematographer George Richmond (Children of Men) imbue the material with an effectively gritty look, reminiscent of the 2013 game. Production values are expectedly nice across the board, with vivid digital effects that show how far CGI has come since the original movies. Visually, there is much to appreciate about Tomb Raider, which is unsurprising given the hefty budget. Uthaug proves a proficient visual stylist, making astute use of the locations and sets, establishing a palpable sense of place and atmosphere while on the island. It is clear, however, that the filmmakers took more influence from Uncharted than Tomb Raider - as a matter of fact, on top of the evident aesthetic influence, one of the narrative twists here is lifted directly from the first Uncharted game. Still, isolated sections of the movie do work, with well-staged sequences that deserve to be seen on the largest possible screen. Aside from the occasional shootouts, the film's centrepiece involves Lara being pursued through the jungle and down rushing rapids, leaving her trapped on an airplane wreckage precariously perched atop a waterfall. Additionally, the third act involves some actual tomb raiding, living up the movie's title.
One of the primary issues relates to pacing; the narrative is dense and overcomplicated, which requires endless monotonous exposition to make it comprehensible. Despite handsome visuals, Uthaug is unable to liven the humdrum script - Tomb Raider is often a slog between the action beats. It's telling that Stuart Baird receives an editorial credit; he's renowned for being brought onto troubled projects to salvage movies in the editing room. Moreover, Tomb Raider strives for heart and emotion through Richard and Lara's relationship, yet it never gains much traction despite the endless flashbacks to hammer home how close they were. Still, Vikander is fine as Lara, though there is not much depth to the character and she is decidedly more self-serious than Jolie. West, on the other hand, displays severely limited range, while the reliable Goggins turns in a passable performance as the underwritten key villain. There are also a few high-end British actors in the movie's first act (including Kristin Scott Thomas and Derek Jacobi) to keep viewers wondering if one of them is a secret bad guy. The only humour is supplied by Nick Frost and Jaime Winstone as married pawnbrokers who only appear in two short scenes.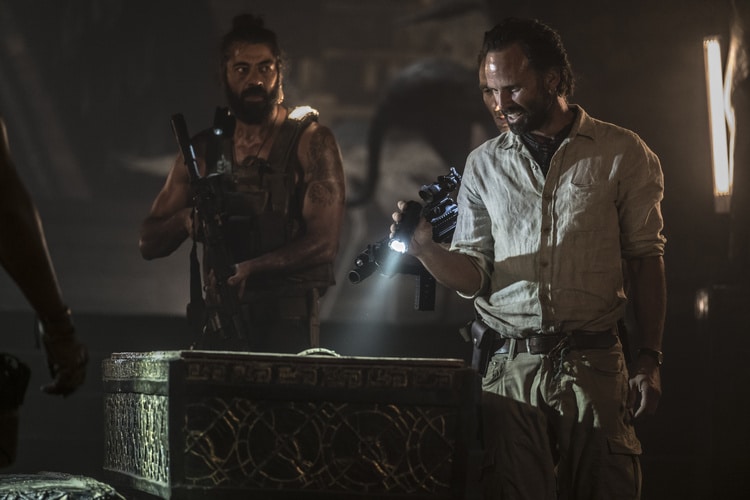 The Jolie-starring Lara Croft films were not especially good from a critical standpoint, but they nailed the video game's goofiness and had a genuine sense of identity. 2018's Tomb Raider, on the other hand, is disposable, formulaic and flavourless; merely a vehicle for Vikander to show off her potential as an action lead. Despite a few worthwhile action sequences (certain scenes and beats truly feel like a video game, too), the picture lacks intrigue, charm and momentum, while the origin story format restricts how much fun can be had. With the box office underperformance in mind, it's unlikely that a follow-up will ever materialise despite an ending that directly sets up sequels. Perhaps there will be another reboot in another fifteen years.

6.3/10