Ash: Ripley, for God's sake, this is the first time that we've encountered a species like this. It has to go back. All sorts of tests have to be made.
Ripley: Ash, are you kidding? This thing bled acid. Who knows what it's gonna do when it's dead?
Ash: I think it's safe to assume it isn't a zombie.

A mining ship, investigating a suspected SOS, lands on a distant planet. The crew discovers some strange creatures and investigates.
Sigourney Weaver
: Ripley.
Alien
sees us following a seven man crew journeying to Earth aboard a huge space freighter aptly named
Nostromo
. The crew is in cryo-sleep, but the on-board Computer A.I. interrupts the journey, thanks to a foreign radio signal is picked up. It originates from an uninhabited planet and the crew lands to investigate. There they make contact with a foreign entity...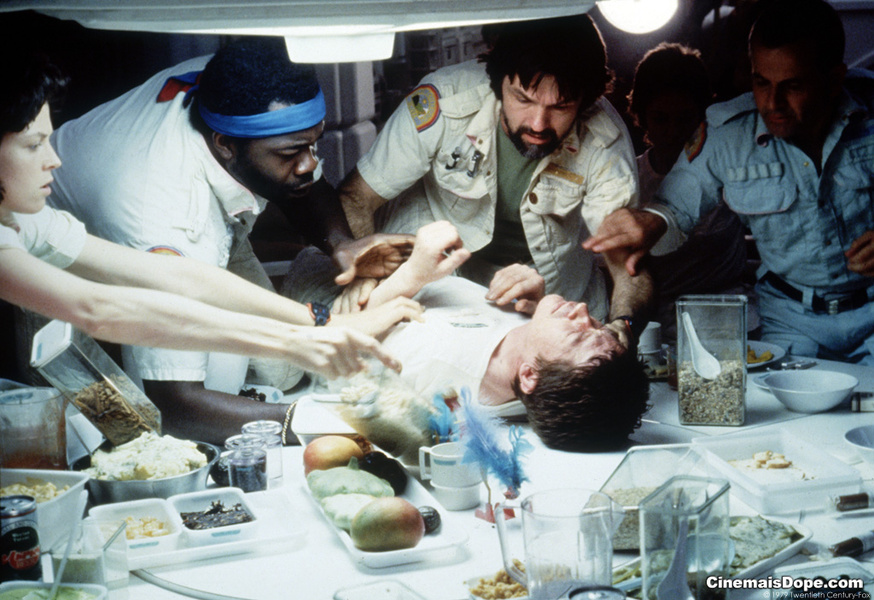 What makes
Alien
legendary is the constant feel of uneasiness it leaves in the pit of your stomach. Right from the beginning you have a sense that something isn't right. The crew is not particularly friendly towards one another, and you truly feel all the Crew relation tension. The ship itself is a huge worn out industrial-style maze of metallic halls and lonely corridors, and it feels more like a prison than a place to live. It is as if not only the alien but also the ship itself is against them. The Alien itself is the scariest monster in history because it is a ruthless, soul-less parasite completely devoid of any human or civilized attributes. The design of the monster is a stroke of genius. Sure it has a humanoid corporeal form, but it has no facial traits or anything else which could give away emotions or intentions,apart from it's gritted teeth visage. Its actions reveals no weaknesses nor rationally intelligence, its more or less the opposite of human and more of an insectoid, instinctive creature, plus it's nature and instinct allows for the alien to be more adapted to the inhumane interior of the ship. To sum up, you then have a setting where the humans are caught in a web of in-group tensions, an inhospitable ship and the perfect killer which thrives in the ships intestines. You almost get the feel that the humans are the ones who are alienated to each other and to their own ship.
Dallas: [looks at a pen being dissolved by alien's body fluid] I haven't seen anything like that except, uh, molecular acid.
Brett: It must be using it for blood.
Parker: It's got a wonderful defense mechanism. You don't dare kill it.

Ridely Scott is such a minimalist in some of his film projects, sci-fi nuts find it to be slow and unenterprising. So many people prefer
Aliens
, its sequel, to this one, which is unfair. I think
Aliens
, directed by James Cameron, is another sci-fi masterpiece (and maybe the best action film ever made), but I think
Alien
is the same quality but for alternative reasons. In fact, I would say that it is among the best films ever made, in sci-fi, only equaled or rivaled to, the enigmatic
2001:A Space Oddysey
.
The plot absolutely lacks contrivance. All the plot points develop how they would naturally. And there are great surprises throughout the film. Even if you haven't seen the film, you know about the chest-bursting scene. You probably saw it parodied dozens of times. But watch the scene where Ian Holm reveals his secret! That is one amazing scene! I actually saw the sequel first, so I kind of knew that secret, too, but it still shocked me. It was so well directed.
Notice how the dialogue works. It never particularly draws attention to itself. It actually reminds me of Robert Altman, how he directed such movies as Nashville, where many characters are speaking at the same time, and nothing seems more or less important than anything else. It is just like real life. Alien is one of the most realistic, documentary-like sci-fi films ever made.
Also notice the setting. The Nostromo's design is so believable that I feel that I'm actually seeing a real space vehicle. The alien ship also beams with its spookiness.
The characters are also extremely believable. They are so well written that even the first character who dies is completely developed. If you get the DVD, they actually created dossiers about each of the crew members. It also has extra scenes which round out the characters even more. I think Ripley is one of the most endearing characters in film history. Even in the last two sequels, which were visually interesting but not very well written or directed, Ripley held my interest. I teared up when she died at the end of 3. If they made a fifth one, I would go, no matter how terrible I knew it would be. The acting is also top-notch. Ian Holm, a great actor, gives one of his best performances here. I love the last scene that he is in. Truly a master. And of course Sigourney Weaver could have just as easily been nominated for an Oscar for her performance here as she was for
Aliens
.
Ripley: [nervously eyeing Alien while she pushes buttons] You are my lucky star. You... Lucky, lucky, lucky, lucky, lucky.

The most important part of a film, in my mind, is the mood. And heck, does
Alien
have one of the most genuinely spooky movies I've ever seen. Make sure you watch it after the sun has gone down. Also, watching it alone will help. The special effects are kind of cheap, but Scott knows this well enough. He only shows the alien for seconds at a time. Besides keeping us from seeing the shoddiness of those puppets, this technique makes the alien seem all the more creepy and mysterious.
As mentioned the ship is very claustrophobic and Ridley Scott adds to the eeriness by using camera movement, lights and shadows in an effective way. The living quarters are bright and should be comfortable to the crew, but there is something sterile about it all. The rest of the ship is basically a huge basement.
The music by Jerry Goldsmith underlines the eeriness so well, and the movie wouldn't have worked without his score. Combined with the sounds of the ship it all adds to the uneasiness.
This is not a story about heroic people who boldly teams up against evil. It's a story about ordinary people facing true fear, which is the fear without a face. The fear we can't understand and can't negotiate with, because its only goal is to survive on the expense of us. It's a story where some people bravely fight back whilst others are destroyed by the terror. It's a story where people a killed in a completely random way. There is no higher-order justice behind who gets to live and who dies. All seven characters are just part of a race where the fittest - not necessarily the most righteous - will prevail, and all seven characters start the race on an equal footing. None of them are true heroes, and none of them are true villains.
All the above makes
Alien
so great as a horror movie, not just a tense psychological Sci-Fi one. The terror isn't just the Alien itself, it's the entire atmosphere, which gets so effectively crawling under your skin, that you just can't shrug it off, until after the end credits like you can with so many other Hollywood horror movies. The title
Alien
doesn't just refer to the monster, it is the theme of the movie and it is the feeling you have during and after the movie.
''Final report of the commercial starship Nostromo, third officer reporting. The other members of the crew, Kane, Lambert, Parker, Brett, Ash and Captain Dallas, are dead. Cargo and ship destroyed. I should reach the frontier in about six weeks. With a little luck, the network will pick me up. This is Ripley, last survivor of the Nostromo, signing off.''
[to Jonesy the cat]
''Come on, cat.''

10/10