''Fuck off with your sofa units and strine green stripe patterns, I say never be complete, I say stop being perfect, I say let... lets evolve, let the chips fall where they may.''

An office employee and a soap salesman build a global organization to help vent male aggression.
Edward Norton
: The Narrator
Brad Pitt
: Tyler Durden
Helena Bonham Carter
: Marla Singer
Fight Club
is after looking past all the violence, extreme cinematographic techniques, computer-enhanced images, and other tricks Fight Club plays on us, we see another level to this film. It's a show about young men trying to find their place in
society
at the end of the 1990s.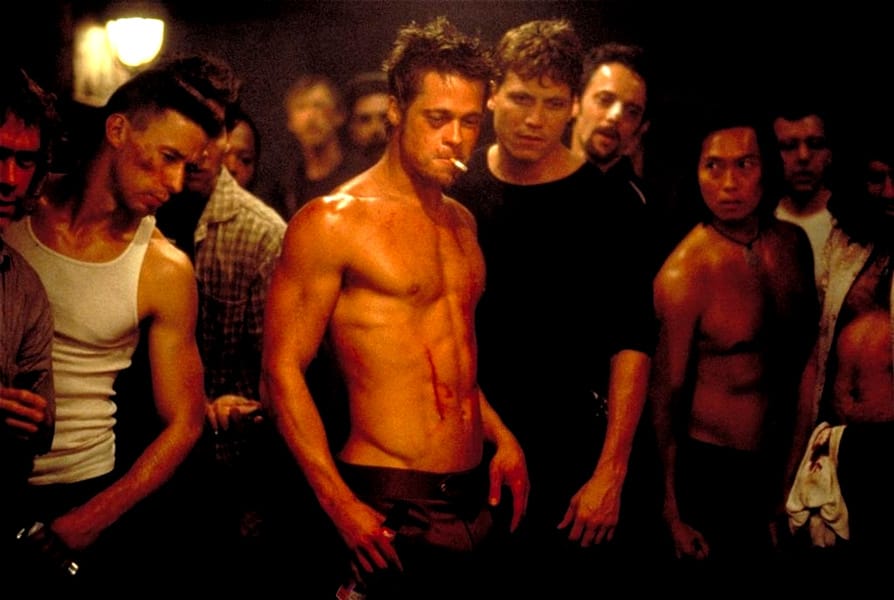 Edward Norton and Brad Pitt play a couple of typical guys in typical situations for men of their age, with no idea where to go with their lives. Okay, you can argue that Pitt's character isn't so typical, and that he has some idea what to do. I'd say he's only about a half-step ahead of Norton.
Helena Bonam Carter also shines as Marla Singer, shes such a good actress and displays her fondness for roles which provide questions and deeper meanings, like her Burton Roles and her part in Hallmark's
Merlin
.
Fight Club
is another one of her roles that redefined her career.
It begins with nameless character, known in credits only as Narrator, spiritually and physically beaten 30-year-old professional fighting insomnia and seeking a way to reconnect with the world, although I doubt he was ever properly connected to begin with. He is engaged in a losing battle with life he chose (although judging by his misery you would think somebody else chose it for him). Battle that's fought on modern day yuppie frontlines - corporate offices, airports, his expensive IKEA decorated condo, airline first class, business trips etc., and is in desperate need of something. He is essentially inside a materialist prison, a brain washed zombie clone in society,
Watching from aside one would think that something is emotional comfort, meaning, love or a thing along those lines. Whatever it is, he seems to have found it, albeit briefly, in various disease support groups that he now starts to frequent pretending to have different ailment or disease for every day of the week. Listening to people, in some cases dying, open up about their problems gives him a visceral sense of freedom. Suddenly he can sleep and enjoy life again.
"I let go. I found freedom. Losing all hope was freedom"
, he reasons. Until…..Marla Singer strolls into his life and messes all of that up. She, you see, is also a pretender and the knowledge that another person like him is present at these meetings bothers our Narrator to the point that his insomnia returns.
We also understand how Tyler invents his later apparent alter ego of sorts, when we re-watch. This being represented with quick flashes of his mental perception of himself coming forth. Later in
Fight Club
even these quick cuts are explained, giving an extra dimension to the film itself, a film within a film within a film, worlds within worlds.
The story then shifts to the Narrator's relationship with a strange, confident individual named Tyler Durden with whom he hits it off on a plane during a business trip, soap and crashing arise in the conversation, a random friendship results, in which we learn more. Their bond intensifies, solidifies, then after Narrator returns home and finds his condo blown sky high as a result of an electrical malfunction. This act the first escape from the possessions and materialistic shackles confining him.
Having no family or friends to turn to in a time of need, he calls Marla, hesitates, then calls Tyler before moving in with him in a boarded-up apocalyptic house. On Tyler's insistence they create a weekly fight club that starts up as a jealously guarded secret gathering, where a few young males can nurse their anxieties and frustrations by beating each other to a bloody pulp! Bingo! This is what Narrator has been looking for all his life, a release and escape from reality.
''This is your life and it's ending one minute at a time.''

Norton & Pitt's characters, went through school, graduated college, and got normal, thoughtless jobs...jobs, not careers, because they felt it was expected of them, they in a way, conformed to society. Now they don't know what's expected of them. Their fathers are gone and can no longer tell them what to do. They've been confronted with opposing images of what constitutes a man all their lives: the cold, power-hungry yuppie, the sensitive, caring friend to the environment, the politician that cheats and lies to the people he represents, the attractive actors and models who don't seem to be capable of having an original thought.
Like so many other viewers I found this a worthwhile movie to watch for about the first third. The film deals out some hard blows against modern consumer society, that could be called daring for a high budget Hollywood production. The given thesis- relief and the chance to achieve self-discovery through violence, is inane though. As the story develops we see that the whole Fight Club thing leads the protagonists to become some sort of a terrorist organization, culminating in a series of attacks that obviously destroy a good part of the town in the end. Isn't that turning the whole point upside down, so that the message could be: Non conformity will inevitably lead to chaos and destruction, so please avoid any critical assumptions.
In a way I felt that in the end the script-writer attempts to apologizes for the hard strokes dispersed in the dawn of the effort.
They're finally coming to a point where they have to figure out what they want to do with their lives, or give up life by these images society presents them.
''Man, I see in fight club the strongest and smartest men who've ever lived. I see all this potential, and I see squandering. God damn it, an entire generation pumping gas, waiting tables; slaves with white collars. Advertising has us chasing cars and clothes, working jobs we hate so we can buy shit we don't need. We're the middle children of history, man. No purpose or place. We have no Great War. No Great Depression. Our Great War's a spiritual war... our Great Depression is our lives. We've all been raised on television to believe that one day we'd all be millionaires, and movie gods, and rock stars. But we won't. And we're slowly learning that fact. And we're very, very pissed off.''

Convinced that real life and growth come about from conflict, they start fight club. Norton and Pitt's characters discover that in this repressed, politically correct society, the best way to really know yourself, the only way to really grow, is through conflict, through fighting. They fight to see what they're capable of giving out and taking. They fight to dominate each other, but more importantly to conquer
themselves
. They fight to recognize each other as human beings and to gain respect for themselves.
This film reminds me of a modern
A Clockwork Orange
. Some critics complained about the film being pro-violence, heavy-handed, and pure style over substance. Others have acclaimed it as a masterpiece, one of the few mainstream films that actually contains a message. I'm in the later camp, as I think
Fight Club
is one of the best films of the decade. As just like Alex DeLarge, many people didn't realize that Tyler Durden is the villain. It could've used a little more subtlety, but I can't complain because whereas film buffs are more used to multi-layered films, this is about as subversive as mainstream audiences could handle. Its also a very detailed film, so repeated viewings are required.
David Fincher is often an under-rated filmmaker, again he's created a masterpiece. The film has the same MTV-style editing that makes everything as quickly paced as possible, but for once it serves a purpose rather than just style.
Whether you're offended by the violence or not, you have to appreciate the symbolic importance of the conflict. You have to appreciate wanting to be someone else, and in the end, wanting to be simply just yourself. This is essentially what
Fight Club
is, an eternal battle with ones self, a culmination of struggle, and a release from the prison society creates for us.
Fight Club
is a
revolution
of the mind.
''It's only after we've lost everything that we're free to do anything.''
10/10