''What's in the box?''

Police drama about two cops, one new and one about to retire, after a serial killer using the seven deadly sins as his MO.
Brad Pitt
: Detective David Mills
Se7en
obviously is a very complex and deep movie, while also being quite disturbing. Andrew Kevin Walker created one of the most original spec screenplays of all time, but it is the kind of story traditionally used more as a writing sample than actually made into a movie. But the creative team of director David Fincher believed in this extremely dark, uncompromising story, and made it just the way Walker wrote it.
In the end, it is only John Doe, the serial killer, who can teach Mills and us the truth...that this world is very often shockingly vicious and senselessly cruel. Doe and Somerset actually have similar views of society and the world, up to a point. But while Somerset still cares about his fellow human beings, Doe hates them, and takes out his rage in a series of gruesome murders based on the seven deadly sins.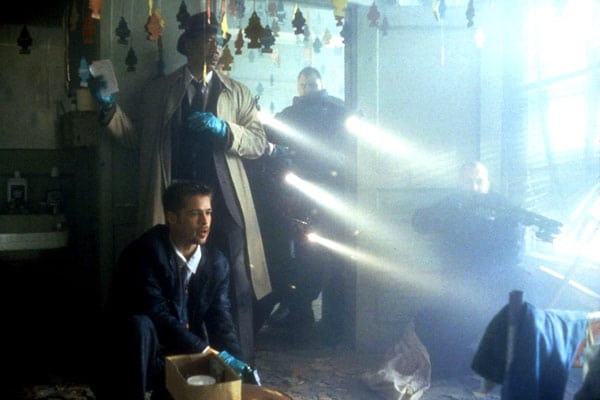 Se7en
is about the investigation Mills and Somerset undertake of Doe's murders, his "sermon" to the world through serial killing. Ultimately, Mills and Somerset can only do so much to try to stop Doe; the killer always seems at least one step ahead of them, and stays that way until the very end of the movie. In a normal Hollywood film, Mills and Somerset would "win" in the end by catching Doe and setting the world right again. But Andy Walker had a quite different ending in mind, and Fincher and his team take the shocking conclusion all the way to the limit of tension and drama.
''If John Doe's head splits open and a UFO should fly out, I want you to have expected it.''

This
Se7en
, like Fincher's
Fight Club
, was controversial for being overly violent and gruesome. Certainly there are a number of gruesome and disturbing images of murder victims' bodies, and many aspects of the story are very troubling, to say the least, later emulated by the
SAW
series. But only one person is shown being killed on screen, and by far the worst of what happens in this story happens in the viewer's mind. Unlike most films that have high level acts of violent means, including, for example,
Reservoir Dogs
or
Silence of the Lambs
, this
Se7en
genuinely attempts to grapple with the moral implications of what is being shown at specific times. In direct contrast with, say Quentin Tarantino, who uses extreme violence for shock factors and to gain notoriety, Fincher actually shows less violence on screen and raises far more psychological warfare in the viewer's mind, giving alot to chew on mentally and alot of appetizing questions to debate about. I cannot think of any movie that contains as much genuine discussion among the characters about crime and human morality as this one does -- while never becoming dull,preachy or condescending for a second.
Whatever you do while watching it, do not see it as empty or hollow.
Se7en
is far from it. Many scenes study civilization/present civilization. And its evil, absorbed points. Our society we are part of, isn't a pleasant one.
Se7en
concentrates mainly on the cops search and case, when it comes to the mystery part in finding the killer, we discover the policemen's differences in methods, and how the most obvious one does not actually work. Of course, its Somerset(Morgan Freeman), the one with the most experience who has the best methods. He tries to find out why, not to enact vengeance or revenge but for a true sense of justice. Why some man is killing these people using a specific punishment.
While Mills(Brad Pitt) tries, unsuccessfully, to find out how by studying the crime scene for clues. He ends up bored and frustrated. With the help of knowledge from the library, Somerset gets closer to the killer.
It may seem as though the role of Tracey(Gweneth Paltrow) is a pointless part, but she is more important in alot of various ways. She is the one who brings the men to being more personally bonded to each other. Notice how in the dinner scene she is the one to introduce them by name, making the climax tense and difficult.
''If we catch John Doe and he turns out to be the devil, I mean if he's Satan himself, that might live up to our expectations, but he's not the devil. He's just a man.''

Mills is the kind of guy to pull his gun out before his torch. He has an arrogant, rushed sense of guidelines to follow, though this can be said to be his weakness. Somerset has never even fired his weapon. He sees the evil round him. And he wants to leave it alone and get away from it's unrelenting viciousness, even though, he is a cop, so he has the power to do something about it, but the problem is, he isn't doing anything about it. John Doe is doing it instead. The reason why society is tainted and evil is because we are allowed to fall into the depths of sin. There is now nothing to stop us or stand in our way becoming common-place in our lives, and there should be something. This is why John Doe thinks his behaviour is acceptable and how he can do the things he does,resulting in the problem, that he is being stopped and pursued instead of the crime happening unperturbed, equaling the harsh reality we live in. Perhaps morally how John Doe goes about making a difference is controversial and questionable but it definitely attracts everyones attention making a vast impact on the media, the Police and the people.
There are seven deadly sins.
Gluttony. Greed. Sloth. Pride. Lust. Envy. Wrath
. And seven ways to die. Reminders of the decadence and complacency of our squalid lives and the laziness we have allowed ourselves to become stuck in. Many may think these Sins are strictly meant in a religious sense, but they are however you want to perceive them as. We learn that our Society or the Society in
Se7en
has become compromised by all the sins and that our way of life is a serious joke of proportions hard to quit or change.
''People don't want a hero, they want to eat cheeseburgers, play the lotto and watch television.''

Kevin Spacey is amazing as John Doe, portraying insanity laced with cunning genius, perfectly. Equaling one of the greatest supporting/cameo performances of all time already. And he's only in it for half an hour. Brad Pitt delivers a kind of forced performance which adds to the Hollywood effect of the film though I couldn't imagine anyone else for the part. Morgan Freeman played his role with the greatest concentration. Throughout he needed a look of woe on his face. And he did just that.
The writing reaches dizzying heights. The genius, Andrew Kevin Walker took an interesting subject and created an instant classic. But most credit has to go to Fincher. Who took aspects you wouldn't even think of glancing at and filming it with a passion rarely seen. Together they project a film of meaning on our screens that no-one should miss. In one scene near the end, he makes it so when a word is spoken we cut to a character as that gives us clues to their fate. A feast for the brain. One of the most imaginative scripts of the 90s. Fincher also knows exactly how to shoot the film. Whether it be steady-cam for the slow and easy parts or the hand-held camera for the adrenalin pumping scenes. Later filming other extraordinary pieces I love such as
Zodiac
,
Panic Room
, and the before-mentioned
Fight Club
.
The cinematography is what makes this an excellent movie. Everything is dark. The world out there is rough, raw, grim and gritty. It does just that. The effect it makes is astounding and truly works. The sinister music that is added keeps the heart pounding throughout and keeps the audience uncomfortable, in a good way. As that's what the film tries to achieve. The opening credits are upon the greatest segment of film I have ever seen. The jumpiness makes you feel uneasy yet intrigued to keep watching. Every scene, due to the effort put in it, is masterful and is what makes the film a joy to watch and observe.
Se7en
reveals the best glimpse we have seen of the disturbing underworld. One of my darkest favourites and always will raise questions and a puzzling after taste in the deep recesses of my mind.
''Ernest Hemingway once wrote,

"The world is a fine place and worth fighting for.''

I agree with the second part.''
10/10