One of the most underrated and overlooked motion pictures of 2017,
Only the Brave
provides a group-biopic account of the Granite Mountain Hotshots, whose story is ideal fodder for the big screen.
Only the Brave
's plot is admittedly Hallmark movie-of-the-week boilerplate and, in the hands of less sophisticated filmmakers, could have been packed with melodrama as well as forced tear-wringing. However, director Joseph Kosinski fortunately avoids the temptation, shaping an achingly poignant tribute to firefighters and real-life heroism, paying attention to character complexity as opposed to pure spectacle. Some aspects of the narrative are admittedly familiar, but performances are excellent, dialogue is engaging, and the technical presentation is top-flight, which is what matters the most in a production of this ilk. Not knowing the outcome of the story does result in a more devastating emotional kick, though it will almost certainly still work for those with full knowledge of the events that befell the Granite Mountain Hotshots at Yarnell Hill. The furthest thing from a simple, corny Hollywood action movie,
Only the Brave
is a compelling, powerful feature which must be seen and is impossible to forget.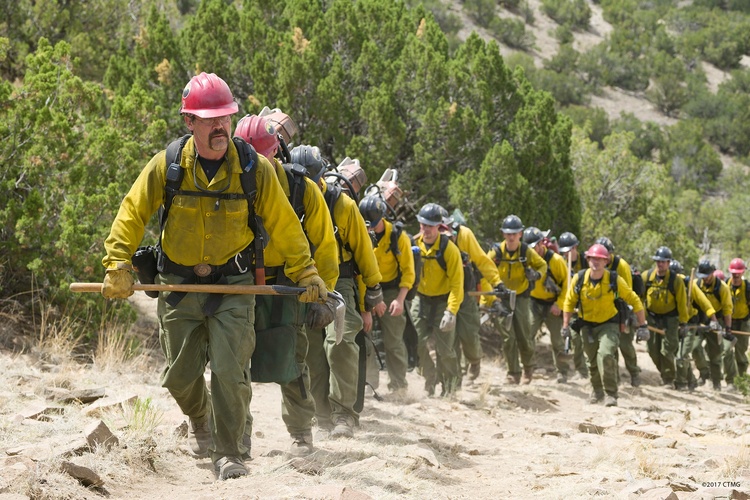 A Fire and Rescue superintendent, Eric Marsh (Josh Brolin) seeks to earn a hotshot certification for his firefighting crew of Prescott, Arizona, and become the first municipal hotshot unit in the country. Frustrated with only observing wildfires from afar and being ignored, Eric turns to city fire chief Duane (Jeff Bridges) and the Mayor (Forrest Fyre) to support his certification aspirations. Needing to expand his crew to make this dream a reality, Eric takes on new recruits, including ex-junkie Brendan (Miles Teller) who recently became a father, was kicked out of home, and is trying to straighten up his problematic life. Through the efforts of Eric's crew, including Brendan, Jesse (James Badge Dale) and Chris (Taylor Kitsch), the unit achieves certification status, rechristening themselves as the Granite Mountain Hotshots. However, hotshot status means the responsibility of frequently fighting fires around the state, which takes the men away from their families - Eric's wife Amanda (Jennifer Connolly) wants to have a child but finds his priorities misplaced, while Brendan spends too much time away from his baby daughter.
With a screenplay credited to Ken Nolan and Eric Warren Singer, adapted from the 2013 GQ article "No Exit" by Sean Flynn,
Only the Brave
does take liberties with history to generate a more dramatically satisfying motion picture. Most notably, the movie shows the same team working together for years, but the Granite Mountain Hotshots saw a frequent turnover as people came and left. But other elements of the narrative are factual, particularly the story of Brendan, whose true-to-life arc is so perfect for a motion picture that it feels manufactured. A bulk of the narrative is framed through Brendan's eyes, observing him on the job and revealing his struggles as he adapts to fatherhood. Furthermore, since Brendan is a new recruit, we meet the other team members through him, generating an effective team dynamite and an outstanding camaraderie with Chris.
Only the Brave
is structured like an old-fashioned biographical movie, running a beefy 130 minutes as it takes care of necessary character and story development, not to mention it allows us to adequately understand what the Hotshots actually do and how they operate. Miraculously, although the movie is long, nothing feels superfluous.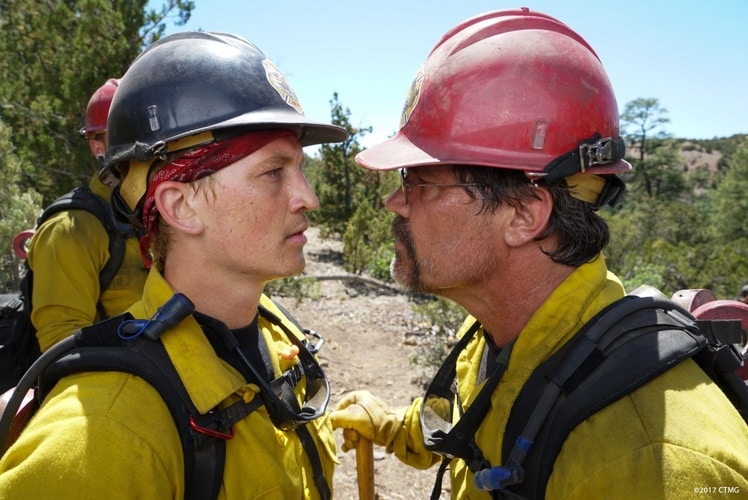 Only the Brave was helmed by Joseph Kosinski, late of sci-fi/fantasy pictures Tron: Legacy and Oblivion, yet he wisely dials down his garish directorial tendencies to construct a distinctly earthbound story closer that feels closer to a Peter Berg movie. Instead of presenting the fire-fighting sequences as overblown digital effects spectacles, the set-pieces are effectively realistic and matter-of-fact, befitting the source material. Kosinski demonstrates incredible range as he navigates dramatic and emotional scenes, imbuing the material with genuine substance. Furthermore, Only the Brave progresses at such a patient, measured pace that we are left unprepared for the climactic events, rendering them all the more devastating. Backed by a modest $38 million budget, the picture looks spectacular from top to bottom, with gorgeous cinematography and an almost seamless mix of practical and digital effects to sell the illusion of raging wildfires, accentuated with a hypnotic yet understated score by Joseph Trapanese (Straight Outta Compton). Kosinski is no stranger to visual effects, but he never loses sight of the characters here, making the sequences intense, visceral and above all tasteful. The foregone conclusion is still incredibly distressing to behold, thanks to the patient character development and the real danger that the fire presents. In addition, at no point does Kosinski feel the need to linger on gory content, keeping within the confines of a PG-13 rating without the movie feeling needlessly neutered. Perhaps Peter Berg could have brought a tad more immediacy to the material, but this is not to impugn Kosinski's efforts in any significant way.
Brolin is tailor-made for roles such as this, and he is note-perfect as Marsh. Instead of mugging for potential Oscar glory, the actor finds a way to underplay the heroic character, coming across as completely authentic in the process. It's a superb, perfectly judged performance imbued with humanity and emotion, ably carrying the movie. Furthermore, whereas most productions would settle for a one-dimensional wife character, Amanda Marsh has depth and plays a considerable role in the story, not to mention Connolly delivers a powerhouse performance. Just as terrific is Bridges, while it's fascinating to see Taylor Kitsch in something genuinely good for a change. (Remember when Kitsch was meant to be Hollywood's next big thing? The consecutive flops of
John Carter
and
Battleship
put the kibosh on that.) Teller, meanwhile, is only intermittently tolerable in movies (his highest point being 2014's
Whiplash
), and it seems appropriate to cast him as a loser who gets his arse kicked throughout the second act in order to earn the right to be perceived as likeable and worth caring about once the climax arrives. Impressively, Teller convincingly pulls off the transformation from low-life dope-head into a hard-working, respectful tough guy. James Badge Dale is also here playing Marsh's second-in-command, because he is ostensibly required by Hollywood law to feature in all movies like this.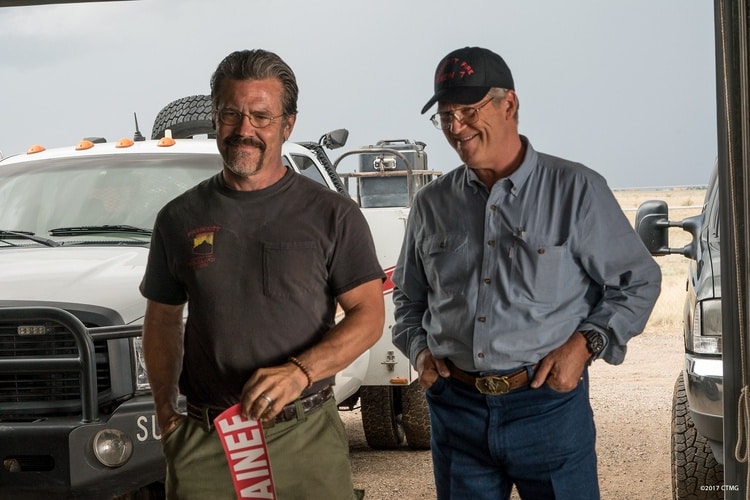 First and foremost, Only the Brave is a story about the men who fight fires, rather than the flames themselves. Admittedly, the narrative does feel slightly erratic due to its episodic nature - the fateful Yarnell Hill Fire is not introduced until the third act, and the movie does not build up to it throughout; rather, the event feels like just another fire. This story is episodic, observing the crew as they train, ply their trade, and deal with their personal lives, with amusing banter and humour to make the characters more relatable and human. Like Peter Berg's Deepwater Horizon, Only the Brave did not receive a fair shake at the box office, unable to even earn back its modest budget, but it will stand the test of time and it's fortunate that the movie exists. Hard-hitting and visceral, Only the Brave is a masculine ugly-cry movie for the ages.
8.4/10