Not to be confused with the 2009 Uwe Boll film of the same name, 2018's
Rampage
represents another big-screen video game adaptation, released in the shadow of the
Tomb Raider
reboot. However,
Rampage
's source material is not an expansive open-world game or a popular first-person shooter, but instead an obscure, virtually plotless arcade quarter-muncher from 1986 wherein a players' objective is to cause as much destruction as possible while battling military and police forces. It is not exactly fertile ground for a pre-summer event film, but the adaptation nevertheless translates to a perfectly enjoyable "big dumb" monster movie, presented in the same pure, unpretentious spirit as a Roland Emmerich blockbuster from the 1990s. Directed by
San Andreas
helmer Brad Peyton,
Rampage
is essentially an old-fashioned B-movie brought to life with A-grade production values. (And it's more sophisticated than the usual SyFy pap.) It's also one of the best video game films to date, clearing one of the lowest bars in cinema history.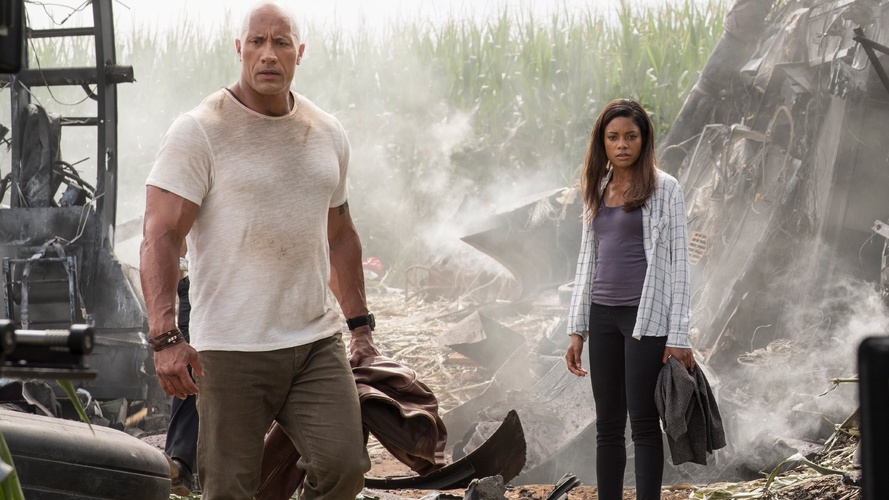 A former U.S. Army Special Forces Soldier, Davis Okoye (Dwayne Johnson) now dedicates his life to working as a primatologist at the San Diego Wildlife Sanctuary. Davis shares a special friendship with rare albino gorilla George, who was saved from poachers as an infant, and can communicate through sign language. However, George is exposed a pathogen originating from a destroyed space station, which causes him to rapidly grow in both size and aggression. The space station debris also lands in other parts of the United States, exposing the pathogen to a wolf and a crocodile, who respectively become known as Ralph and Lizzie. With the mutated giants rampaging across the country, Davis receives support from genetic engineer Dr. Kate Caldwell (Naomie Harris), who was partly responsible for the creation of the pathogen. Kate once worked for a biotech firm run by Claire (Malin Åkerman) and her idiot brother Brett (Jake Lacy), who are now trying to recover the assets by sending out a secret radio signal to lure the monsters to Chicago. Davis, meanwhile, refuses to give up on his friend, teaming up with Kate to follow George to Chicago and save the city.
Rampage
may not resemble a family movie on the surface due to the violence and destruction on display throughout, but the story does ultimately boil down to an animal conservationist and his tender relationship with a gorilla. George is a surprisingly likeable character, performed through motion capture by actor Jason Liles (Netflix's
Death Note
), and there is palpable chemistry between the primate and Davis, which provides some semblance of heart and stakes amid the cartoonish, thoroughly absurd climactic spectacle. In addition, it's
almost
possible to forgive the blatant, silly contrivances which allow for Davis to team up and fight alongside the giant-sized George to take down Ralph and Lizzie during the Chicago battle. However, the screenplay (credited to
four
writers) overthinks the material and tries to take things too seriously, leading to a first half that's jam-packed with laborious exposition, spending too much time with Claire and Brett. Ultimately, pacing is affected by a villainous corporate subplot in which motivations are ludicrously foolhardy and unclear, resulting in a narrative in need of streamlining. Dialogue, meanwhile, usually amounts to clichéd action movie chatter. (Can characters in movies please stop saying "Go to hell"?)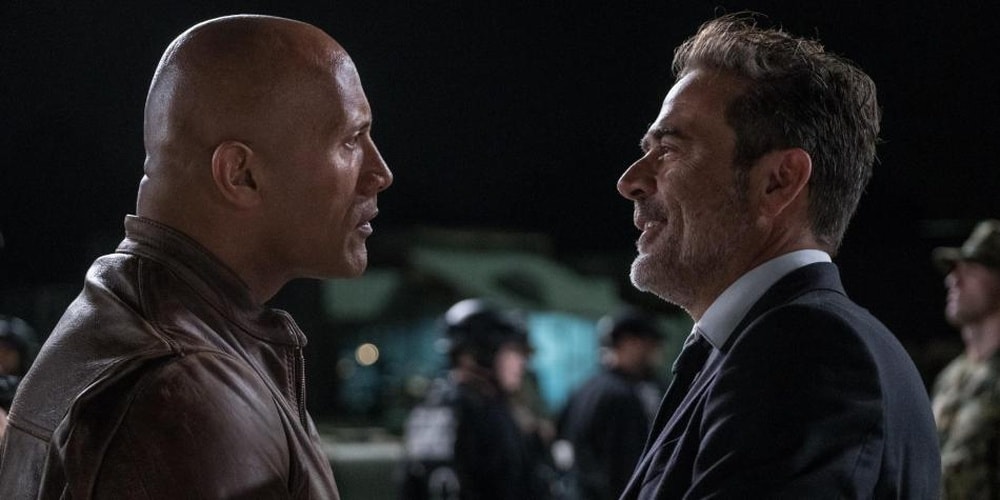 Lots of money was thrown at Rampage, making it look more expensive than its comparatively modest reported $140 million budget. For the most part, production values impress, with state-of-the-art digital effects giving convincing life to the trio of giant monsters. The film's third act transforms into the most expensive recreation of a cheap 1980s arcade game in history, filled with the type of things that players did in the "Rampage" game: destroying buildings, climbing buildings, squashing people, eating people, taking down planes, demolishing tanks, and so on. However, as with any major blockbuster, the quality of the CGI varies from shot to shot; some moments are phoney, including some obvious green screen work, while others look borderline photorealistic. The score by Peyton regular Andrew Lockington (San Andreas, Journey 2: The Mysterious Island) gets the job done by ramping up the sense of excitement during the big set-pieces, but it sounds utterly generic on the whole. Furthermore, Rampage is surprisingly violent within the confines of a PG-13 rating, but it simultaneously pulls punches as well. See, in keeping with the game, the monsters are mean-spirited - they flatten, eat and dismember people - but such sequences feel vanilla; some over-the-top bloodshed would add some campy comedic qualities to the enterprise. The rating also forbids Davis from saying "motherfucker" in its entirety during the Chicago battle.
At this point, Johnson can play a charismatic tough guy in his sleep, and he is predictably ideal as the hero here. He "gets" the type of film he's in, and takes the material seriously despite the screenplay's innate campiness, carving out a surprisingly believable relationship between Davis and George. Johnson never pushes his abilities here, but the flick plays to his strengths and he's perpetually easy to watch. As the token good-looking smart female scientist, Harris (
Moonlight
) holds her own, convincingly swallowing her native British accent and doing her utmost to make the scientific nonsense sound believable. Meanwhile,
The Walking Dead
regular Jeffrey Dean Morgan gets the chance to espouse a goofy cowboy accent and strut around playing the token Government Agent who winds up backing the heroes. As the token corporate bad guy, Åkerman commits to the movie's goofy tone and delivers an effective performance that is both hammy and amusing. Joe Manganiello (
Magic Mike
) is even on-board as the cartoonish token military tough guy, in a surprisingly minor role. You could certainly do much worse than this on the casting front.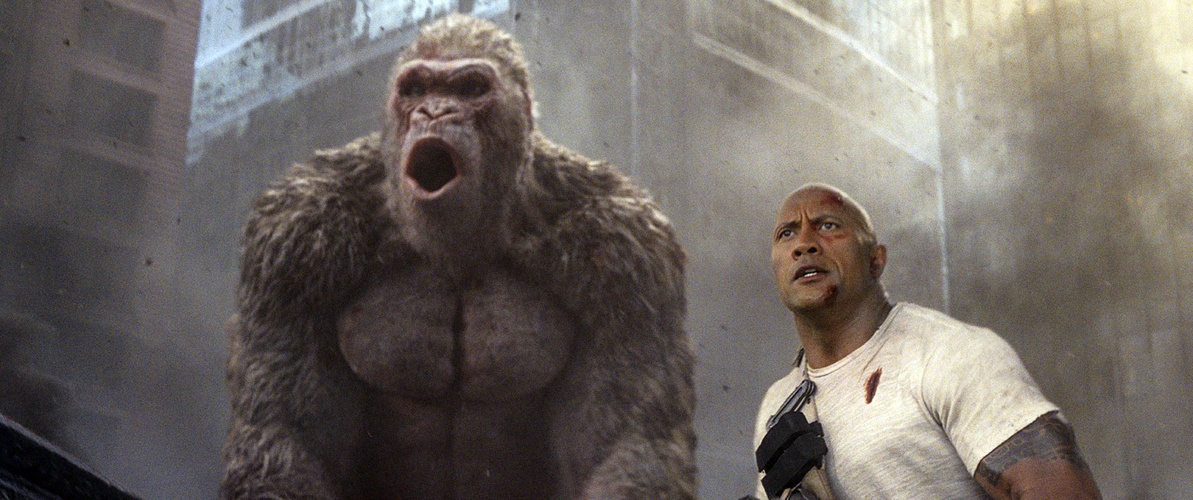 It is surprising that Rampage never really took off at the box office, considering the presence of The Rock and the abundance of over-the-top destruction which usually gets bums in seats. Still, it's not perfect, with a few tonal issues, uneven pacing and all the rampant stupidity on display. Loose ends are also left hanging, with Davis's friends (including an ostensible love interest) from the opening of the film suddenly disappearing without a trace and never being spoken of again. Nevertheless, as giant monster movies go, Rampage is effective and enjoyable; on the same level as last year's Kong: Skull Island.
6.8/10