''This is every shade of wrong.''

A murder mystery brings together a private eye, a struggling actress, and a thief masquerading as an actor.
Robert Downey Jr.
: Harry Lockhart
Kiss Kiss Bang Bang
is set in LA, what transpires is, while escaping from the police after an unsuccessful robbery, the small time thief Harry Lockhart is accidentally submitted to an audition for a role of detective in a film, and invited to a party. He meets the homosexual private eye Gay Perry , who suggests him to participate of an investigation to develop his character. He also meets the gorgeous aspirant actress Harmony Faith Lane, and finds that she was a friend of his childhood for whom he had a crush. Harry and Perry get involved in an intricate murder case with many leads. With the support of Harmony, they find the sordid truth of the case.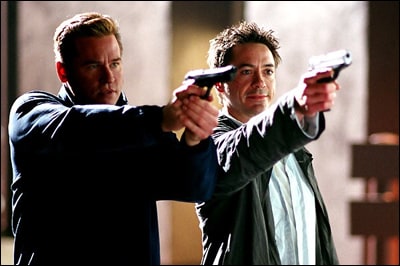 Kiss Kiss Bang Bang
is a funny, black comedy yet violent, action movie with an original screenplay, where the lead character is actually the narrator of the events. Robert Downey Jr. is excellent in the role of the cop out Harry Lockhart and shows great chemistry with the delicious Michelle Monaghan, and with his gay partner Val Kilmer. The story in a chaotic result becomes involved with many subplot threads, but in the end all of them are satisfactorily resolved and concluded. The usually efficient police, at least in US orientated programs/series/Films, apparently non existent in Los Angeles, since there are countless car chases and shootings without any police involved.
A terrific opening credit sequence easily sets up the authenticity and originality of proceedings for a eagerly awaiting audience. In essence, these are the reasons why you need to see this roller coaster of comedy.
The razor sharp wittiness, shockingly fast-paced albeit hysterical dialogue, a pulp-fiction-esquire vibe, its pure cheesiness and the cynicism of a worn, aging paperback detective novel.
''Thanks for coming, please stay for the end credits, if you're wondering who the best boy is, it's somebody's nephew, um, don't forget to validate your parking, and to all you good people in the Midwest, sorry we said fuck so much.''

Got your attention yet? Alright, maybe an explanation of the seemingly simple plot is warranted. It begins with a ridiculously funny set up resulting in Downey's character being paired up with Kilmer to observe the latter in his job as a private detective. They hook up with a down-on-her luck actress who brings a case for the sleuths. This synopsis constitutes gross misrepresentation on my part as things get remarkably complex. How so? Well, even the lead the character (who also is purposefully pathetic as narrator) takes time out within the movie to remember where he is in telling the story. There are even snippets of dialogue where the characters attempt to fill in the gaps or actually remind themselves of what has happened thus far in the movie.
Downey, Kilmer and Monaghan are all caricatures drawn from popular references of literature, movies and art. All however, are larger than life, exhibit great chemistry and for a movie buff, it is heaven to witness the self referential exercises and hear the narrator shred every narrating convention applicable. Downey's performance is remarkable (neurotic, comic, vulnerable and charming). I have never seen Kilmer in such a well-defined, uproarious piece of work. Monaghan is also integral to the trio and shines exuding a brash, fighting and sexy appeal. She brought back fond memories of early Kathleen Turner and Rene Russo. The fact that her look screams Renee Zellweger, is not a bad thing either.
''Wow! I was glad you had a gun in there. For a second, I actually thought you could do that, like it was some big gay thing.''

Black became famous in the 1980s for writing the hit buddy movies: Lethal Weapon, The Last Boy Scout and The Long Kiss Goodnight. As a first time director, he does well keeping the frenetic pace and allowing the audience to catch up only to get lost time and time again. The style is so disarmingly effective, that at times I shook my head in confusion or found my hands against my mouth, agape in shock. I also think that in creating such a brilliant script that Black may have blacklisted himself in Hollywood for mirroring its supposed fame and glamor and exposing its not too pretty side. His one-liners and connected sub-plots are not typical and Kilmer and Downey make magic with their banter and clinical delivery.
All the ingredients of a pulp-noir styled effort can be found, even employing a structure of chapter-type headings within the movie. Parallel story lines unfold and given plot assumptions are turned over, always with achingly funny results. Even the clichés are clever e.g. a tough guy predictably crashes through a glass table, or body after body turns up, to haunt the characters.
Kiss Kiss, Bang Bang
is the most obvious of all Shane's self-referential films, because it speaks directly to its audience.
"I saw the last Lord of the Rings, I'm not going to have like seventeen different endings."

But balancing a self-referential narrative in a film like this almost seems a risky thing to do in the post-Tarantino era – the era in which self-reference became hip and cool, but most importantly: financially profitable for the studios. The production companies dished them out and soon the entire concept was burnt out and boring. The smug, self-aware attitude of flicks like
Boondock Saints
became tiring. But it's only fitting that the father of the genre should be the one to resurrect it.
Kiss Kiss Bang Bang
has the best dialogue I've heard in a movie for ages, and the brilliance of it is the fact that it doesn't become overbearingly self-conscious: it's amiable and entertaining.
The film's title is a reference to another movie, by the way. Pauline Kael supposedly saw the term in Italy, where it was used to describe the James Bond character. It effectively sums up exactly what Hollywood wants in their movies – girls, sex, violence. Result,
''Kiss kiss, bang bang''
. Black is back. Black is back doing what he does best.
''I tell him about destiny; he's shaking his head. About dreamgirls; he doesn't care. I mention the underwear thing? He has a *fucking conniption*. And you? How 'bout it, filmgoer? Have you solved the case of the - the dead people in L.A.? Times Square audiences, please don't shout at the screen, and stop picking at that, it'll just get worse.''
9/10