''So there was actually one place on American soil with free, universal healthcare.''

[cut to ariel picture of Guantanamo Bay, Cuba]

''That's all I needed to know.''

A documentary comparing the highly profitable American health care industry to other nations, and HMO horror stories.
Michael Moore
: Himself
I personally have found Michael Moore to be a most interesting individual. I find his ability to divulge in controversial issues and address serious scenarios, allow people who witness his documentary-styled films an eye opening account of the subject matter. This piece is no different, but with a twist. He comes with easily checkable facts & lots of them.
Any American who watches this will (Excluding certain CEOs of HMOs) be appalled by what they see. Any person from Canada, United Kingdom, France or even Cuba who may see this will be thankful of the system they have in place.
The American health system has been openly criticized for a long time because they don't have Universal healthcare opting out for it's socialism infleunce. After seeing the horror stories of the individuals in this story, including the deaths of people with carefully filmed accounts, in the U.S. it makes me thankful for being English.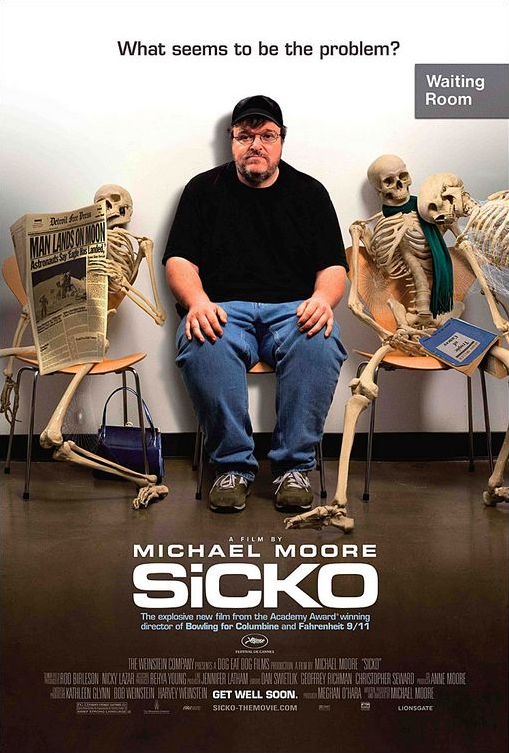 Sicko
is right on target with it's message and execution. The US is 37th in the world in terms of quality of health care(slightly ahead of Slovenia, but behind Costa Rica)but number one in terms of per capita health care spending, or $7,000 per person per annum.
Michael Moore chose the title
Sicko
for the movie, but what I think he meant by this was
Ghoul
which is an Arabic word, among so many in English. In Muslim folklore, a ghoul was an evil spirit believed to plunder graves and feed on corpses.
[to a British couple in hospital]''So how much did you have to pay for the baby?''

What is the for-profit, insurance industry run, so-called health care system, then, if not a truly evil racket run by conscienceless, psychopathic ghouls who feed on human frailties and innocent flesh? And the only way you combat this system(long buttressed by the government, the insurance companies and the AMA)is to take the profit motive out of it: an immoral motive when it comes to people's health and their lives.
Michael Moore wants to take the insurance companies out of the equation and wants to regulate health care like a public utility as it is done in practically all other developed countries.
He successfully points out that all this fear of socialized service is nonsensical nonsense: for example, our fire departments are run as a public good, and so are police departments.
''Keeping people hopeless and pessimistic - see I think there are two ways in which people are controlled - first of all frighten people and secondly demoralize them.
An educated, healthy and confident nation is harder to govern.''

Michael goes to 4 countries with Universal health-care coverage, including a longtime alleged nemesis Cuba. In all instances he finds that there is great medical coverage,
FOR NOTHING!
. Above these, medications are either free, or almost free compared to U.S.A. In Cuba a woman paid less than 5 cents for a medication that she was charged $120 for back home, while in Britain there is a £6.95 maximum charge on any prescription. In France, if you have a medical condition you are paid by the government & the employer to rest up. The myth of long lines to see a GP in Canada are blown away.
Obviously Moore is up to his usual bag of trickery with his inspiring propaganda, expertly combining heartfelt sentiment with big laughs in his anecdotal doctrine, and essentially preaching to the masses. Gloriously informing us that insurance and pharmaceutical companies are vile profit driven machines who lobby hard in Washington and buyout politicians left and right isn't exactly telling us something we didn't already know. Scary still are the review board doctors working for the insurance companies who get paid big bonuses for denying the most claims, and saddest of all, the people who actually die from not getting their treatment. Moore, never shying from his political leanings, firmly points his finger at Nixon (whose policies paved the way for HMO's), Reagan (who propagated the idea of socialized medicine as the first sign of Communist invasion), and Bush (who signed into law prescription drug bills that have crippled our senior citizens). He also suggests that Hillary Clinton, whose own health care plan was shot down by special interests back in the early 1990's, is now on the same payroll after losing the good fight.
Moore really scores, though, when he starts globe hopping and shows us just how well socialized medicine works in countries like Canada, Great Britian, and France, and how much all of the people involved (doctors and patients) think it's wonderful and that our system is absurd. The most telling anecdote is when he's able to get a group of 9/11 heroes suffering from the debilitating effects of having worked at Ground Zero some much needed treatment in Cuba (of all places!) after they have been repeatedly denied by their insurance companies here in the States.
Other than marrying a Canadian or moving to one of these countries where health care is free to all, he offers no solid suggestions for how people who want to stay in America can fix the system other than to give this vague sense that socialized medicine works. He's shed some light on the topic, and points us in the right direction, but isn't willing to lead the way with any practical solutions.
''If this is what can happen between supposed enemies, if one enemy can hold out his hand and offer to heal, then what else is possible? That's when I heard that the man who runs the biggest anti-Michael Moore website was going to have to shut it down. He could no longer afford to keep it up because his wife was ill and he couldn't afford to pay for her health insurance. He was faced with a choice of either keep attacking me or pay for his wife's health. Fortunately, he chose his wife. But something seemed wrong about being forced into such a decision. Why, in a free country, shouldn't he be able to have health insurance and exercise his First Amendment right to run me into the ground? So I wrote him a check for the 12,000 dollars he needed to keep his wife insured and in treatment, and sent it to him anonymously. His wife got better and his website is still going strong.''

So dismiss the ideology if you'd like, or tear into the minor points of damning factual evidence, but make no mistake,
Sicko
is a tremendous film, possibly Moore's best, equal with parts devastating in execution, hilarious social satire, and genuinely moving emotion. Moore acknowledges (following a brief prologue) that the film is not about the 50 million Americans who are completely uninsured, but the 250 million who think they're covered, and their battles within our broken system. The film's first act is the story of a few of those Americans, and while Moore's reliance on anecdotal evidence may not be the greatest journalism, it certainly makes for good drama and better film-making that a laundry list of statistics. Although statistics combined with drama equal an unrivaled piece of brilliance.
The second act takes us on a tour of foreign countries and their government-run health care systems—along with some helpful rebukes (though again, primarily anecdotal) of the usual (and usually right-wing) arguments against "socialized medicine." In a strange way, however,
Sicko
becomes about more than health care, Moore discovers other advantages, as stated, of living in England or France, and wonders why America can't boast of the same.
I'm sure that some more narrow-minded critics will seize on such passages as proof of Moore's anti-Americanism, but I think it's quite the contrary.
He loves his country, but knows it's flawed and festering with cancer, in this case the Health-care system. Here, it seems, are some ways in which it could be better. What could be more patriotic than that? I will say that I wish the advance hoopla over Moore's trip to Cuba hadn't leaked out, as the film is structured in such a way that it would have been a nice surprise. That being said (and concerns about the validity of that footage aside), it leads to some amazing footage of (at long last) care for people who genuinely deserve it, and a moving scene at a Cuban firehouse that moved me in a way that no other 9/11 commentary has before.
So overall the U.S. is being eaten alive by illness, Insurance and drug companies growing rich and complacent on a peoples weakness, a system that eats at that weakness. There are many dangers in this world, and terrorism isn't the biggest one, certainly for the bloated giant that is the U.S. which makes me feel like quoting
V
from
V for Vendetta
when he says,
There's something terribly wrong with this country...''
, because these words pretty much sum up the state America is in. Concerning the way they treat their citizens, the way they treat and care for their 9/11 heroes, the way they dump their ill members of society into the cold outside, and the Politicians who give empty promises and valiant words yet never say the true meaning in what they are saying. Moore's film should make people see the problems present and people shouldn't be contradicting his findings but solving them, because one of the richest, biggest Super-Powers of the Planet should be able to care for it's citizens with free provided for Health-Care. Otherwise certain other ''Socialist'' creations like the Mail man, the Police Force, Fire Brigade shouldn't be there either. Something needs to be done, so let's hope they do the right thing.
''In the mean time, I'm going to get the government to do my laundry.''
8/10