Helmed by veteran cinematographer but first-time director Lawrence Sher,
Father Figures
was actually filmed in 2015, but it took two years to finally see the light of day after test screenings and reshoots. Sher worked on several notable comedies as a director of photography, including the
Hangover
trilogy and
The Dictator
, and should therefore know a thing or two about comic tomfoolery, but
Father Figures
is not the right vehicle for his directorial debut. Despite an impressive ensemble cast and a polished technical presentation, there are virtually no laughs to glean throughout - even at its best, the flick is still barely chuckle-worthy. Moreover, it's difficult to shake the feeling that we have seen all of this before, and done better.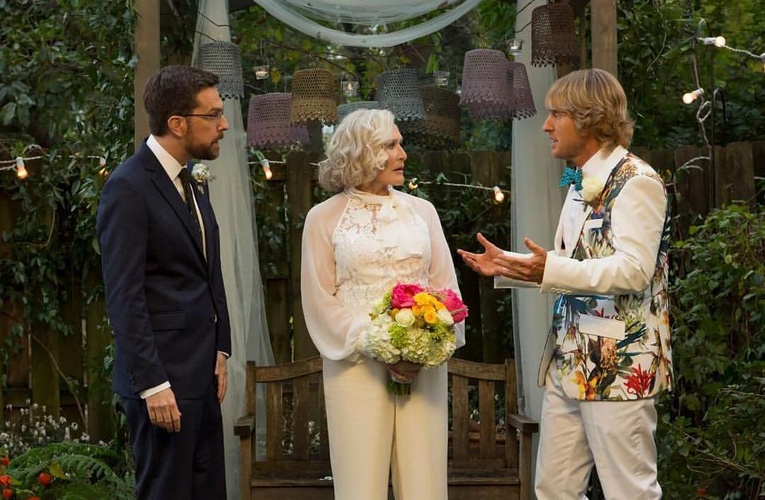 Fraternal twins Peter (Ed Helms) and Kyle (Owen Wilson) were raised by their mother, Helen (Glenn Close), to believe that their father died before they were born. When the pair reunite for Helen's wedding, Peter is a miserable divorcé with a teenage son who resents him, while Kyle is enjoying an affluent lifestyle as a BBQ sauce model. While watching an episode of Law & Order: Special Victims Unit, Peter spots whom he believes to be his dad, based on an old photo. However, Helen reveals that she lied to the brothers about their father all their lives - due to her promiscuous past, she is unsure about who their father is, and only lied to protect them. Struck by the possibility that their father is alive, Peter and Kyle set out across the country to find their real dad, leading them to football legend Terry Bradshaw (playing himself) and shady criminal Roland Hunt (J.K. Simmons). While the brothers struggle to solve the issue of their paternity, they also (predictably) seek to repair their strained relationship.
The screenplay for
Father Figures
(originally titled
Bastards
) is credited to Justin Malen, and it is only his second feature film credit after the likewise underwhelming
Office Christmas Party
. It's clear that Sher and Malen aspired to create a vulgar R-rated comedy as well as a dramatic story about Peter and Kyle, who bond throughout the narrative and learn valuable lessons along the way. Creating this brand of dramedy is possible, but it requires a deft touch - see
Last Vegas
or
50/50
. Alas,
Father Figures
lacks the talent to fulfil its ambitions, and the end result is an uneven, formulaic dramedy which is perpetually stuck in first gear. In addition, the apparent slut-shaming in regards to Helen's promiscuity is uncomfortable and unnecessary, lacking in tact. Admittedly, the reshot ending is probably the most successful portion of the movie, as it borders on poignancy and effectively ties the story together, but it's a case of too little too late. The rest of
Father Figures
is still too aggressively flat, emerging as a real missed opportunity.
As a director, Sher is no better or worse than most purveyors of these sorts of generic American comedies; although his sense of comedic timing is slipshod, Father Figures is still an attractive, adequately-assembled studio comedy, with a jaunty score by Rob Simonsen (Going in Style) to boot. It should come as no surprise given Sher's past experience, but the movie's visual style is above-average, standing in stark contrast against other modern comedies which often resemble sitcoms. However, Father Figures is much too long and flabby at nearly two hours, noticeably dragging during a subplot involving a hitchhiker (Katt Williams) that has no significant bearing on the narrative beyond some Peter/Kyle bonding time that could have been explored more economically. Furthermore, it was actually surprising for this reviewer to learn that the movie was rated R, as the material feels safe, lacking the profane punch that the rating can facilitate. It appears that Father Figures was originally designed as a PG-13 comedy.
Helms and Wilson rely on their usual shtick here, to the surprise of absolutely nobody. Helms is the straight man who plays life by the rules, while Wilson is a free spirit who encourages Peter to come out of his shell. It's an all-too-familiar behavioural polarity situation, though at least the actors commit to the material adequately enough. In the supporting cast, Close appears to sleepwalk through her infrequent scenes, though J.K. Simmons and Ving Rhames manage to score a couple of minor laughs each. Christopher Walken also appears as a family friend, while Katt Williams can only do so much to liven the stale material. At the end of the day, it's hard to bring oneself to truly hate Father Figures since it's not offensive or aggressively terrible, but it's not an especially good movie either, and it's not essential viewing. This is one of those comedies that you might enjoy late at night whilst browsing Netflix in a non-discerning mood, though you will forget about it merely a few days later.
5.0/10