The nineteenth instalment in the ever-expanding Marvel Cinematic Universe, 2018's
Avengers: Infinity War
represents the ambitious culmination of this franchise to date. It's a sprawling epic which finally unites nearly all of the MCU's note-worthy characters and pays off lingering subplots, making it a pivotal moment that fans have long anticipated. Happily, the movie is in safe hands with the Russo Brothers at the helm, working from a screenplay by
Captain America
trilogy scribes Christopher Markus and Stephen McFeely. After the disappointment of Joss Whedon's
Avengers: Age of Ultron
, a change in creative team invigorates
Infinity War
; it's at least as great as the original
Avengers
, and easily one of the greatest superhero pictures in history. This third
Avengers
movie may retain the familiar Marvel formula of incorporating humour, heart and mind-blowing spectacle, but it's the production's psychological depth and daring disposition which makes it one for the ages. It should go without saying, but being familiar with a majority of the previous Marvel movies is a necessity to fully comprehend
Infinity War
. Although the lack of appeal for the uninitiated might be perceived as a drawback, this
is
fundamentally the nineteenth movie in a franchise.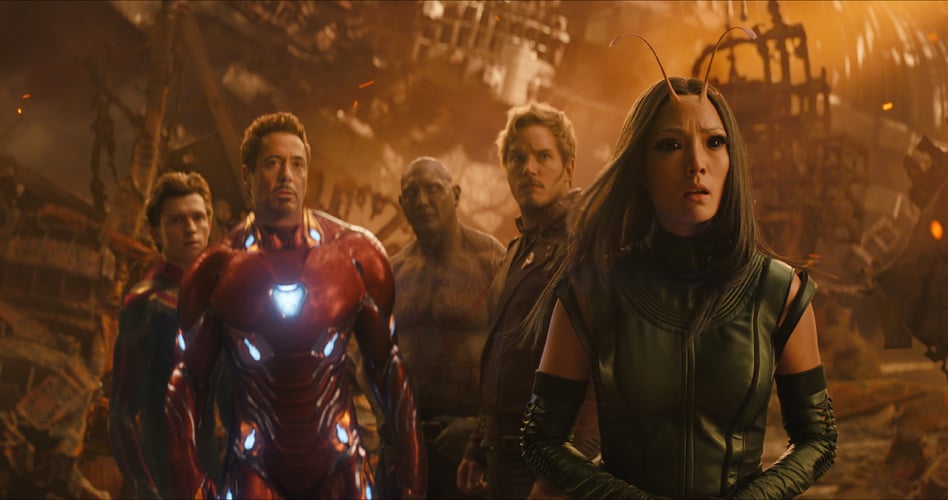 In the aftermath of Captain America: Civil War, The Avengers have disbanded, with the heroes now scattered around the world. However, intergalactic tyrant Thanos (Josh Brolin) is ready to execute his grand plan to affix all six Infinity Stones to his gauntlet, to allow him to impose his will on reality and re-balance the universe by wiping out half of all life. If he amasses all of the stones, he will be able to kill trillions with one snap of his finger. In a bid to protect the Time Stone, Tony Stark/Iron Man (Robert Downey Jr.), Doctor Strange (Benedict Cumberbatch) and Peter Parker/Spider-Man (Tom Holland) find themselves transported to the desolate planet of Titan, Thanos's home world. The Guardians of the Galaxy - Peter Quill/Star-Lord (Chris Pratt), Gamora (Zoe Saldana), Drax (Dave Bautista), Mantis (Pom Klementieff), Rocket (Bradley Cooper) and Groot (Vin Diesel) - become drawn into the fight after rescuing Thor (Chris Hemsworth), who was left stranded in space following a fatal encounter with Thanos. On Earth, Vision (Paul Bettany) and Wanda Maximoff/Scarlet Witch (Elizabeth Olsen) seek the help of Steve Rogers/Captain America (Chris Evans), Natasha Romanoff/Black Widow (Scarlett Johansson) and Sam Wilson/Falcon (Anthony Mackie) as Thanos's Black Order move in, determined to extract the Mind Stone from Vision's head. Meeting with James Rhodes (Don Cheadle) and Bruce Banner (Mark Ruffalo), who has returned to Earth, the team travel to Wakanda where they reunite with Bucky Barnes (Sebastian Stan), while King T'Challa/Black Panther (Chadwick Boseman) mounts a defence against the impending intergalactic forces.
The directors and writers have stated it multiple times, but Thanos is the true protagonist of
Avengers: Infinity War
. Armchair critics have slated Marvel's villains for years, but that all changes with Thanos finally taking centre stage here, after hovering around the sidelines of the universe since
The Avengers
back in 2012. A hulking, mad titan, Thanos has proper motivation for wanting to expunge half of the universe's population; his concerns relate to finite resources, overpopulation, and the balance of life. Thanos genuinely believes that, despite his extreme measures, his quest is noble and, in the long run, people will be grateful for the significant cull, seeing himself as a saviour of sorts. Flashbacks reveal how Thanos first met Gamora, or how his home planet of Titan fell into ruin, permitting a glimpse behind the psychological curtain, elevating Thanos above a more standard-order blockbuster villain who strives to perpetrate evil for evil's sake. There is a feeling of desperateness as Thanos and his Children effortlessly battle the universe's mightiest heroes, raising the stakes and keeping the action sequences uniquely riveting. We may know that the heroes will ultimately triumph over Thanos, but we don't know the exact cost, creating a tension not often glimpsed in superhero productions. Furthermore,
Infinity War
culminates with a daring, jaw-dropping finale that could only be attempted by a creative team secure in the knowledge that its immediate sequel is already in production and the movie is still going to make billions of dollars.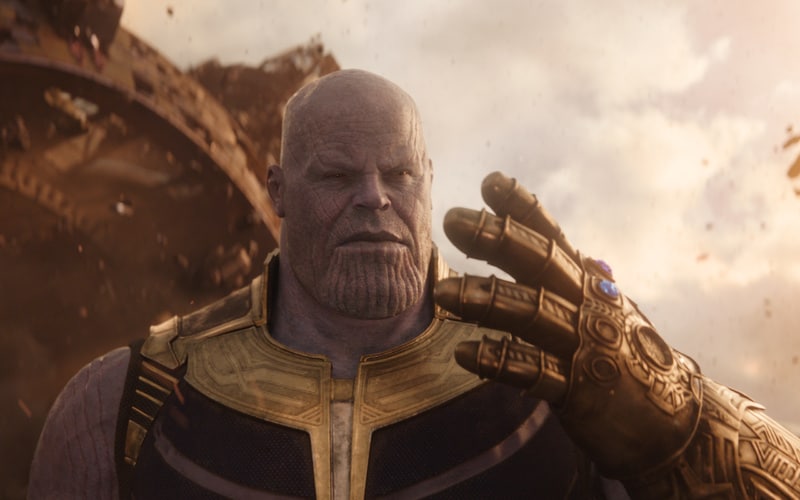 The narrative of Infinity War does not naturally lend itself to a tidy three-act structure; it's almost wall-to-wall set-pieces, cutting between the multiple factions of heroes who have their own situations to resolve. Thanos represents the through-line, creating a thankful cohesiveness, not to mention Thanos's grand plan creates an urgency which ensures the film is never boring despite its length. Furthermore, while the movie does juggle at least thirty note-worthy characters, it never feels bloated or underdeveloped, thanks to the intricate format of the Marvel Cinema Universe. Whereas DC's ambitious live-action Justice League film fell flat on its face, the MCU's careful decade-long world-building ensures that long-time viewers know each character well enough to become sufficiently invested in the chaos. Nevertheless, Gamora and Quill's romantic relationship should have been better developed prior to the events of Infinity War, particularly since the two only got together at the end of Guardians of the Galaxy Vol. 2 after two movies of Quill's schoolboy leering. The romantic angle does play a significant role in the proceedings here, making it slightly disappointing that it's noticeably underdone. However, there is only so much that the Infinity War screenwriters could achieve in a single two-and-a-half-hour motion picture.
Age of Ultron
scarcely felt like a Joss Whedon script, as the humour was disappointingly forced and flat. Happily,
Infinity War
ups the ante in terms of humour; the banter is strong, adding appreciable and effective hilarity to an otherwise solemn story. The lovably blunt Drax is as side-splitting as ever, stealing scenes all over the place, while it's a joy to see Quill and Stark meeting at last. In fact, the primary appeal of
Infinity War
is seeing established characters meeting for the first time - hell, I could spend hours just watching Thor interacting with the Guardians of the Galaxy. Of course, you will inevitably come away wanting to watch more of your favourite characters interacting, but the Russos do need to pay attention to pacing.
Infinity War
may lack the intricate moral and political debates of
Captain America: Civil War
, but there is ample humanity thanks to the delightful bantering and amiable heroes, not to mention psychological underpinnings to Thanos, which is rare in this genre.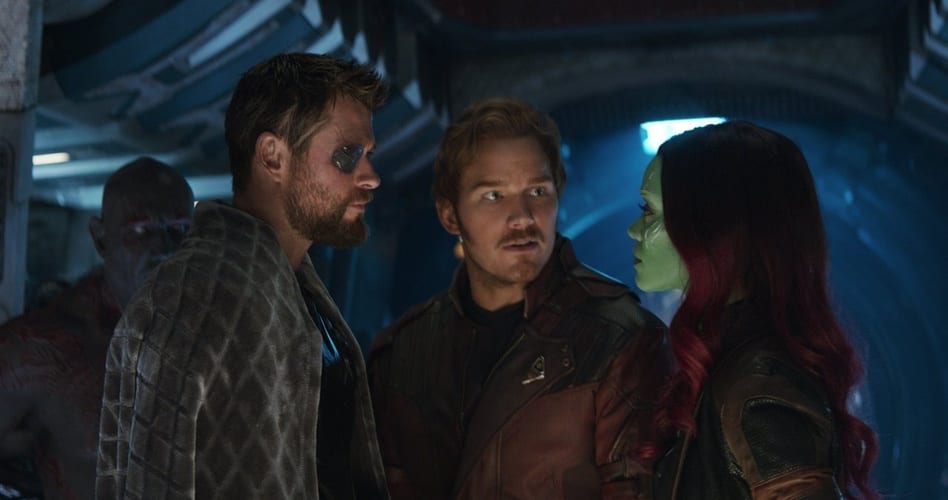 With a gargantuan scope made possible by an unprecedented production budget, Infinity War is visually striking from top to bottom, making this one to behold on the largest possible screen. This is a truly epic movie, travelling to numerous different planets and never feeling restrictive. Luckily, whereas Age of Ultron's gloomy cinematography looked downright ugly, Infinity War is a more vibrant, colourful movie, beautifully captured entirely with IMAX cameras. With the two excellent Captain America sequels under their belts, the Russo Brothers adeptly handle Infinity War's intimidating requirements, orchestrating exciting action set-pieces which spotlight a selection of gifted characters, each with their own unique abilities. Despite the scale of the chaos, the throwdowns are visceral and pack genuine impact, particularly the immense climactic showdown on Wakanda. Additionally, Trent Opaloch's cinematography is agreeably smooth, making the action sequences easy to comprehend and enjoy. There is also enough variety to the action to prevent Infinity War from feeling monotonous or repetitive. Furthermore, Infinity War sees the welcome return of veteran composer Alan Silvestri, who scored the first Avengers back in 2012. Rather than generic action movie music, Silvestri's compositions are full of flavour and majesty, astutely making use of the memorable Avengers theme when suitable to underscore badass action beats, inspiring pure ecstasy.
Thanos is a miracle of motion capture; he looks tactile, and carries genuine weight and inertia. Little details in certain shots - such as arm hair, skin imperfections, or tears running into the crevices of his face - drive home the realism of the character, making this one for the ages. The Hulk also continues to impress in terms of sheer texturing, though his presence is minimised compared to previous
Avengers
instalments. Admittedly, some moments of computer-generated imagery, particularly during the more digitally-driven set-pieces, look obvious or even slightly phoney, lacking in tangibility, but that's almost par for the course with this much CGI on the screen. You could be forgiven for yearning for the time when the Iron Man and War Machine suits were practical whenever possible.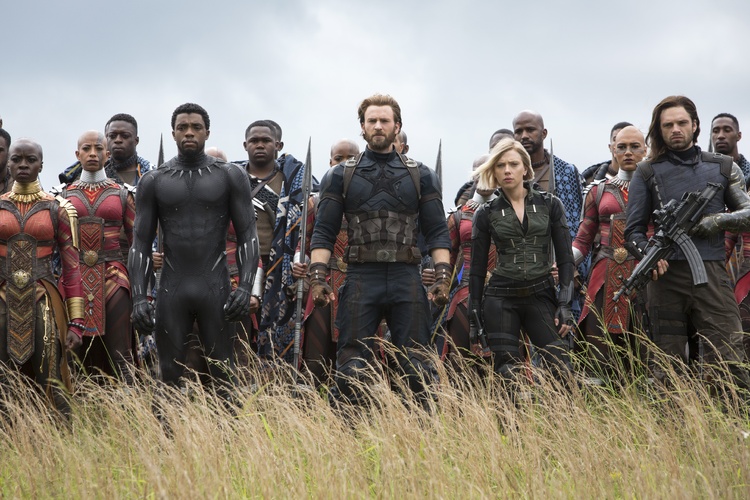 Infinity War's ensemble cast excels all reasonable expectations; the movie even reintroduces an iconic character in a surprise holy-shit reveal for the ages. The production incorporates supporting characters from various solo movies, including Benedict Wong as Wong, Gwyneth Paltrow as Pepper Potts, and pretty much the entire ensemble cast of Black Panther. There are certain notable exclusions from the cast, including Jeremy Renner and Paul Rudd, but the next instalment promises to rectify this and further up the ante. Brolin is sensational as Thanos, able to convey ruthlessness as well as vulnerability despite performing through a motion capture suit. It would be dizzying to run through the entire ensemble cast individually, but, suffice it to say, all of the performers hit their respective marks nicely. Fortunately, Infinity War further develops the relationship between Parker and Stark, following on from the events of Spider-Man: Homecoming, and it's still a treat to watch their witty interplay. Downey and young Holland both remain exceptional in their roles, oozing charisma and gravitas. An emotionally charged, heartbreaking scene late into the picture is an especially superb showcase for their talents.
Considering its insanely polished construction, it's likely that any reaction to Avengers: Infinity War - aside from basic admiration for the refined cinematic craftsmanship on display - will be wholly based on whether or not you feel serviced, dependent on the extent that the movie uses your favourite characters and how well the pieces of the movie work for you. Of course, as with almost any major movie, small things can be nitpicked, particularly certain character actions or moments of mediocre digital effects, but none of the minor imperfections are enough to tarnish this excellent superhero blockbuster. Also, it will inevitably play better following the release of the next instalment given the nature of the conclusion, but again that is not something that can be held against Infinity War. This is a powerful and poignant movie; a must-see for any MCU fan and a revelation in the genre, showing yet again why Marvel Studios convincingly remains at the top of their game. As ever, be sure to stay until the end of the credits.
8.7/10