"If I spoke about it - if I did - what would I tell you? I wonder. Would I tell you about the time? It happened a long time ago, it seems. In the last days of a fair prince's reign. Or would I tell you about the place? A small city near the coast, but far from everything else. Or, I don't know... Would I tell you about her? The princess without voice. Or perhaps I would just warn you, about the truth of these facts. And the tale of love and loss. And the monster, who tried to destroy it all."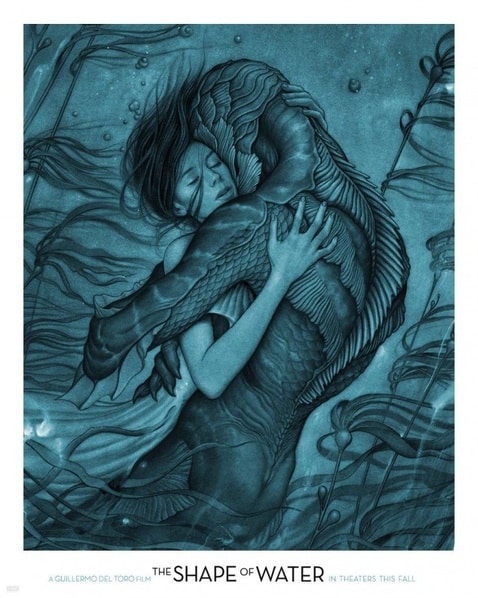 Brilliant storyteller Guillermo del Toro gives us The Shape of Water, an otherworldly fable set against the backdrop of Cold War era America circa 1962. In the hidden high-security government laboratory where she works, lonely Elisa (Sally Hawkins) is trapped in a life of isolation. Elisa's life is changed forever when she and co-worker Zelda (Octavia Spencer) discover a secret classified experiment. Rounding out the cast are Michael Shannon, Richard Jenkins, Michael Stuhlbarg, and Doug Jones.
Film making, effects, cinematography:  Top notch effects, especially looking at the watery creature, The Shape of Water boasts marvellous artistry and detailed filming.
Cinematography is what you would expect, smooth and clinical with its panning shots.  A worthy blend of greens, blues and dark ambience which bends the aesthetics into surreal proportions.  Art meets storytelling divided by effectual bliss.

Story, acting, character development:  The actors all do a wonderful job in conveying emotion and an empathetic quality, apart from the main antagonist.  The characters rather than falling into black and white extremes tend to fall into a rather encompassing grey area.  It shows the versatility and at times humour in an otherwise reserved age.  Elisa, being a cleaner with a very poignant routine, falls for an outsider creature.  An attraction and curiosity for the unusual, for a unique entity.  Love that begins with a gradual blooming of discovery as both parties learn more about each other.  Whether the levers are music, in the form of records and eggs, a source of nourishment, that bring out the more creative and sensitive side of a creature, at the beginning, not fully understood.  Toro, reminiscent of Pan's Labyrinth, makes the audience fall in love with the misfits, the outsiders, the ones who see the world differently and in a more imaginative, caring way.
Music, score, sound:  The music by Alexandre Desplat adds another dimension to proceedings, with an enchanting soundtrack which in whimsical waves of happy tidings… Gives us a fairy tale quality to an already magical and imaginative adventure.  It is cheerful, upbeat and very refreshing when it uplifts and bounces along with gleeful abandon.
Summary and conclusion:  Overall The Shape of Water, whereas Pan's Labyrinth had a more tragic tone, this story has a more romantic and cheerful disposition.  Perhaps a more prominent and ruthless villain (Richard seems to be a mild bully rather than a dastardly character we love to hate in my humble opinion…) would have been a welcome addition. Although the strength of the leads, Sally Hawkins and Doug Jones, more than makes up for any transgressions or mildness offered by the other characters revolving around them.  Her friends, Giles and Zelda, also give layered and compassionate believable performances.  They have a radiant and loving quality also that melts away any coldness from the severity of proceedings that comes and goes.  The Shape of Water is a rather unique romance with thrilling strides and a rollercoaster of adventurous satisfaction, which washes over us with fantastical waves.
"If I told you about her, what would I say? That they lived happily ever after? I believe they did. That they were in love? That they remained in love? I'm sure that's true. But when I think of her - of Elisa - the only thing that comes to mind is a poem, whispered by someone in love, hundreds of years ago: "Unable to perceive the shape of You, I find You all around me. Your presence fills my eyes with Your love, It humbles my heart, For You are everywhere."
8/10