Produced and released in the shadow of successful werewolf flicks like
An American Werewolf in London
and
The Howling
, 1985's
Silver Bullet
represents an adaptation of the Stephen King novella (or "novelette," according to the opening credits) "Cycle of the Werewolf." King himself actually penned the screenplay, denoting the second of three occasions for which he adapted his own works for the big screen during the 1980s -
Silver Bullet
came a couple years after
Cat's Eye
in 1983, and just before 1986's
Maximum Overdrive
(for which King also made his directorial debut). Directed by Daniel Attias (who was fresh out of film school at the time),
Silver Bullet
has admittedly dated in a number of respects, but it has charm in spades and remains an entertaining watch thanks to its goofy sense of humour.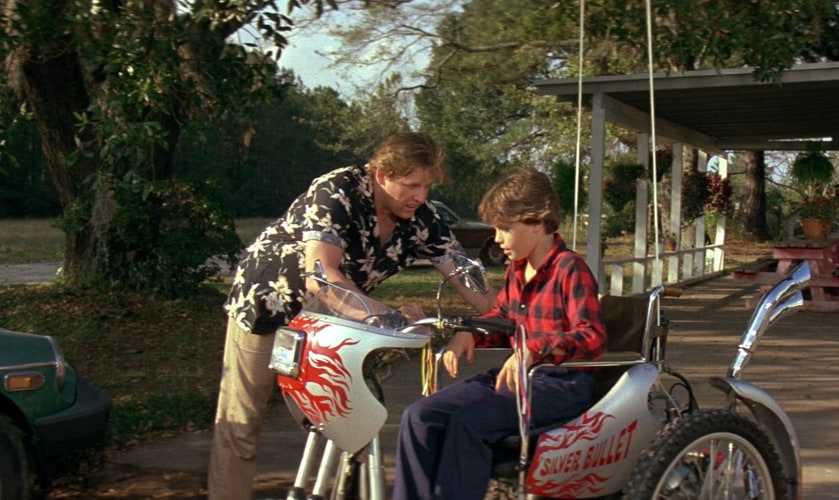 In the New England town of Tarker's Mill, Maine, a sudden series of violent murders leaves the locals on edge. Unbeknownst to the townspeople, the "serial killer" is actually a werewolf who is capable of ripping its victims to shreds and cannot be killed through conventional methods. After venturing out at night to set off fireworks in his wheelchair-cum-motorcycle known as the "Silver Bullet," paraplegic youth Marty Coslaw (Corey Haim) becomes convinced that a werewolf is killing the locals, but his suspicions are not shared by his sceptical sister Jane (Megan Follows) or their alcoholic uncle, Red (Gary Busey). With the townsfolk taking things into their own hands by assembling a vigilante justice group to the horror of Reverend Lowe (Everett McGill) and Sheriff Haller (Terry O'Quinn), Marty hopes to convince Jane and Red about the werewolf's existence, and is determined to stop it before they become lunchmeat.
The slim 126-page "Cycle of the Werewolf" novella was episodic, but
Silver Bullet
disposes of such a structure, tying everything together by concentrating primarily on Marty and his family. In a way, the resulting movie feels like a slasher in which the killer happens to be a lycanthrope as opposed to a more generic psychotic, and there is a mystery at the centre of the story in regards to who the werewolf is. King weaves themes into the fabric of the narrative relating to small-town Americana, while the central characters are nursing wounds of some sort - Red is an alcoholic, Marty is disabled, and so on. In addition, the idea is introduced that the victims are sinners who go against God, deepening the beast's motivation. The werewolf costume was designed by the legendary Carlo Rambaldi, who earned Oscars for his contributions to 1976's
King Kong
remake, as well as
Alien
and
E.T. the Extra Terrestrial
. Despite the pedigree involved, the rubbery werewolf looks mediocre at best - we've seen more menacing beasts in motion pictures before and since. Still, many of the special effects have held up surprisingly well, particularly the transformation sequences and some of the gore effects. In one standout dream scene, all of the locals begin to turn into werewolves, which is a terrific showcase for the sterling special effects.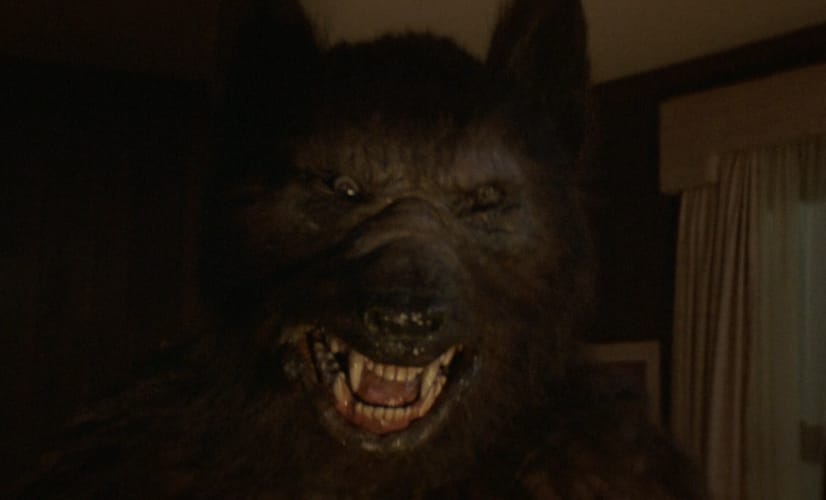 Deliberate or otherwise, there is a healthy sense of humour which runs throughout Silver Bullet to keep it compulsively watchable and frequently enjoyable. It's doubtful that first-time viewers circa 2018 will necessarily find the picture scary, but there are a number of effective set-pieces scattered throughout nevertheless, with convincingly-executed graphic violence depicting each victim's grisly demise. Attias actually intended the film to be rated PG-13 and play out more as a teen-friendly adventure, but super-producer Dino De Laurentiis kept pushing for more gore and violence to heighten the horror. Some have criticised this decision, but the R-rating gives Silver Bullet more bite and raises the stakes, making us believe that the characters really are in danger. This was actually Attias' feature film debut (Phantasm director Don Coscarelli was originally attached before dropping out over the old "creative differences" chestnut), but the filmmaker never tackled another theatrical movie again (to date) - instead, he became a successful television director, helming episodes of The Sopranos, The Wire, Alias and many more. The original score by Jay Chattaway, meanwhile, is a real standout. The compositions do sound distinctively '80s, but the score also carries plenty of flavour and accentuates the horror when necessary.
Busey sinks his teeth the role of Uncle Red, helping to heighten the movie's sense of humour. Rather than slavishly sticking to the script, Busey actually improvised a fair bit (with King's blessing) to terrific effect - particularly amusing is his exclamation of "Holy jumped-up bald-headed Jesus palomino!" Busey is the definite standout in this ensemble, chewing the scenery at every opportunity, and fans of the actor (yes, they exist) should seek this one out. Other note-worthy actors fill out the cast, including the always-reliable Everett McGill (1989's Licence to Kill) as well as Corey Haim (The Lost Boys), and even Terry O'Quinn (perhaps best known for TV's Lost). Although the performances may not be anything to write home about for the most part, they are effective enough. Silver Bullet is predictable to a certain degree, and the ending is overly pat after a noticeably brief climactic showdown, but the picture nevertheless has a distinct charm. It will appeal to those who enjoy '80s horror movies like Fright Night and Evil Dead 2.
7.2/10