''You don't get it do you? You're my job. You're what I'm paid to do. You're about as mysterious to me as a blocked toilet is to a fucking plumber. Reasons for doing what you did? Who gives a fuck?''

Two Los Angeles homicide detectives are dispatched to a northern town where the sun doesn't set to investigate the methodical murder of a local teen. Sleep is a distant memory, a game of wits...
Al Pacino
: Detective Will Dormer
Robin Williams
: Walter Finch
Insomnia
(2002) is director Christopher Nolan's film after his masterful
Memento
. In this remake of a Norwegian film made in 1998 by Erik Skjoldbjaerg, Nolan has cast three Oscar winning knock outs - Al Pacino and Hillary Swank play police officers chasing down a dangerous psychopathic pedophilia killer played by Robin Williams.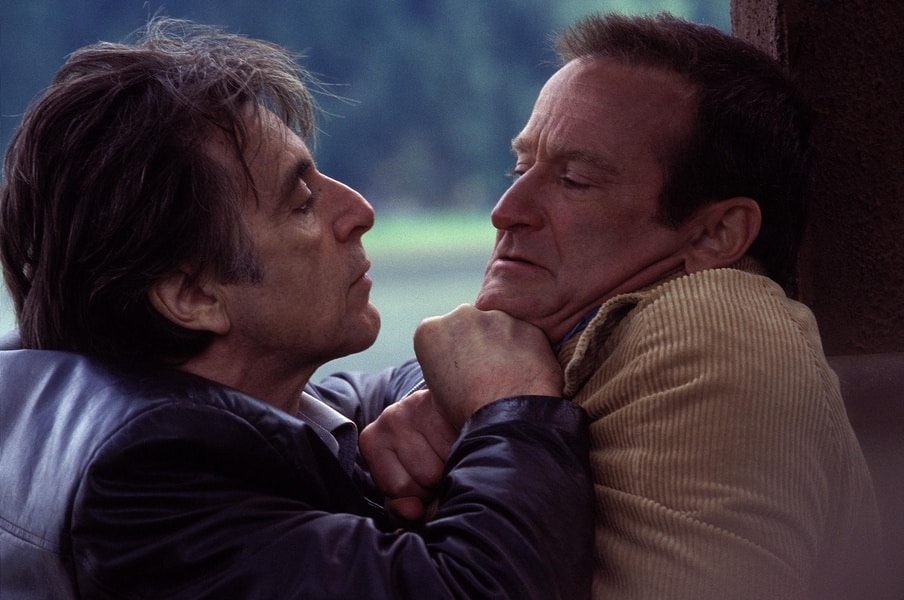 Nolan sets the film in Alaska, and makes good use of the location, particularly in the opening credit sequence as the camera follows a two-engine prop plane across the unforgiving jagged ice ridges. A foot chase on moving logs provides excitement, but the best thrills here are of a
psychological
nature true to Nolan. This is a story for adults and deep thinkers.
Insomnia
is a serious thriller that relies not merely upon action, but on issues addressing guilt, morality and consequence to mediate the storytelling to dizzying heights via an uncompromising truth. To do the right thing, or in this case, not to lose yourself but to find yourself again.
Al Pacino hands in his best performance not seen for what seems an age.
Robin Williams impresses, playing the homicidal Walter Finch with a chilling intensity that should forever mark his talents as not only a comedian but as a versatile acting talent. The Oscar win was well earned for Robin in
Good Will Hunting
for the Best Supporting Actor category.
Hilary Swank as the smart small-town cop delivers a multi-layered performance that is completely believable.
''You and I share a secret. We know how easy it is to kill someone. That ultimate taboo. It doesn't exist outside our own minds.''

The whole film is
disorienting
and confounding to the senses. If anyone knows what it's like to actually have insomnia, you will very much appreciate the hallucinations, the sudden flashes or the foreboding feel of time standing still. It really is clever how well it depicts what happens to an individual when they can't sleep; People's voices merge, sight alters as colours seem to become disorientated, light hurts the eyes, and fatigue so torturous that reality starts to become the dream. When in the film Al Pacino has to run around chasing a corrupted killer whom subtly is victorious upon controlling him and being looked at as the victim; you feel his pain. And as the movie goes on, you feel his need to succeed in sleeping.
We the audience begin to feel like Pacino's main protagonist, sleep deprived, sleep starved and desperately in need of it's touch. A drug always beyond reach, a savoury food or mouth watering drink always looming in the distance to the starved victim.
To watch a Nolan film, is to be swept away by the ambient sounds, and score; In this case David Julyan haunts us with droning indifference and then switches to emotionally charged energies.
Insomnia
is no exception from this equation. The misty town accompanied by the mysterious music offer a milestone of an achievement in helping show the isolation and the constant sunlight, which all aid the believability of insomnia.
The issues of guilt, remorse and vengeance are all studied and analysed in
Insomnia
, two years after
Memento
and Nolan literally carries on from where he left off; Utilizing an in-depth study of a range of characters played by an Award winning cast. The raw power of emotion, the shrouded mystery regarding confusion and deception breathing from their very pores.
In retrospective,
Insomnia
's pace is a mixture of acceleration and wallowing stillness complimenting the slows and fasts of the intricate thriller. Tragedy laced with a psychological struggle, where upon Cop and killer are pitted against each other. The killer having the advantage of a tormented, sleep deprived, guilt ridden nemesis to feed upon. Nolan's
Insomnia
is one to watch over and over and especially one to experience if you cannot find the urge to
sleep
. This is one psychological thriller you won't forget...Most importantly it shows you, compels you not to lose your way. Eternal peace can be found; Dormire.
''Let me sleep...Just let me sleep.''
10/10