''I don't know how to thank you.''

''Thank God, not me. He wants us to survive. Well, that's what we have to believe.''

A Polish Jewish musician struggles to survive the destruction of the Warsaw ghetto of World War II.
Adrien Brody
: Wladyslaw Szpilman
Thomas Kretschmann
: Captain Wilm Hosenfeld
When we think of human suffering, of loss and despair. What is it that we think of in human history, a great well of loss? The answer is simple, the holocaust.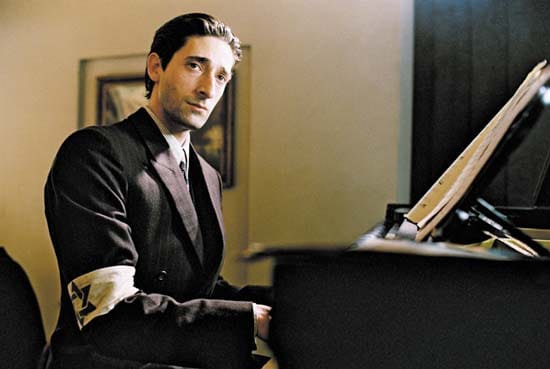 The Pianist
tells a wonderful story of one man's journey through a tragic period in time that is ultimately one of my favourite areas of interest. The level of detail is captured perfectly from every last stone and structure, from furniture, to the very fabric of characters clothes. Roman Polanski has triumphed and blazed with his masterpiece that shines.
The music that
Pianist
emits is haunting and mesmerising. The scene in which he plays for the Captain will stay with me all my life, where he doesn't just play from his heart and soul but for the desire that he still wants to live and clutch onto hope.
Adrien Broody plays Wladyslaw Szpilman like no one else could. We along side him take the Journey with him as we watch him lose his family but ultimately gain his freedom away from persecution.
Thomas Kretschmann appears later as the Captain, a friend who helps Szpilman, his performance reminded me of
Downfall
. He's a fave of mine who shows once again he's an amazing actor even with his small but important part.
We see human suffering displayed from a man getting thrown from his wheelchair out of a window, to a woman asking
''Where are you taking us?
only to be given the ultimate answer, a bullet to her head, the fate of Jews in the eyes of Nazi's,
Eradication...death...

Schindlers List
did the whole suffering of a people alone but with
Pianist
it is now not alone, it is paralleled with greatness with soulful rapturous playing that shows hate can always be overcome by the faint glimmer of hope.
Roman Polanski has crafted a masterpiece which i love and am haunted by in the deep recesses of my being. Such soothing pieces and the Moonlight Sonata crammed in there too, a ghostly vision of beauty and a song i play too that shudders through me when i hear it.
When I think of
Pianist
i think of unsurpassed greatness and I want to play the Piano more to let out the hurt.
10/10