''New lovers are nervous and tender, but smash everything. For the heart is an organ of fire.''

At the close of WWII, a young nurse tends to a badly-burned plane crash victim. His past is shown in flashbacks, revealing an involvement in a fateful love affair.
Ralph Fiennes
: Count Laszlo de Almásy
The late Anthony Minghella's
The English Patient
(1996) is a film and story that takes us back to the golden age of historical preference. It is vast and breath taking in terms of cinematography and acting, and yet so heartbreakingly intimate in its portrayal of human
love and suffering
.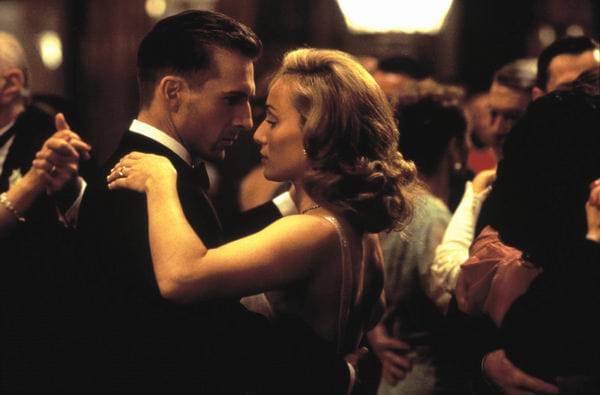 Reminisce for a second, remember the 1997 Academy Awards; the film owned the night, taking home nine awards from twelve nominations, the most decisive cleansweep since another major favourite of mine Bernardo Bertolucci's
The Last Emperor
in 1988. Based on Canadian author Michael Ondaatje's 1992 Booker Prize-winning novel of the same name,
The English Patient
is a touching meditation upon reflections concerning and addressing life, love and loss, tracing the history of a critically-burnt man in the aftermath of World War Two.
During the war, one man (Ralph Fiennes) is discovered in the burning remnants of a crashed plane. With his face scarred beyond recognition, seemingly suffering from amnesia, he is assumed to be an Allied soldier, and is simply referred to as
the English patient.
After the war, in the mine-ridden hills of Italy, a kind nurse, Hana (Juliette Binoche), whom has apparently lost everybody close to her, remains in a ruined monastery to look after the dying man. Over time, she comes to learn more and more about her English patient, who is actually revealed to be a Hungarian geographer, Count Laszlo de Almasy. Rather than losing his memory in the plane crash, we learn that this scar-ridden man has perhaps chosen by choice to forget his past, both to protect himself from persecution and to cure himself of the tragic
memories
of his past love. Through the usage of numerous flashbacks, we learn of Almasy's former exploits in the Sahara desert, and his romantic, passionate affair with a married woman, Katharine Clifton(Kristin Scott Thomas).
It's certainly a simple matter to see why
The English Patient
was so successful at the Oscars. It is such a dazzling film of beauty, blending the quiet serenity of the Italian countryside with the endless golden sands of the timeless desert. Cinematographer John Seale captures the landscape to perfection; not since David Lean's magnificent
Lawrence of Arabia
has a film shown the desert with such beauty and grandeur, making particularly good use of sweeping aerial shots from Almasy's plane. Even in the film's more intimate moments, excellent use of close-ups and lighting capture the emotion of the scene, coupled, of course, with the brilliant performances from all the cast members.
A long-time favourite actor of mine, 'The English Patient' might just contain one of Ralph Fiennes' finest roles, and, considering his history includes such films as favourites of mine:
Schindler's List
and
The Constant Gardener,
this flattery and credit is not to be taken lightly for consideration. His Count Laszlo de Almásy is initially a very sympathetic character, but, as we slowly learn more about his past, his likable qualities are eroded by his less-admirable tendencies towards others.
Ownership
is a major theme of the film. When asked by Katherine what he hates most, Almasy replies with
"Ownership. Being owned. When you leave you should forget me."
However, as the relationship progresses, and Katherine perhaps tries to distance herself from him, Almasy reveals a hint of arrogance, insisting that his love for her somehow entitles him to have her whenever he likes:
"I want to touch you. I want the things which are mine, which belong to me."
Juliette Binoche, who received an Oscar for her performance here, is excellent as Hana, the lonesome nurse who fears to love because of the tragedies that have always harmed those close to her. After some time of caring for Almásy alone, she is joined by a dubious Canadian thief, David Caravaggio (Willem Dafoe), who lost his thumbs during the war, and who suspects that it was Almásy who betrayed him to the Germans. Hana also strikes up a tentative romantic relationship with Kip (Naveen Andrews), an Indian bomb-diffuser in the British Army. However, due to her past history, Hana is afraid that becoming involved with Kip will doom him to death, particularly considering his very dangerous line of work.
At 160 minutes in length,
The English Patient
wonderfully evokes memories of the classic romantic epics of old, successfully finding a balance of
mystery, love, joy
and
tragedy
. The ending of the film is heartbreaking and sorrowful, but also uplifting in its own way. Whilst some romantic relationships are doomed from the very beginning, others have a very good chance of bringing happiness. Nevertheless, in every case, it is always better to have loved and lost, than never to have loved at all.
10/10