''Revenge is not good. Once you're done. Believe me.''

Professional assassin Leon reluctantly takes care of 12-year-old Mathilda, a neighbor whose parents are killed, and teaches her his trade.
Jean Reno
: Léon
From the opening musical score, which is phenomenal throughout the entire piece, Luc Besson gives us one of the most stylish Character introductions seen to date. The Cinematography is outstanding as the camera focuses on Leon (Jean Reno) and his Italian Mob friend (Danny Aiello), with subtle shots that pan onto his dark sunglasses or the glass of milk he's drinking (which actually becomes a running theme for the film).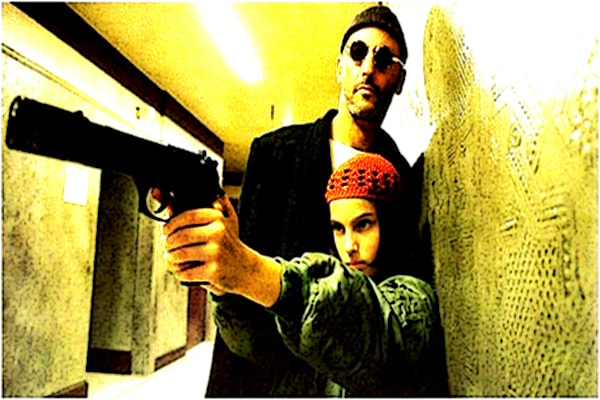 Almost as soon as we are introduced to the seemingly cold, calculating Leon, the heat is on and we discover that he is unstoppable, untouchable and lethal as a professional hitman. The way in which he displays his expertise, is visually spectacular as he picks off targets like flies one by one, appealing to all fans of action, gore and suspense. It is also gripping to see Leon hunt down the last remaining 'client', making the vulnerable man sweat with fear and me be riveted to my seat in anticipation.
As the gloriously original plot continues, Leon rescues a 12 year old girl named Mathilda (Natalie Portman) from imminent death, which begins an awe inspiring relationship between the two. It's very rare to see such impressive characterization, and Besson manages to reveal the warmer, caring side to Leon, without clouding the believability of a ruthless and fearless killer. Without sounding too sentimental, it has to be said that their relationship and love for each other is beautifully realized, and is always accompanied by the captivating score.
''I haven't got time for this Mickey Mouse bullshit.''

Apart from the skilled and apparent capability of Reno, Portman's portrayal of Mathilda really is astonishingly authentic, albeit the stars of
Leon: The Professional
are obvious but without Gary Oldman's performance, the film would have lacked the depth and tension that is so essential to the story. Oldman plays a crooked, psychopathic Drug Enforcement Agent named Stansfield, with a penchant and liking for classical composers such as Beethoven and Mozart.
Stansfield is significantly agitated by Leon's diligent trail of death and destruction. The scenes in which his anxiety pushes to the extreme, commands your attention, this is a crazed villain who wants blood at any cost, and he wants this problem in the guise of Leon to disappear.
It is a meritorious accomplishment for a film of this genre to have such a rich plot and character development. The transition of Leon, devoid of any feelings, to him embracing Mathilda's affections is a paramount example. There is a strong universal appeal to all movie-lovers for this extraordinary film and it is totally justified.
I personally found it a delight to watch and I'm sure a classic for repeated viewings.
Leon: Revenge is not a good thing, it's better to forget.
Mathilda: Forget? After I've seen the outline of my brother's body on the floor, you expect me to forget? I wanna kill those sons of bitches, and blow their fucking heads off!

In
"The making of The Professional"
, Besson says
"If I imagine somebody in the street try to knock on my daughter, I kill the guy, in five seconds. I kill him, and I think "It's in me, I'm a beast!". On this part we can't forget that a part of us, the genetic things inside are much, much older than The Ten Commandments"
. He certainly uses visceral scenes to create very strong emotion in the movie - the blood running from Mathilda's nose or Stansfield's unforgettable
"EVERYONE!"
are just a couple of examples. The music and the sound are excellent and are used in a masterly fashion - you can hear Fatman's heart beating desperately or a low claustrophobic sound when Stansfield turns to look at Mathilda's father.
This stark portrayal of humanity and inhumanity is produced with the style and finesse that one expects from Luc Besson. In addition, the combined talents of Jean Reno, Natalie Portman and Gary Oldman provide not only an unmatched on-screen chemistry, but also three perfectly created characters, the like of which are rarely seen in today's cinema. This film has my personal recommendation of being one of the best practitioners of action and platonic examples of love, of the day. I have not seen anything that matches it in terms of intensity or emotion for a story of it's type, it really succeeds in being unique and indulging. I found myself caring for the characters involved, an unique experience in itself. This is not the type of film for an uncaring, boisterous audience, but nevertheless, it is an unforgettable piece of cinematic history.
[after the building explodes]
''Hey, what the fuck is going on up there? I said take the guy out, not the whole fucking building!''
10/10