''In this life you'll meet a lot of jerks. If they hurt you, tell yourself that it's their own stupidity that makes them act that way. That will keep you from responding to their meanness. There's nothing worse in this world than bitterness and revenge. Hold your head up and stay true to yourself.''

Poignant coming-of-age story of a precocious and outspoken young Iranian girl that begins during the Islamic Revolution.
Chiara Mastroianni
: Marjane 'Marji' Satrapi, as a teenager and a woman (voice)
Gabrielle Lopes
: Marjane as a child (voice)
Persepolis
is not only just an animated film or indeed a comic but one that captures one girl growing up. In the same vein as
Grave of the Fireflies
, this film is not for children like it's cartoony looks would suggest.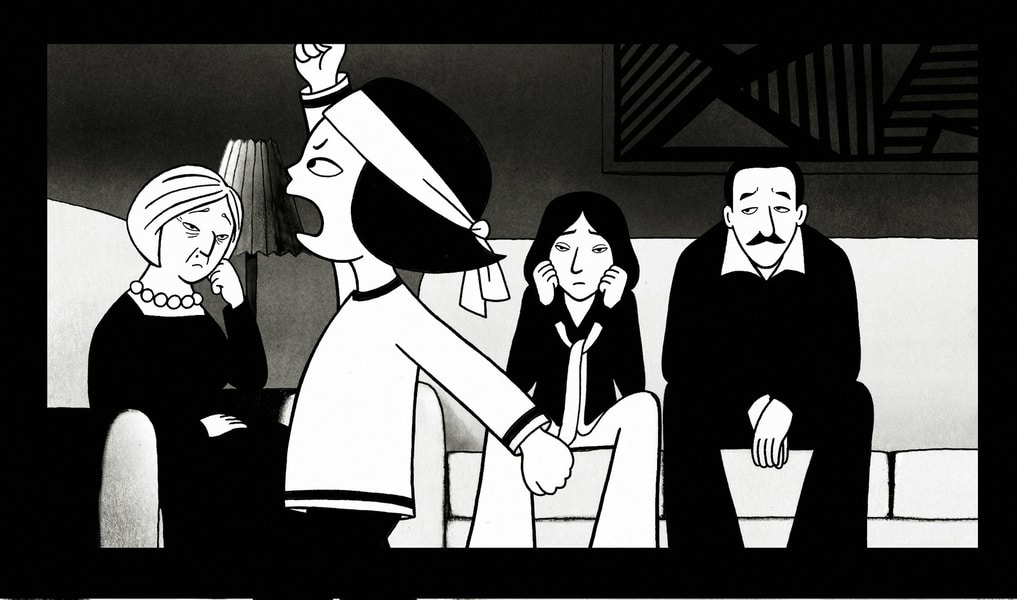 Persepolis
is a 2007 French animated film based on Marjane Satrapi's autobiographical graphic novel of the same name. The film was written and directed by Satrapi with Vincent Paronnaud. The story follows a young girl as she comes of age against the backdrop of the Iranian Revolution. The story ends with Marjane as a 24-year-old expatriate. The title is a reference to the historic city of Persepolis.
The film won the Jury Prize at the 2007 Cannes Film Festival and was released in France and Belgium on 27 June. In her acceptance speech, Satrapi said
"Although this film is universal, I wish to dedicate the prize to all Iranians."
The film was also nominated for the Academy Award for Best Animated Feature; Which it should of won.
What
Persepolis
gives us is Marjana Satrapi's vision about a life consisting of struggle, control and women being hidden without certain social freedoms. It is so captivating in the way it depicts the 80s and 90s in Iran, this is a World where death, war, propaganda and ideology are fully fuelled fires. Marjane's way of life in Iran resembles the early 1920s to 1940s rather than its actual timeline.
Imagination and creativity are brought to life to rekindle hope, cleverly
Persepolis
uses black and white to convey the immense desperation, the depressed state of society in Iran from constant war, revolution and the tennis match between having too much freedom or none at all.
The film is presented in the black-and-white style of the original graphic novels. Marjane explained in a bonus feature on the DVD that this was so the place and the characters wouldn't look like foreigners in a foreign country but simply people in a country to show how easily a country can become like Iran. The present-day scenes are shown in colour, while sections of the historic narrative resemble a shadow theatre show. To help with the translation of the comic to animation, art director and executive producer Marc Jousset came up with the design. The animation is credited to the Perseprod studio and was created by two specialized studios: Je Suis Bien Content and Pumpkin 3D.
Animation has a certain advantage; Permitting a pace that allows plenty to be explained, divulged, a simple and honestly told story, particularly anyone can relate to the images of early childhood and adolescence. Very thought inducing in seeing how atrocities and cruelties are perceived through little children's eyes, particularly little kids growing up in an environment where these acts are a normal way of life.
As a teenager looking for punk music in the black market, Marjane walks through a throng of peddlers trying to sell her an assortment of trendy videos, including disguising Micheal Jackson as Jichael Mackson is genius.
Communism is crushed, propaganda cast away and bloody fighting and martyrs frequently being produced. Marjane's life growing up as
Persepolis
shows us is a hard one full of strife. Yet for all its seriousness there is humour there also.
Throughout the film a sense of humour that is at times very sarcastic, yet very amusing shrouds the narrative and storytelling, luring audiences in with creative tones.
Be it sequences where she talks to God in his cloud or as a girl pestering her Uncle about his ideals and Communist past and life. Be it her making the transition from girl to woman in a very amusing sequence that shows all the joys of getting older. Sarcasm of my own there; It is a very infectious cycle of events.
Persepolis
ends with a beautiful rendition of her grandmother and her smelling of the luscious flowers put into her bra area. This for me really does show a simple truth regarding how great life can be whatever trouble there may be, morally good is always lurking somewhere, waiting to break free.
Whether it be Marjane's ill fated relationships or defiance of a teacher, or even men telling the women to cover up more and Marjane standing up for her convictions, there are so many sides to this story
Persepolis
has to offer. It addresses forms of oppression from her perspective, it flirts with Communism from the past, shows how the Shah of Iran was deceived by the West in geopolitical games, and then the religious state that replaces the past, to the extent the Country almost resembles a totalitarian state thanks to the Islamic Republic of Iran. It is a fascinating way of life and despite her reservations and rebellion against the state I'm certainly drawn to the discipline and strength which comes from such a totalitarian regime. A regime of faith, certainty and traditional values. Significant.
Thus becoming in my eyes a definite masterpiece of emotion, feeling and capturing the life and transition of a whole nation. Born from revolution, war and constant struggle. A country prevailing against outside interference from the west and neighbours, such as Iraq, for example. It gives me hope for other countries, even today, who face similar hardships and problems.
Simply breathtaking,
Persepolis
is nothing short of greatness and told in a medium bordering on simplicity yet emerging as genius.
10/10