''Never show anyone. They'll beg you and they'll flatter you for the secret, but as soon as you give it up... you'll be nothing to them. The secret impresses no one. The trick you use it for is everything.''

Having been firm friends, a friendship turns into a deadly rivalry. When Alfred performs the ultimate magic trick, Robert tries desperately to find out the secret to the trick and to use it for his own means. Obsession turns the two men and begins to unravel their lives...
Hugh Jackman
: Robert Angier
Christian Bale
: Alfred Borden
The Prestige
(2006) is the film adaptation from Director Christopher Nolan based upon the book by Christopher Priest. The story is simply, diversely about two entertaining magicians whom become friends then later rivals; a friendship that turns to rivalry, a rivalry that turns deadly. Friendly rivalry becomes an obsession. They start to spiral into complexities as their obsessions eclipse and destroy their lives.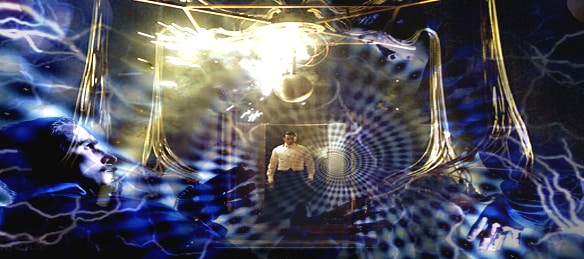 The story is in a word
mesmerizing
. You cannot help but stay focused throughout the film as you want to know how it will conclude. There are many twists and turns within the snake labyrinthine plot, There is a quote in the film used throughout,
"Are you watching closely?"
...You need to be paying close attention with the
The Prestige
and every viewing is as if one is deciphering a Rubix cube.
Beside the twists, the turns, the shocks and surprises, the performances and casting are truly phenomenal.
Hugh Jackman was a big surprise success as Rupert Angier, whom chooses deep films like the layered project from Darren Aronofsky
The Fountain
.
The Prestige
again shows Hugh Jackman as a man whom chooses his scripts wisely.
Christian Bale again always on top form in any Nolan collaboration; He gives life, depth and vitality to his character Alfred Borden.
Michael Cane as Cutter shows us a veteran hand, Nolan, Bale & Nolan in a
Batman
successful partnership once again.
Scarlett Johansson also very good as Olivia Wenscombe. Piper Perabo makes a short appearance but very effective and memorable.
Even Legend David Bowie and Andy Serkis popped up as Nikola Tesla and Alley.
''You never understood, why we did this. The audience knows the truth: the world is simple. It's miserable, solid all the way through. But if you could fool them, even for a second, then you can make them wonder, and then you... then you got to see something really special... you really don't know?... it was... it was the look on their faces...''

Christopher Nolan's
The Prestige
achieves in bringing to life a
dark
tale of dueling magicians, cunning betrayals laced with rivalry, magical trickery, all resulting in high quality dazzling entertainment and drenched with darkness and mystery; True to Nolan's style and nature.
The Prestige
isn't just a battle of words, but one fused of actions and wit. The film is full of mirroring and doubling, so it's not surprising that the magicians' feud is indeed mirrored by Nikola Tesla's equally dangerous rivalry with Thomas Edison over electricity and science.
Magic, Science and Mystery all merge into a perfect equation for both stories and film-making, in the way the spectacle could almost be an allegory about why we do the things we do to feel complete. Each protagonist is in search of his destiny and achieving aspiring greatness in his craft. Bale has the genius but not the ability to sell his illusions to an audience. Jackman has the showmanship but not the originality to create a truly great trick. In the middle is Michael Caine's engine, the backstage genius with the surprisingly shaky cockney accent, caught somewhere between director and ghost writer within the scheme of things.
Ultimately, it's a film that could be about everything or absolutely nothing, one that is either led entirely by plot differentiation or one where the themes and storytelling dictate the characters' actions far more than credibility...where the biggest trick is that ultimately there is
no
trick. All interpretations seem equally valid, which is part of the fun and puzzlement.
The Prestige
is a period film with a modern, unique feel that will leave you contemplating, leave you wondering, leave you breathless.
''Now you're looking for the secret. But you won't find it because of course, you're not really looking. You don't really want to work it out. You want to be fooled.''
10/10