''My name is Maximus Decimus Meridius, commander of the Armies of the North, General of the Felix Legions, loyal servant to the true emperor, Marcus Aurelius. Father to a murdered son, husband to a murdered wife. And I will have my vengeance, in this life or the next.''


When a Roman general is betrayed and his family murdered by a corrupt prince, he comes to Rome as a gladiator to seek revenge.
Russell Crowe
: Maximus
Joaquin Phoenix
: Commodus
Epic, heart-wrenching, action packed and dramatic. Ridley Scott's roman historical masterpiece, forget the still good but flawed
kingdom of heaven
this is the one to watch.
Russel Crowe gives his best performance of his career. The late Richard Harris and Oliver Reed give high performances and a quality that shines timeless etherality. Joaquin Phoenix is an equal cold maddened son who's hunger and thirst for power is a vision to see.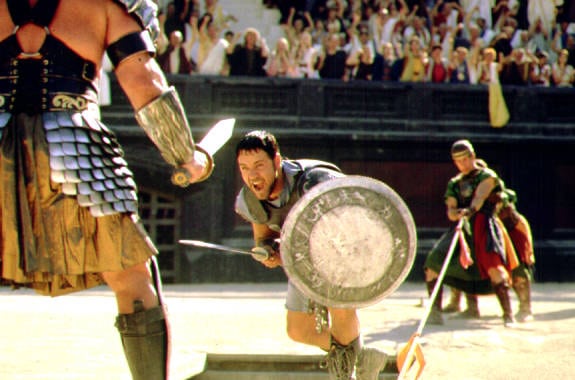 ''At my signal, unleash hell.''

A tale of redemption of a man fighting for good. A cause bigger than himself and to overthrow a tyrant obstructing the birth a republic. Revel in the violence, behold it's beauty and magnificence, wasn't a doubt in my mind that Ridley Scott would reap the rewards of his efforts and win awards galore. People who criticize this film are the same people that ridiculed
Blade Runner
,
Alien
, and my message to them is to get stuffed, thats as polite as i can put it.
Gladiator
features some wonderful cinematography by John Mathieson. The battle scenes are very graphic. (This movie is not for the squeamish, that's for sure.) There were some scenes in particular that really struck me, such as when Crowe appears to be floating over the ground very fast. The use of colour and colour tones added a great deal to the mood of the movie. Excellent.
The script was being written and re-written as the filming was going on, yet it doesn't show that the actors had no idea how the movie was going to end when they began filming. The acting is terrific. Russell Crowe is wonderfully cast as Maximus. Many reviewers agree that he is now officially a star. Joaquin Phoenix also proves his mettle as the emotionally troubled Commodus, whose behavior and emotion toward his sister could give anyone the creeps. Connie Nielsen makes you believe that, as Lucilla, she really is torn between natural loyalty to her brother and doing what she knows is right. Oliver Reed, in his last performance, is memorable in his role of Proximo, the former gladiator who is the owner of Maximus and brings him to Rome. In short, the actors were brilliant in their roles, not over-acting, but giving subtle, strong performances.
''I don't pretend to be a man of the people. But I do try to be a man for the people.''

The fights staged in
Gladiator
are masterful set pieces; stylized and captured gloriously. However, the fighting in
Gladiator
is not unrealistic; it's graphic and bloody. The warriors who battle each other are not super-men, they are normal men, real fighters, who get bashed and beat up at every turn. These soldiers combat in a truly gritty way, they are warriors who need to smell and rub their hands in the earth they battle upon. Chief amongst these mortal combatants is Russell Crowe's, a hero of mythological stance, whose raw aggression on the battlefront, coupled with his powerful expressions (combating and not combating, his silent moments from his execution to his first brawl in the arena are his best) and compelling heroics earned him a well earned Oscar.
These battle-scenes of Gladiator are, of course, extremely well tended to by Ridley Scott who is the master at crafting epic war scenarios (see, I told you fanboy-praise would sneak its way in!). The patient, slow pacing of the film seems to take a sudden halt here, and then fast-forward in an amazingly rapid-fire pace with quick shots, swinging swords, vivid skies and a great score by Hans Zimmer to further emphasize the dramatic mood.
The very culmination of this is not at the end, but rather early. It is the moment that Maximus removes his helmet, reveals his identity and faces the emperor, after a long and ferocious battle. It is a scene so poignant that I always wish it would have been saved until later on in the film, thereby giving it even more weight. But no matter, because rest assured that it is goosebumps-inducing enough.
A gloriously entertaining, heartfelt and carefully crafted war adventure by Ridley Scott in which little feels missing or incomplete. What more could you ask for? Great acting from the cast, I suppose ? well, this is also present in Gladiator. Best of all, the actors have good dialogue to work with so they don't choke on the dated lines. Russell Crowe propels this film with his heroic personality, Connie Nielsen adds introspective depth, and Joaquin Phoenix is excellent as the twisted but idealist emperor Commodurus.
Gladiator
is visually stunning; it is the work of a master craftsman. It is also emotionally intriguing, something some Scott films lack. Its soul-searching music (applause to Hans Zimmer) and its ambitious, gorgeous view of the after-life are beautiful. Its truly gritty-edge give it a dirty, gruesome magnificence.
One of my fave films of all times, one i have watched countless times. Near the beginning in the forests was filmed near my relatives too and I've been. Simply breathtaking scope and settings and the music hits your soul.
I am certainly entertained.
''What we do in life echoes in eternity.''
10/10