''Why SO serious?''

Batman and James Gordon join forces with Gotham's new District Attorney, Harvey Dent, to take on a psychotic bank robber known as The Joker, whilst other forces plot against them, and Joker's crimes grow more and more deadly.
Christian Bale
: Bruce Wayne / Batman
Heath Ledger
: The Joker
When we think back to truly worthy sequels, sequels which surpass even their original predecessors, many of us would proclaim such masterpieces as
Aliens
,
Godfather II
,
Empire Strikes Back
,
Terminator 2
...So with the coming of 2008 yet another sequel will be honoured enough to take it's place among these glorified
masterpieces
.
Undoubtedly, English Director Christopher Nolan begins to resemble the mythical King Midas, in the sense that every film project he breathes life into results in a deep, puzzling masterpiece of depth and serenity.
Memento
,
Insomnia
,
The Prestige
have all mesmerized and set alight mindful debate among critics and fans alike, and for me been hailed as 5 star masterpieces which breach the synapses.
2005 sees the release of
Batman Begins
, under the helm is none other than English Director Nolan and Warner Bros. The batman franchise, after Joel Schumacher's
Batman Forever
and
Batman & Robin
had been taking it's last dying breaths after turning into a colourful farce of nipples and cartoony villainy.
Only a miracle could of repaired the damage done, and if any man can provide miracles Christopher Nolan surely can.
Batman Begins
not only gave new life to a dying franchise, it redefined comic book/Graphic Novel adaptations in terms of realism, acting, and adrenaline pumping cinematography. This was a whole new re-imagining for Bruce Wayne becoming the Batman, and quite frankly even more believable than Tim Burton's efforts in 1989.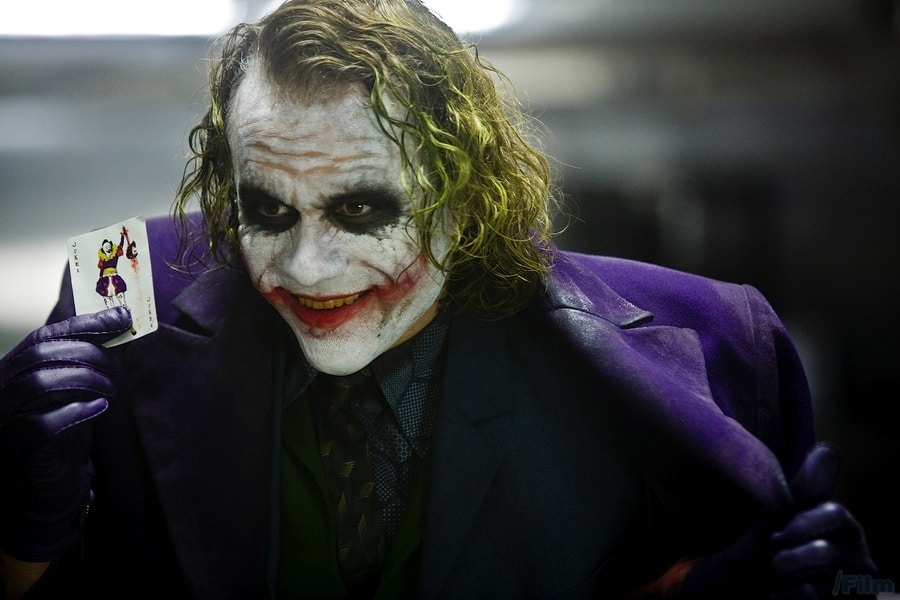 So 2008 sees the
The Dark Knight
, from Warner Brothers and once again the directorial genius of Nolan.
David S. Goyer and Christopher Nolan collaborated on the story of this film. The script itself was written by Nolan and his brother Jonathan. funnily enough after watching
The Dark Knight
, Goyer stated
"I can't believe my name is on a movie this good"
.
This time the hype, the anticipation, and the attention has increased a hundred fold since it's predecessor. New cast additions include Maggie Gyllenhaal, Aaron Eckhart and the late Heath Ledger, while old veterans return such as Gary Oldman, Morgan Freeman, Micheal Caine and the Dark Knight himself Christian Bale. Obviously the tragic death of Heath Ledger after the completion of the movie warranted alot more attention for viewers due to the complexity of seeing his last performance. However,
The Dark Knight
is testament to Ledger's legacy, his swan song, his immortal role among many chameleonic characters in his resume. His roles in
Brokeback Mountain
,
Candy
, showed his adult raw talent for tackling sensitive controversial material, while
A Knight's Tale
,
The Patriot
and
10 things I hate about you
showed he could entertain and be charming. So with
The Dark Knight
we witness his best film to date, his guaranteed Academy Award grabbing carnation of the maniacal nemesis of batman,
The Joker
. Let it just be said Heath truly is immersed 100% into the confines of the character, he makes us believe and sometimes agree with his views on society and people.
Joker never seized to make me laugh in appreciation despite what could be considered sick antics, I considered genius. Who else could do a pen trick with someone's head? Dress as a nurse with a silencer in hand and his clownish face glistening? Hide in a body-bag to infiltrate a mob boss's joint? Who else could immortalize Batman's most famous, opposing force, Joker? Without a doubt Heath Ledger bar none.
''Sometimes, truth isn't good enough, sometimes people deserve more. Sometimes people deserve to have their faith rewarded.''

To prepare for his iconic role as The Joker, Heath Ledger hid away in a motel room for about six weeks. During this extended stay of seclusion, Ledger delved deep into the psychology of the character. He devoted himself to developing The Joker's every detail, namely the voice and that sadistic-sounding laugh. Ledger's interpretation of The Joker's appearance was primarily based upon, of the chaotic, disheveled look of punk rocker Sid Vicious combined with the psychotic mannerisms of Malcolm McDowell's character, Alex De Large, from
A Clockwork Orange
. Ultimately for his efforts,
The Dark Knight
was the first comic book movie to ever win an Oscar for an achievement in acting, specifically to Heath Ledger (posthumously) for Best Supporting Actor.
Heath Ledger posthumously won a total of 32 Best Supporting Actor awards for his work on this film, including the Oscar, Golden Globe, BAFTA, SAG and Critic's Choice award.
Christopher Nolan beautifully captures Gotham City (filmed on location at Chicago). Whereas
Batman Begins
was styled after the iconic piece from Ridley Scott's rainy, dirty
Blade Runner
, the sequel
The Dark Knight
mirrors the feel and look of Micheal Mann's
Heat
giving us a true homage to masters of cinema and film, and we see Nolan has been inspired by the best, rein-visioning his own unique directing and styling to give us a fresh and powerful Gotham City.
Indeed, a similar scene in Michael Mann's crime saga,
Heat
, inspired this film's introductory bank robbery sequence. As a matter of fact, William Fichtner, who had a notable appearance in this scene, was also in
Heat
.
''I am an agent of chaos. And you know the thing about chaos? It's fair...''

The Dark Knight
runs at nearly 3 hours, yet never ceases to lose any momentum. It doesn't waste a scene or moment of it's run-time; every event is utilized and necessary to a meaningful complex plot. Nolan tells a story worth telling and like his other film projects, nothing is ever as it seems, he is in a way the new master of suspense, a shadow of Hitchcock proportions.
Action-sequences are mind blowingly frantic, old-school, eye-grabbing stunts and in their chaotic intensity we see that they serve purpose to the plot, yet even more interestingly, are not played for pure entertainment-value alone.
Audiences are meant to watch, petrified, simply hoping that the outcome will go the hero's way and another show stealing performance from it's villain. Attention is never lost because we are immersed in a breathtaking, almost completely-unpredictable story, that makes us think and more importantly gains our emotional liability. We come to care for the characters, because they are believable, developed, and personified.
Interestingly, this film and its predecessor have one-word themes which are driving forces in the stories and explanations for villains:
Batman Begins
centers around Fear(Scarecrow/ Ra's Al Ghul), while the focus of
The Dark Knight
is
Chaos
(The Joker/Two Face).
''Don't talk like one of them. You're not! Even if you'd like to be. To them, you're just a freak, like me! They need you right now, but when they don't, they'll cast you out, like a leper! You see, their morals, their code, it's a bad joke. Dropped at the first sign of trouble. They're only as good as the world allows them to be. I'll show you. When the chips are down, these... these civilized people, they'll eat each other. See, I'm not a monster. I'm just ahead of the curve.''

Maggie Gyllenhaal results in being a more
mature
Rachel Dawes than Katie Holmes. Morgan Freeman again provides his authoritative presence to the role of Wayne-Enterprise CEO Lucius Fox, and under anyone else's portrayal, the part would be less than memorable. Legendary Gary Oldman underplays his world-wearied lawman with such honest finesse and plausibility, you never feel for a second any of it is artificial. The irreplaceable Michael Caine makes a gentle, reassuring, foster parent presence for Bruce Wayne yet again as faithful Alfred, and the story would surely diminish without his strong presence and interlacing moments of humourous quips and anecdotal advice for the masked hero.
Aaron Eckhart whom plays Harvey Dent, really excels in being ''The White Knight'' politician of Gotham City whom is likable, and charismatic. The attraction between Gyllenhaal and Eckhart is believable, whereas the love triangle which forms between the complexities of Harvey, Rachel and Bruce are greatly helped by amazing chemistry between them.
Dent's dual personality comes into effect very well, as we the audience scratch beyond that exterior, we see a dark side to Dent. A dark side the Joker inevitably wants to explore.
''Oh, you. You just couldn't let me go, could you? This is what happens when an unstoppable force meets an immovable object. You truly are incorruptible, aren't you? You won't kill me out of some misplaced sense of self-righteousness. And I won't kill you because you're just too much fun. I think you and I are destined to do this forever.''

Brilliant scores by James Newton Howard and Hans Zimmer. In fact the scores could be two new characters in the film in the sense of depth and emotion they stitch together with the powerful resonance in the scenes. The chase where Batman first uses his Bat-pod bike is nerve tinglingly delivered thanks to the effective use of musical genius and poignant sound. The movies climax and final scenes elevate
The Dark Knight
's soul into the heavens, creating a moving, emotional, turbulent, deep message of honour, sacrifice and themes of the greater good. Batman isn't the hero we deserve, he's whatever we need him to be...He's strong, he can take it...and as we hear deep words like this, the tones in the score give the words even more power. A power they deserve.
Overall
The Dark Knight
rightly received 8 Academy Award nominations, more than any other film based on a comic book, comic strip, or graphic novel. First film based on a comic book, comic strip, or graphic novel to win an Academy Award for acting (Best Supporting Actor).
The Dark Knight
was everything I expected it to be and even more so in places, it's certainly the dark masterpiece I predicted, but I do get the feeling that it's been overly hyped for the wrong reasons. See it not just for Heath's performance which is defining and immortalized, but also see it because
Dark Knight
is the greatest comic book/graphic novel to movie ever. DC comics & Warner Bros. must be singing and praising Nolan a hundred fold.
Dark Knight
really does have the last laugh. An astonishing achievement that really does succeed in
redefining
sequels and graphic novel comic book adaptations.
James Gordon Jr.: Why's he running, Dad?
Lt. James Gordon: Because we have to chase him.
James Gordon Jr.: He didn't do anything wrong.
Lt. James Gordon: Because he's the hero Gotham deserves, but not the one it needs right now. So we'll hunt him. Because he can take it. Because he's not our hero. He's a silent guardian, a watchful protector. A dark knight.
10/10