There are no words to describe this movie.Maybe the best movie ever made and definitely the best sequel for a movie.
In the second part of THE GODFATHER Francis Ford Coppola presents two stories simultaneously. Since we have a consolidation of Michael Corleone as a Godfather, leader of Corleone. Trying to overcome the difficulties of enemies in politics and crime, for his work in the gambling, the betrayal in his own environment,and family problems.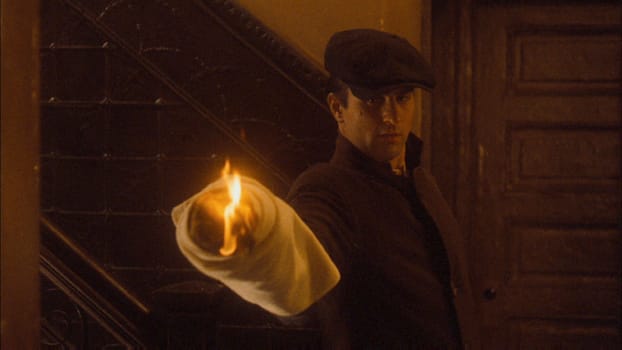 On the other hand we see the first year and the rise of Vito Corleone in the throne of the Italian Mafia, the beginning of the village of Corleone in Sicily, his first years in New York and how he became the Godfather.
In both stories we see that the characters they love, betray, and revenge, in a life that makes it increasingly hard.
Again if the first film was amazing, no words to describe this creation of Coppola, where all players give their best to achieve an excellent result.
Al Pacino gives an amazing performance as Michael Corleone.Michael continues to be plagued by personal dilemmas and Pacino, is still able to manage, both emotionally and practically.He have confirmed that is worthy son of his father, however, must give proof, only to have the ability to expand his empire, but he inherited, and he has the strength to support his family without having to mingle with his jobs.
Robert De Niro Vito Corleone?What can you say for this performance?
The fact that De Niro won an oscar speaks for itself. And this, not because he put this prize to collect, but they really deserved it. A performance of robust, integrated,and away from mannerism. A performance of thought, a performance which supports the future character of the hero.
And the big surpise?John Cazale as Fredo Corleone.Simply amazing plays weak and fearless brother of Michael who just want respect.The amazing scene between him and Michael is a lesson to all young actors.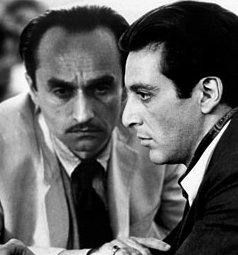 Some years after the "Godfather", Coppola returned to the continuity of history. A continuation of the first equal, a sequel that can not fail to enchant and not cripple even the most discerning viewer. Traveling through space and time, while playing with shadows and memories of the past and images of this creates an atmospheric gangster drama characters. Two unrelated stories, however, seem to have a common axis that leads them, despite the gap of years that separates them. All this is complemented by, once again, powerful interpretations of major actors, great men.
10/10