Now this is a bloody intelligent book.
It may take a while to get in to but it is inevitably rewarding, you gain a real sense of satisfaction from reading it. Pratchett keeps to his outlandish examples of fantasy, that he does so well, but this time uses it to write a book which essentially describes the development of modern banking and the capitalist way.
Economics and Fantasy seem to be almost binary oppositions, however somehow, TP manages to intertwine them so well, that you don't even realise you're being educated. When asked to take over the running of Ankh-Morpork bank, Moist von Lipwig introduces a radical form of bankers note, that sends the whole city into an unprecedented boon. All the while a range of hilariously funny, disgruntled creatures foil his plans, or fail to see his grand designs.
If you like Terry Pratchett purely for the fantasy, magic and wizards..this may come as a shock for you, you may not even like it. This is a whole new take on the discworld that I personally found refreshing; this is an economics/ political book in essentials. If like me, you read TP for his sarcastic comments, dry humour and witty asides, I have no doubt Making Money will find its place in your heart.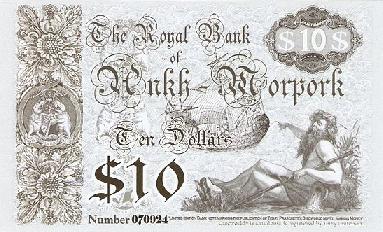 9/10