This was another film that only got my attention because it was on and I was trapped in a metal bucket in the sky.
"
A great adventure and a laugh riot
", boasted the in-flight magazine. With a cynical eye I gazed at the cast;
Matthew McConaughey
- The wet blanket, famous for his cheesy roles in such classic turkeys as 'How to lose a guy in 10 days' and 'The Wedding Planner'
Donald Sutherland
- Scourge of the acting world, notorious for his poor accents and being one of those people who you aren't quite sure whether or not they are dead.
Kate Hudson
- *Flatline*
So, as you can imagine I started viewing this film with the lowest of expectations. In fact they couldn't have been any lower if I'd dug to the centre of the earth and buried them in The Earth's core. YET Fool's Gold still found a way to disappoint me!!
Recently divorced, mop head McConaughey convinces his ex to embark on one last push to find a treasure hidden at the bottom of the sea. Typical treasure hunt films, such as Raider's, rely on two major factors, a desire that the character succeed, and a cryptology/myth surrounding the treasure, which makes it more than mere possession. Fool's fails on both these points. Whiney and irritating, I wanted McConaughey to fail and live in misery forever. Secondly, the treasure was not mystical or even beautiful, the film boiled down to a basic search for easy money, which might as well have followed him joining a pyramid scheme.
The plot is stagnant from the offset, with no real development; the movie manages to drag out nothing for nearly 2 hours, which honesty feels like five. In fact, you get the impression that the director thought of the concept of Hudsons trotting about in a bikini, then loosely strung a narrative to it. The entire cast of this film should be locked in a trunk and sunk to the bottom of the sea, for the good of mankind. Donald Sutherland was so colossally bad, that I felt literally embarrassed on several occasions at what passed for acting in this fetid, swamp of failed actors and B-Movites.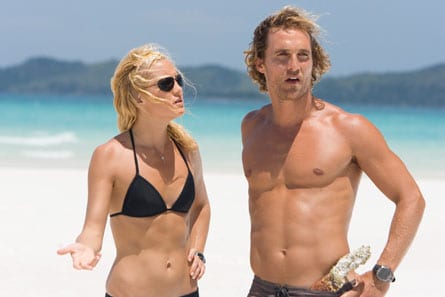 If terrorists had stood up and taken over my plane, I still would have been angrier at the producers of this movie. If I only ever do one good deed in my life, let it be this, a warning to everyone with senses; STAY AWAY FROM THIS "MOVIE".
2/10