"A soda for you and you and...a banana for you!" Just one of a handful of zany lines throughout this film from Count Olaf played by Jim Carrey. Lemony Snicket's A Series of Unfortunate Events is a wondrous, dark and humorous tale. Based on the novels by Lemony Snicket, this film does an excellent job of keeping your interest without straying too far from the first 3 books. We all know that books are tough to recreate or portray on to film. Director Brad Silberling does a fine job of bringing the book to script, to film, in a remarkable, deep fashion. You could even say that the camera angles and lighting are similar to the great Tim Burton's in some aspects. I thought the film
was
directed by Tim in fact.
The plot: I don't like explaining movies or the whole plot, or else its pointless to see the film..c'mon people haha! In a nutshell, siblings: Violet, Klaus and little Sunny become orphans after a tragic fire burned their home with their parents tragically in its deadly mist. They are left in the care of their Count Olaf and things get weird after that.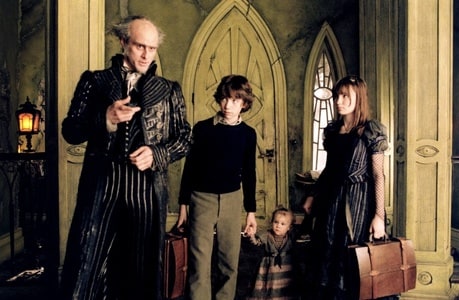 The movie was quite dark, but I never felt like it was too intense for kids or sketchy. The books were targeted to that audience after all. Its length was just right and didn't seem to long nor short...just right! I loved the cast along with Silberling's directing.
Jim Carrey
is my favorite comedic actor and this role of Count Olaf, is right up his bowlin' alley! He's witty, uber creepy but you love him too, despite his inclining for pure evil!
Emily Browning
*gasp* is an excellent portrayal of Violet and she's superpingly adorable! The rest of the other actors are smashing and also spotting
Craig Ferguson
made my night complete !
The book is phenomenal and the film is fantastic. I'd advise reading it and watching the film and I hope more and more people look at this more than just a kids tale and see the wonder that lies withing these ...unfortunate events.
Rating: 9.3/10