"Only I can live... forever."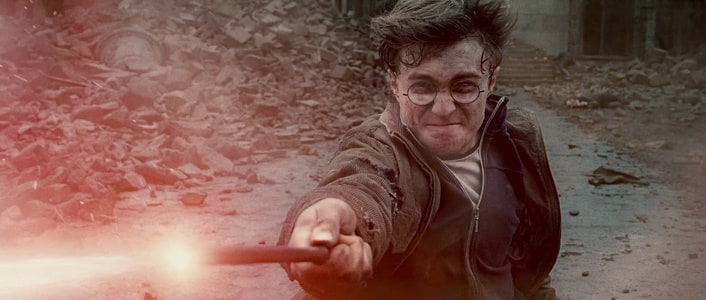 After seven books and eight films, the story of 'the boy who lived' is finally over. It took ten years to bring the writing of J.K Rowling out to the screens, resulting in eight wonderful films. While there certainly have been some of them that haven't been as good as others, they all carry the magical feeling they were supposed to deliver. But it is the last two installments that really managed to capture the books in a way that goes beyond magical. And
"Harry Potter and the Deathly Hallows: Part 2"
ends up being the absolute best Harry Potter-film, and it could not have ended better.
"Harry Potter and the Deathly Hallows: Part 2"
does naturally continue immediately after Part 1, and the focus is on the final confrontation between Harry Potter and the Dark Lord Voldemort. And when witnessing the last two films it is pretty clear that the split was necessary. I can't possibly see how they would have managed to conclude the story so perfectly as they have, if it were only one film. The first film did nicely capture the slow pace of the first half of the book, along with the sad atmosphere, and the desperate feeling of isolation and waiting that the book brought. Part 2 continues to carry the sad atmosphere and emotion, but does include the answers and the spectacular action that the book gave. So it is safe to say that the split was needed, and I would say that they should have split all the books into two films.
"I never wanted any of you to die for me."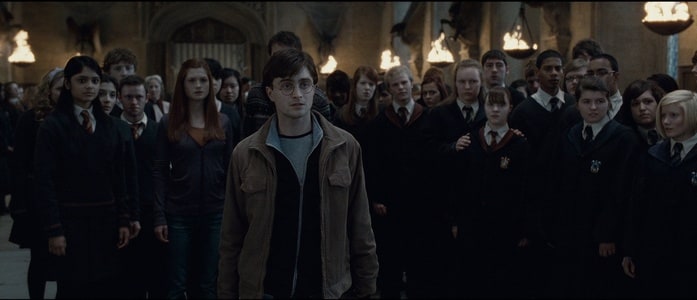 If you are a huge Harry Potter fan, this will propably be an emotional nightmare for you. It certainly was for me. I'm a boy, but I'm not ashamed to admitt that I teared up several times. Those who have read the book, or seen the film can propably guess at which parts I cried. The film does so beautifully manage to capture all those sad moments from the book on to the screen, without losing the emotional impact that it gave when I read those specific sentences.
And the acting has never been better. Daniel Radcliffe, Rupert Grint and Emma Watson delivers their absolutely best, and particularly Daniel Radcliffe does an amazing job. He does indeed show that he is able to capture the wide range om emotions that Harry goes through. But, while the golden trio does a perfect job, it is Alan Rickman's Severus Snape that really shines. Severus Snape has perhaps been the most interesting character in the whole franchise, and when we finally dwells deeper into him, Alan Rickman really get's to show us the brilliant job he has done with Snape. And you can't escape from the Dark Lord himself. Ralph Fienns whistling Voldemort is absolutely menacing, and goes on to be one of the best villains in the history of cinema.
One of the most impressive things with the Harry Potter films is the fact that they have managed to gather and keep an astonishing cast of the finest British actor and actresses alive. You have David Thewlis, Helena Bonham Carter, Jim Broadbent, Robbie Coltrane, Michael Gambon and so many more. All returning to give their character those few seconds of needed screentime. And it is good to see that, even though they have the main focus on the main characters, they take their time to include many of the minor characters. Even if it only is for like a second or two. And that really show of huge this franchise really is. It is good to see Emma Thompson pop up fully dressed as Professor Sybil Trelawney in Part 2, even if it is for just one second.
"Harry Potter, the boy who lived... come to die."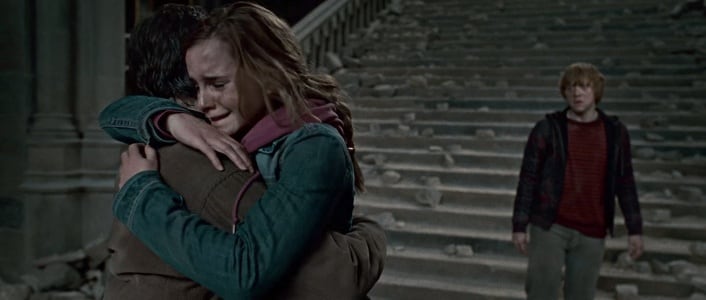 "Harry Potter and the Deathly Hallows: Part 2"
is a visual feast, unlike anything I've seen recently. It is an epic. It's a spectacular blockbuster. The action is huge and massive, and there is no denying that David Yates have done an incredible job. To be able to portray 'the battle of Hogwarts' on the big screen, couldn't have been an easy job, seeing how big it actually is. But it certainly couldn't have been done any better. Then there is thing's that doesn't always get mentioned. It is beautifully photographed, the editing is superb, the set is massive, but gorgeous. The score from Alexandre Desplat is suting and amazing. But I did have a huge grin on my face when those well-known tones from John Williams legendary score came up from time to time.
Now, I feel like saying so much more. But, the truth is, I'm actually quite speechless. Yes, I know that I have said a lot now, but there is so much more I want to say. I want everyone to know what a masterpiece this is. What an emotional triumph it is. But I'm not sure if I have all the correct words for it, and I am a lousy reviewer. Anyway. This is one of my favourite films of all time, and is easily going to be on the top spot for my 2011 list.
"Harry Potter and the Deathly Hallows: Part 2"
is more than anyone could have dared to hope for. It is the ending the franchise deserves, it is a love letter to the fans and a perfect way to conclude ten years of Harry Potter films. I don't remember exactly who said it, or the exactly how the quote was, but 2001 - 2011 will in film history be counted as the 'Harry Potter years'.
10/10