Listal hasn't been the only place where I've been posting reviews. There have been websites that I visited prior to discovering Listal where I decided to type out my thoughts on films that I had thoughts about. This is was an Blogger review of Little Shop of Horrors that was posted on September 30, 2012. One of my favorite films of all time along with being one of my favorite musicals. So I definitely had a lot to say about this film, maybe a bit too much. Hey, I was still developing a style. Anyhow, it's time for the review...
In the grimy miserable slums of downtown Skid Row, there lays a flower shop that is running low on business. The awkward and clumsy Seymour Krelborn (played by Rick Moranis) works at this shop that is owned by his greedy boss, Mr. Mushnik (played by Vincent Gardenia). Also working there is the innocent yet victimized Audrey (played by Ellen Greene) whom Seymour has a huge crush on. On the brink of being closed, Seymour presents a very strange plant, resembling a Venus flytrap, in front of the store to help boost business. It works as this bizarre plant named Audrey II brings huge attention and financial success to this little old flower shop. However, this fame and fortune comes with a price as Audrey II needs a certain thing in order to survive: blood. Seymour supplies the plant with fresh blood coming straight out of his cut fingers. However, as Audrey II starts growing more and more, he starts gaining a voice (from famous Motown singer, Levi Stubbs) that starts persuading Seymour that he's going to need more than just bruised fingers in order to continuing living. He is going to need to feast on full human bodies. Audrey II explains how much Seymour is dependent on Audrey II as his existence has brought fame, fortune, respect, and even the love of Audrey all to Seymour. And with all of this, how much will Seymour have to sacrifice in order to keep this newfound fame and respect? ...Oh, and did I forget to mention this was a musical, too? Yeah, the concept of "a talking man-eater Venus flytrap" sounds silly enough... but it is also a musical. That sounds like an incredibly ridiculous bad film. However, with a very interesting story, spectacular performances, and incredibly great and catchy songs, Little Shop of Horrors is definitely a very fascinating movie to watch.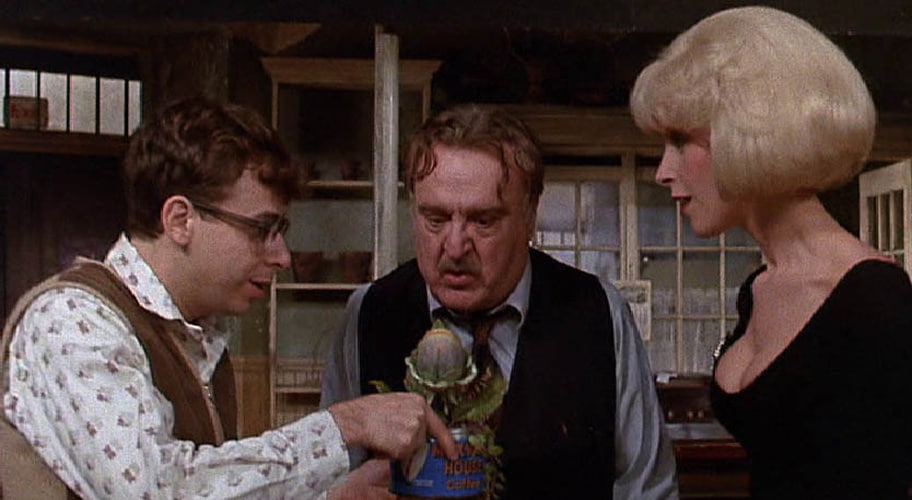 One of the things that makes this movie truly stand out is the wonderful performances by some really great actors. While Rick Moranis is playing the usual stereotypical nerd that he was typecast as in the '80s, he still puts a lot of heart into the character of Seymour Krelborn. As a character who is constantly being pushed around, you really do sympathize with Seymour and hope to see him finally getting a break in life. However, the character is responsible for some horrible events in the film but are brilliantly left ambiguous, leaving the audience to decide whether you think Seymour was really responsible for the situation or not. Rick Moranis also has a very good singing voice, which all the more helpful during the music numbers. Vincent Gardenia does a great performance as the money-grubbing Mr. Mushnik who plays around with the usual role of a mentor. Ellen Greene does fills the role of Audrey with a lot of innocence and heart, but she does have a rather bubbly high-pitched voice that could be an annoyance. Luckily, she has a fantastic singing voice that makes her performance worth watching. As a Motown celebrity, Levi Stubbs fills his singing performance as Audrey II with a lot of charisma and energy. You know Levi Stubbs is having the time of his life voicing the botanical terror. Steve Martin makes a truly special appearance as Orin Scrivello, the abusive boyfriend of Audrey whom carries the awful occupation... as a sadistic dentist. Steve Martin puts a lot of energy in this role and making an unforgettable performance in the film, especially during his only musical number in the film titled "Dentist". The movie also contains cameos from popular '80s comedies like Christopher Guest, John Candy, and Jim Belushi. But the one that stands out in terms of cameos is definitely Bill Murray who has a hilarious cameo as the manchild patient of Orin that enjoys his painful session a little too much. I literally burst out laughing throughout his entire scene.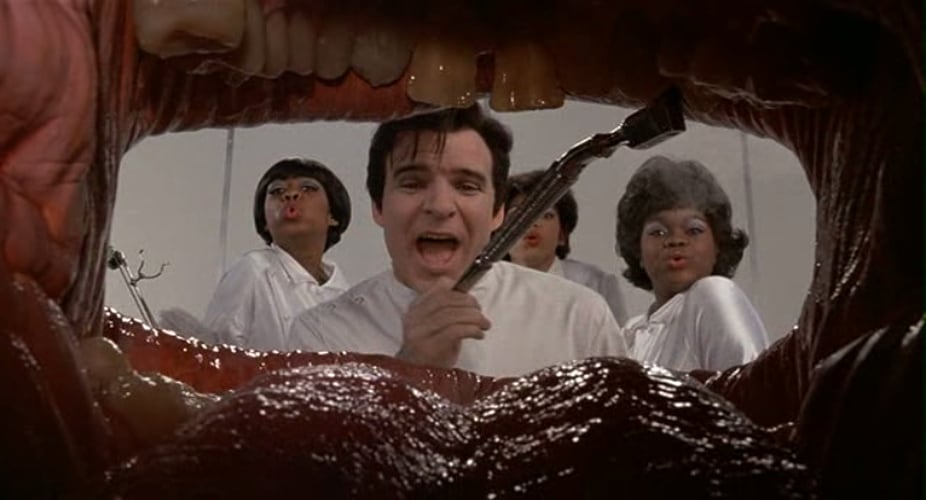 Another interesting thing about the film is the story and how it is told as the movie is constantly swerving from being incredibly campy and silly to incredibly dark and serious. The movie has the ridiculous premise of "a talking man-eating plant that persuades a nerd into performing murder through song" and yet contains dark concepts of abuse, sadism, and escaping depression. It was created as a parody of B-movies (low-budget science fiction films with ridiculous premises and special effects) and yet plays out like a Greek tragedy. It is a film that is always standing on the thin line of being optimistic and cynical. It is one of the things that makes this film a great viewing experience. The effects for the main villain of the film, Audrey II, is also something that needs to be mentioned. In an age where most special effects are generated by computers, it is quite refreshing to look back at a film made during the time where they didn't have such accessible technology. All the effects were done using a lot of master puppetry and design to show the many stages of this ever-growing beast of nature. The effects were impressive for their time (even got nominated for an Academy Award in "Best Visual Effects") and they still look spectacular to this day. The effects were so amazingly handled that you honestly believe that Audrey II is an authentically bizarre plant with the ability to talk and sing, not just one large puppet.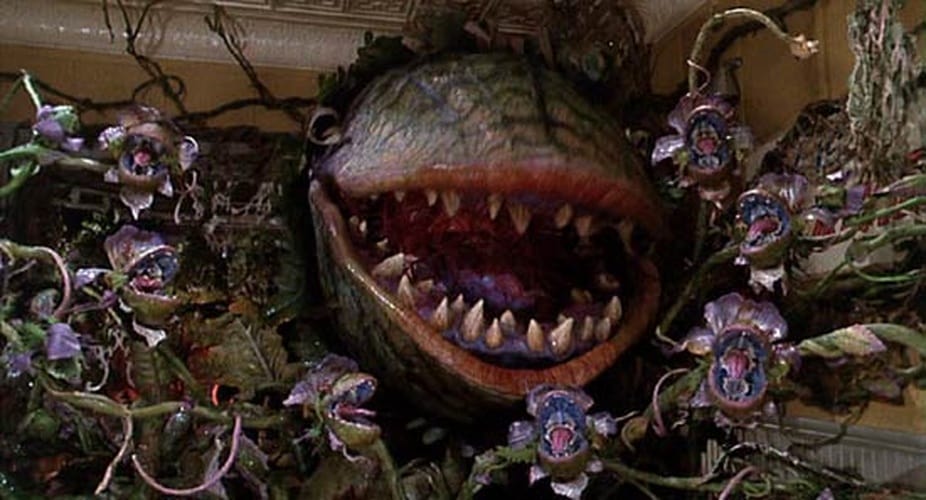 Now, let's not forget that Little Shop of Horrors is a musical, too. And like most musicals, the songs played throughout the story are an important part of the film. If the songs aren't good, it could ruin the cinematic experience the movie was trying to aim for. Fortunately, the songs are not only very well-done but insanely catchy! I am not kidding you, once you listen to these songs. You will not be able to get them out of your head, but they are still really amazing songs. I can not name you a single song from the film that I did not love. However, special mentions to the songs that I loved the most were "Little Shop of Horrors", "Dentist", "Suddenly, Seymour", and my favorite of them all, "Mean Green Mother from Outer Space". Yeah, the song titles also sound pretty silly but they are really great songs worth listening to.
Overall, I consider Little Shop of Horrors to be a truly amazing film. The film has an interesting story, great performances, amazing special effects, wonderful musical numbers, and truly makes an unbelievable viewing experience. Honestly, I cannot say anything really bad about the movie and I truly recommend anyone to check this film out. It is certainly a cinematic experience that you will never forget.
9/10