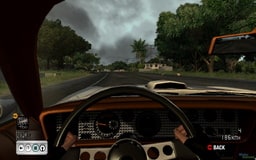 I grew up in the golden era of PC Gaming - the DOS years of late 80s & early 90s - so I'm very familiar with this series' roots. But despite its concept early on, with add-on packs of different cars to
test drive
, the series never flourished, and was nothing more than second (or third) fiddle to the hugely popular
Need for Speed
series. The closest the game actually felt like a test drive was the first Off-Road spin-off series, with a large selection of trucks & SUVs, and wide-open terrain to explore, and the buggy but ambitious Test Drive III.
And now comes Test Drive Unlimited, released a few years back for the Xbox360 and then on the PC. It is the latest (and perhaps the last, given Atari's financial woes) of this long running series of driving/racing simulators. And man, what a ride it is!
Unlike the disaster of a PC racer that is
DiRT
, TDU developers took a lot of effort to make this PC game much more than a worthless port. For starters, not only are steering & pedals well supported and setup, driving with a wheel feels very realistic and is a pure blast. And OMG, mouse-driven menus in a console port! Unheard of! :)
You start the game with $200,000 and a ticket to Hawaii. Upon your arrival, you choose a rental car, choose a house (which acts as a hub for your stats and multi-car garage for the cars you purchase along the way), and go to various dealership to test drive and pick your first ride. I started off with a sexy Audi TT Coupe, bright red.
And now the beauty of the game. It's open-ended, and the world is massive (complete island of Olahu, to be exact). And driving 15 miles actually feels like driving 15 miles. And on a high-end system, you crank out all graphics and turn on HDR and you've got a stunning looking world to explore. Various races are held throughout the island, as well as several missions (courier, hitch-hikers, etc..) are you chances to rack up money. You can sell your cars, collect them, but other than paint jobs and rims, you won't find Grand Turismo or Need for Speed Underground level of tuning. This isn't pimp my ride - this is
test drive
the world's most beautiful exotic cars (although several dozen cars from all dealership, from GM, Nissan, Audi, Cadillac and many others, are available - its not strictly supercar city). Damage however is non-existant, except for fact more cars you hit, the more the cops will be out after you with a hefty fine (racked up a $20,000 fine after evading the cops for half hour, passing numerous road blocks, and trying to hide from them. Man, that was a riot :)
And let's not forget about the music and sounds. Every car is perfectly re-created, not just in details, dashboard and instruments, but also by engine sound. And if you turn on the radio, you'll notice the game comes loaded with a killer list of tracks (although its easy to link to your mp3 folder for a personal radio station.)
I haven't had this much fun in a driving/racing game in ages. I mean, if racing is your thing, there's so many to choose from on the massive island (and even more if you choose to race online, where everyone else is driving around the island in real-time, waiting for challenges). And if you just want to drive around a beautiful island, in a lambo with the top down, soaking in the rays, you can do so as well, for hours at a time without seeing the same scenery. This game truly is unlimited.
Gameplay: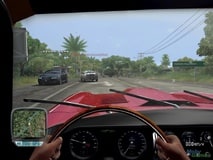 The only drawbacks some may see is lack of customization of your cars (which in all honestly, go play NFS: Underground or something similar, if that's your thing). Also even though handling of the car is quite accurate, physics and damage model are not (the car never seems to be affected by damage, and everything except for street signs is totally rigid and indestructible). The lack of any pedestrians is also a bit weird, especially after being used to moving down people in GTA. ;) But I'm sure to model up all the buildings, every tree and shrub, and have tons of dynamic traffic around, it was probably deemed unnecessary to include pedestrians, as it would just kill system requirements needlessly.
Presentation
(graphics, framerates, level design): 10/10
Gameplay
(controls, interface, game mechanics): 9/10
Sound
(sound FX, music, voice acting): 10/10
Personal slant
(fun factor, nostalgia): 8/10
------
Overall
: 9.3 / 10
9/10