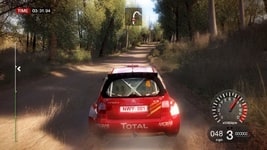 DiRT, the next gen installment of the long-running Colin McRae series of off-road/rally games, is getting some good reviews on the net, and being a rally racing fan, I was excited to finally get my hands on this title. Unfortunately, the excitement ended very quickly.
Let me say the few pros of this game before I bash it senseless. For starters, this is a beautiful game, and it gave me great framerates at full resolution. It's probably one of the finest looking racing games to come out on the PC to date. And that's all the praise this lemon is getting.
The Joys of Installing
: As seems to be the current trend, games are released so buggy they
need
a patch before you can even run them, and DiRT is no exception to that. In fact, had to get 2 patches before my steering wheel & pedals would even be recognized in this
driving
game. Its not like my hardware is obscure - it's a Logitech Formula GP.
Interface
: The game's menu and navigation make this title feel like a sloppy port. Mouse is not recognized, so I have to resort to bashing the arrows keys, Enter and Esc a dozen times to get anything done. Even when its saving progress and settings, the game keeps telling me not to turn off my PC. Yes, that's just what I was going to do. Turn off my PC and lose data on my memory card. *roll eyes*
Racing & Driving
: Now for the painful part. I do not believe that Codemasters have spent more than 3 hours tops programming in support for a steering wheel. I turn the wheel, and car responds two seconds later. Sure comes in handy flying thru narrow paths at over 100mph. Oh but it doesnt really matter anyways, because the car just bounces off scenery like its made of rubber, and you can honestly drive with pedal to the metal, make a hard turn, and your car flies thru a narrow tight turn like its on an invisible set of train tracks. Thats the whole game. Keep pedal buried, turn wheel sharply. Of course, that wheel delay simple kills you. But if you turn off wheel & pedals and go back to keyboard setting, steering is flawless, instant, and you just keep gas buried and fly thru all the turns, and you will move up the elegant career mode because you'll be winning every race like that.
I want a real racing game though, so I didnt give up. I went to Google and searched up anything I could to improve DiRT. And it turns out I'm not the only one. In fact,
everyone
with a steering wheel & pedals finds the game hopeless. There's one custom patch that made the grip more realistic, and it helps as it no longer feels like you're on rails, but since you're now actually sliding around and fishtailing and fighting for control of the car (the way a real racing game should be), and you
still
have that nice 2 second delay to your wheel, you'll find yourself alway in last place, a full minute or more behind all computer car times. So much for career mode.
But since this is the
only
recent rally game for the PC, I had to give it one more chance. Maybe me (and everyone else) on racing forums were wrong. Maybe it's just been a while since I played a racing game with my wheel on my PC (probably has been 6 months at least), so I fired up Richard Burns Rally, and was in heaven once more. Every single twitch of the wheel is recognized, you can pull awesome moves, and the game honestly feels like you are really driving. And I noticed something else in that game - the sense of speed. In Richard Burns game, you can
feel
the speed. I loaded up DiRT, and noticed the difference. Going 50km/h or 100km/h or 150 km/h, its such a minor change. Its almost like your speedometer and the rate the scenery flies by you are on two seperate clocks. You go 150km/h in RBRally down a narrow forest track, you're crappin' yourself. You do the same in DiRT, and you can look around and enjoy the scenery and call your wife on your cell phone and maybe flip thru your CD collection. It doesnt have the sense of speed whatsoever.
The Final Verdict: It's a pretty game, but it's nothing more than a keyboard-driven arcade racing game. And if using a steering wheel in a racing game feels worse than using a keyboard, there's a major problem. It may be a fun game on consoles, but PC racing fans should avoid this at all cost.
Presentation
(graphics, framerates, level design): 8/10
Gameplay
(controls, interface, game mechanics): 1/10
Sound
(sound FX, music, voice acting): 3/10
Personal slant
(fun factor, nostalgia): 1/10
------
Overall
: 3.3 / 10
3/10