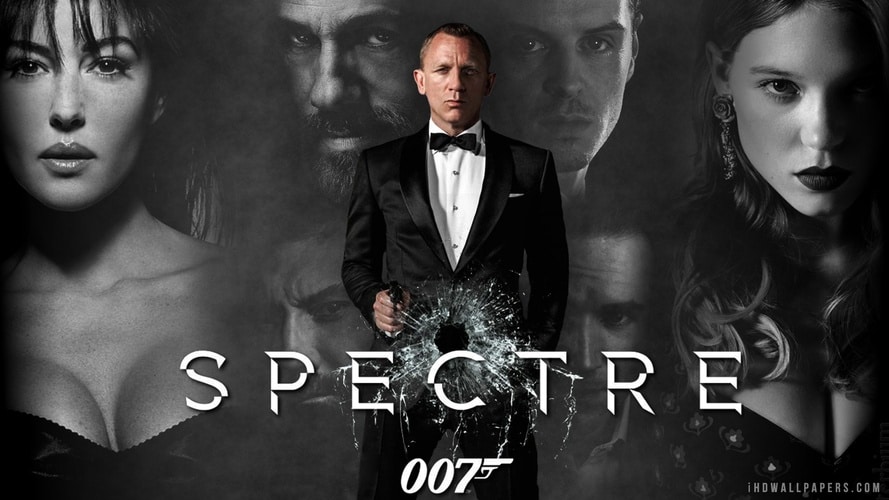 "You've got a secret. Something you can't tell anyone, because you don't trust anyone."
James Bond investigates an enigmatic organisation and becomes involved in an action laden adventure with femme fatales, fancy gadgets, explosive weaponry and cars/planes/equipment.  Spectre correlates the previous films Casino Royale, Quantum of Solace and Skyfall with a deranged nemesis who has been pulling the strings as a twisted puppeteer from Bond's past.
Film making, effects, cinematography:
  Beautiful shots, idyllic locations such as Mexico, Austria, United Kingdom, Morocco for examples.  The effects and chases really thrill and shock while give a tantalising taste of adrenaline pumping finesse. The audience is treated to visions of the wilderness or breathtakingly gorgeous and prominent landscapes.  The title sequence is exceptionally beautiful accompanied by the Writing's on the Wall via Sam Smith.
Story, acting, character development:  The characters and story have a particularly linear progression/approach.  Cast is exceptionally high maintenance with Ralph Fiennes, Daniel Craig, Monica Bellucci, Christoph Waltz giving stellar performances.  Ben Whishaw as Q was very funny and the humour/banter was rather a much needed accompaniment.
Music, score, sound:   The sound was high quality as you would expect these days and the score/music by Thomas Newman is particularly emotional and effective.  We have a range of powerful angry tones while for the more intimate scenes passionate parts of the sound spectrum.
Summary and conclusion:  Sam Mendes whom directed Spectre has made a good effort with this latest morsel.  It is also shows us a transition for James Bond into a less psychopathic agent and more a compassionate loving human being.  In the face of evil love and empathy can be a refreshing change especially for those that deserve it.  The film in my eyes teaches us that we have a choice to kill or not to kill, to love or not to love, to defend ourselves or when not to resist.  Spectre is that meteorite that was in the shadows for what seemed like an eternity yet decided to impact our hearts with a journey of passion, action and psychological thrill seeking mixed with an uplifting climax.
Madeleine Swann: Is this really what you want? Living in the shadows? Hunting, being hunted? Always alone?
James Bond: I don't stop to think about it.
7/10