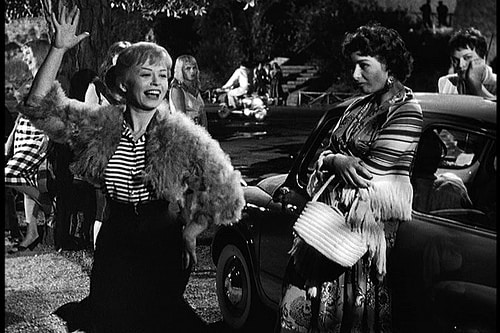 Like most prostitutes in the streets of Rome, naïve Cabiria dreams nothing else in the world but happiness and security. But in hookertown, where women are even classified by the area they work in, these are but Faery Tale words.
    

The story follows Cabiria's nights of a thousand nights. Standing in corners, parading a ware that's not much to look at: she's spritely with a comical face; A tomboy if put beside glamour queens; the last one chosen in a school yard pick.
     So, it was like hitting the jackpot when Cabiria gets picked up by handsome moviestar Alberto Lazzari, (think Errol Flynn with an Italian accent), who is, at the time having a tussle with his beautiful main squeeze. Cabiria gets a tour around town in a roadster, admitted to a club she wouldn't dream of setting foot in, and finally, in Lazzari's suite, gets a taste of luxury. That good luck seems to be coming her way, especially, when she meets a kind, gentleman that proposes marriage, Cabiria becomes convinced that maybe, Faery Tales really do come true.
     What she doesn't know is that, in a Fellini movie, there's no such thing as a happy ending.
     This is one of Giuletta Masina's grand performances wherein, she has armed herself with a hundred and one facial expression. Turning sweet to sour, jovial to mad, liberated and at the same time, chained to a vagrant life of the flesh, you name it. She is extremely a joy to watch. Taking it all with an attitude, like a female Chaplin—the Tramp! And her performance won her Best Actress at Cannes. This is her must-see movie.
     "Nights of Cabiria" also won the Oscar for Best Foreign Language Film in 1957, back-to-back with Fellini's "La Strada."
10/10