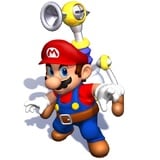 Being a mario fan for life, I knew I was going to have to get Sunshine for my Gamecube, despite some of the poor reviews I read. And to be honest, at first, I tried it for about 20 minutes and was rather disappointed. The water canon / water jet pack was too strange and too different, and I think the issue I had was that Mario seemed to do 90% squirting and 10% jumping in this game. That's not the Mario I know and love. First impressions, I probably would've given it a 4 or 5 out of 10, and was even contemplating trading the game in at a pawn shop.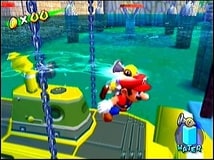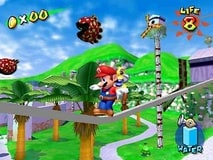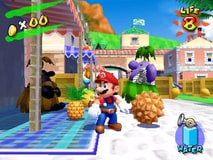 After it sat on my shelf for 6 months untouched while I was having fun with Paper Mario, Zelda Wind Waker, Mario Party series, Mario Tennis and Mario Kart, I finally decided to give Sunshine a second chance this past week, and I'm actually hooked. What's odd is that levels are scattered all over the place and there is no set path you must take, but each level is actually very nicely made and very creative, and there is a lot more jumping and other tricks Mario has to do than just using his water pack. But once you get over the initial 'WTF is this?' feeling when loading the game for the first time, you will find a very addictive 3d platformer.
Inspiration for Super Mario Galaxy?
For the negatives, there are a few issues I find rather frustrating. First, the way the characters talk, with the arcs of blue ribbons, is ugly as sin. It almost makes me
not
want to interact with all the townsfolk. They should've just stuck to Paper Mario style bubbles. Second, the camera is a major pain in the arse, often rotating when you don't want it to rotate, clipping behind buildings or mountains, or not rotating in one direction at all because 'something' is in the way. Third, Mario is known for cool unique power-ups, and despite some variety in enemies and ways to defeated them, so far everything is either water nozzle or jump. Where's the Fire Flower? Where's the raccoon tail? Frog Suit? man, give me
something
different. Maybe it comes later in the game, but after bout 5 or 6 episodes, I'm starting to lose hope in new cool power-ups.
Trailer:
The final verdict: if you love Mario, and have a Gamecube, its a must-have title, though definitely not his finest game.
Presentation
(graphics, framerates, level design): 9/10
Gameplay
(controls, interface, game mechanics): 6/10
Sound
(sound FX, music, voice acting): 6/10
Personal
(fun factor, nostalgia, personal slant): 9/10
------
Overall
: 7.5 / 10
8/10