Listal hasn't been the only place where I've been posting reviews. There have been websites that I visited prior to discovering Listal where I decided to type out my thoughts on films that I had thoughts about. This is was an IMDb review of Creepshow 2 that was posted on July 29, 2013. Couple of years later, my views on the film hasn't changed but it's still interesting to see how reviewing style has (or hasn't really) changed. Also, I'm going to admit right now that I actually haven't seen Creepshow 3 yet but from what I've seen so far, it looks terrible. Now, it's time for the review...
I am a fan of the original 1982 horror anthology film, Creepshow. It was a very enjoyable and creative film that paid homage to the classic EC comics like Tales from the Crypt and The Vault of Horror. It had some great people working on it such as George Romero, Stephen King, and Tom Savini. While I greatly enjoyed Creepshow, I found Creepshow 2 to be just OK.
There were many things that stroke Creepshow 2 as less superior to Creepshow. They were less anthology segments. While the first one had five segments and one segment that were used to frame it all together, the second one had only three segments and another segment that framed it all together. Also, the first Creepshow tried very hard to have a unique comic-book feel to make it even more of an EC Comic homage. Creepshow 2 significantly lacks that unique comic-book style for the most part. However, I could easily excuse the fewer segments and less attempts to have that comic-book style due to the lower budget that Creepshow 2 had.
However, the thing that really makes Creepshow 2 not as good as the original Creepshow is the fact that the stories in Creepshow 2 are not as nearly as interesting as in the first film. In the first movie, every segment was an interesting mix of horror and comedic elements that made each story interesting and entertaining to watch. Not every segment worked but each one managed to be incredibly memorable. In comparison, the segments in Creepshow 2 are just not as interesting. None of the segments are outright terrible but most of them aren't good enough to provide a really entertaining experience.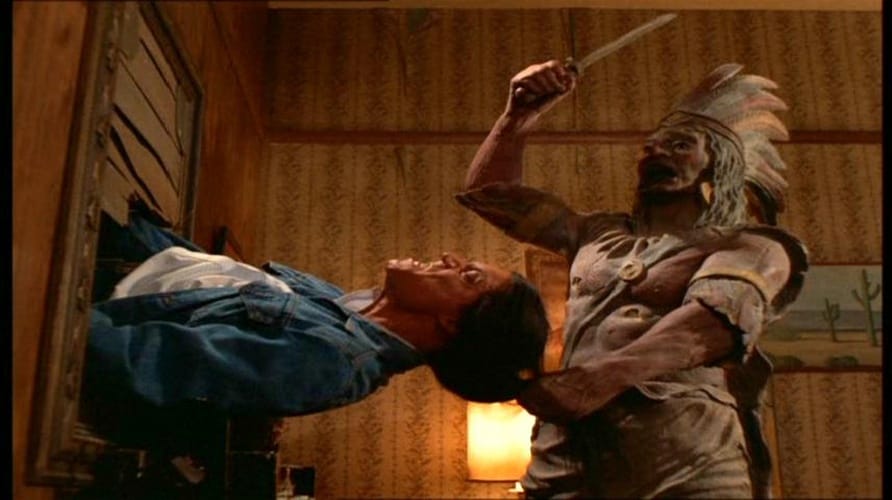 My favorite segment is the first one, "Old Chief Wood 'N Head", because it has biggest feel of an EC comic storyline with its ideas of supernatural elements being used to provide a cruel yet hilariously ironic sense of karma. I think this is a good story that starts the movie off on a good note. The next segment, "The Raft", is just some generic slasher-movie junk involving killer sewage. The characters are your usual teenage douche-bags whose immense stupidity ends up causing their downfall. I admit there are some good things in this segment. I wasn't really afraid of the antagonistic mud but I admit the way it killed its victims was pretty disturbing. Also, I admit I found the last shot of this segment to be pretty funny. However, the final segment is what I believe to be the worst segment of the film. It is the generic hitchhiker story that is pretty much a long supernatural chase with the same scares repeated over and over that makes you just wish the segment was over already. It isn't terrible but I found this last segment to be the most boring. I wasn't really that scared by the hitchhiker and I really didn't care whether the main character survived or not. Even the ending of the segment wasn't really that special and just made me just say "Eh". Also, I found the second film's framing story not nearly as good as the first one's framing story. The first movie's framing story was short and simple that easily set up the tale would used to transition into the main story segments and provided a cruel but funny twist at the end. The second movie's framing story is longer and uses animation. I admit I found the animation to be really weirdly done at certain points. The story is just overall not as entertaining with the cruel twist at the end being just sub-par.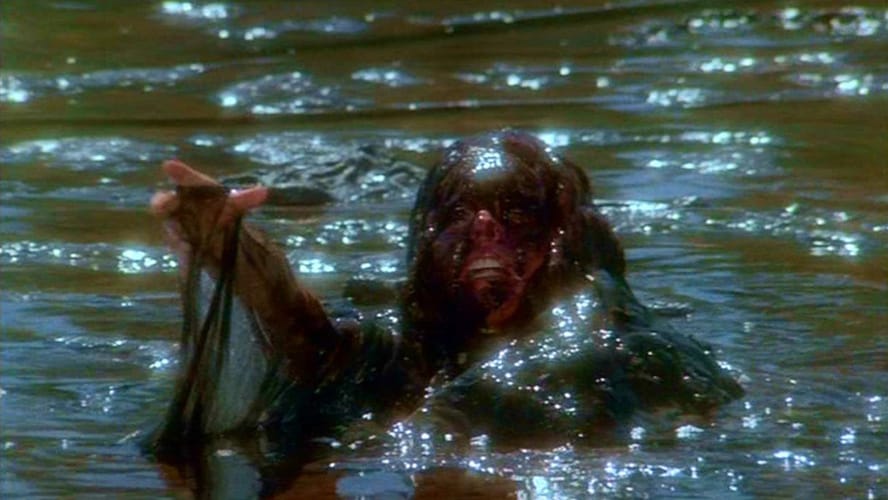 That being said I don't think Creepshow 2 is a terrible movie. While not being as great as the original, I found it to be a pretty passable film. If you're feeling bored, I think Creepshow 2 is a good way of wasting an hour and a half. Still this movie is MILES better than the absolutely terrible Creepshow 3. Overall, I give this movie a 6/10.
6/10