Everything you could want from an action/disaster films, and one of my favourite films of all time.
Aliens have launched a unrelenting and unprovoked attack on the world, wiping out most of our major national monuments. Now they have settled over every major city in the world; with the intent of annihilating the entire human race.
In step a team of rugged Americans; who won't take this lying down. The clichés are rife, brave American soldier, honourable President and the dark, sullen yet caring genius. Oh and a wise cracking Jew thrown in for good measure.
It is corny, and it is formulaic, but by God it's still great. I've yet to find a set of more likable characters, brave yet flawed, you so desperatly want them to survive this.
Another great point is the abhorrence of the bad guy. The scenes depicting the destruction of monuments were worldwide. It wasn't just America under threat, a cut to Big Ben made me scoot to the edge of my seat! That was my country; and now this was personal.
When we finally see the Aliens; they make it clear that they have no morals or feelings and won't negotiate, they just want us to die. Travelling through the universe, destroying everything in their path. Never before have I felt such vehement hatred for a character (that wasn't Nic Cage). As a consequence, I genuinely felt elated at their defeat. Very few films offer such a clear cut and total opposition between the good and bad. You have no doubt whose side you're on, you're emotionally involved from the start.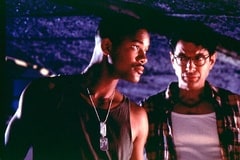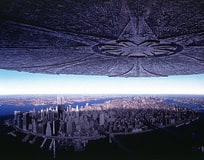 For the time, (1996) the special effects were amazing. In the cinema, a real wave of vulnerability and fear ran through you, as a giant spaceship engulfed the screen, coupled with an ominous groan which shook the cinema. I was 11 at the time, and really felt like the future was here.
On a personal noted; this film, with its band of rugged Americans was a highlight for a young, impressionable girl. I fell in love with Smith and Goldblum, and to this day melt at the sight of them walking out of the horizon, cigar in mouth.
Just great sci-fi.
9/10